The NZD/USD price came to the spotlight on Wednesday morning after the latest New Zealand jobs numbers. The pair is trading at 0.6262, which is above the intraday low of 0.6212. It is about 3.22% above the lowest level in July. So, what next for the kiwi?
New Zealand jobs data
The New Zealand economy is doing relatively well in the past few months as the country reopened. However, there are signs that the labor market has not recovered as quickly as expected. According to the statistics agency, the unemployment rate rose slightly from 3.2% to 3.3% in Q2. This increase was better than the median estimate of 3.1%.
Additional data revealed that the country's participation rate dropped from 70.90% to 70.80%. Again, this decline was worse than the median estimate of 71%. All this happened as the employment change remained unchanged in Q2.
On a positive side, wages continued rising as inflation continued rising. The labor cost index rose from 0.7% in Q1 to 1.3% in Q2. This increase was better than the median estimate of 1.1%. On a year-on-year basis, the labor index rose from 3.1% to 3.4%. These numbers mean that the RBNZ will continue being hawkish when it meets on August 17th of this year. In July, the bank hiked interest rates by 0.50% to 2.5% to counter the soaring inflation.
NZD/USD forecast
The four-hour chart shows that the NZD to USD exchange rate dropped to a low of 0.6215, which was the lowest level since July 27th. This price was below the lower side of the ascending channel shown in green. The pair also managed to move above the 25-day and 50-day moving averages.
On a positive side, the pair seems to be forming a bullish engulfing pattern, which is usually a bullish sign. Therefore, there is a likelihood that the pair will continue rising as bulls target the upper side of the channel at 0.6350. A drop below the intraday low of 0.6210 will invalidate the bullish view.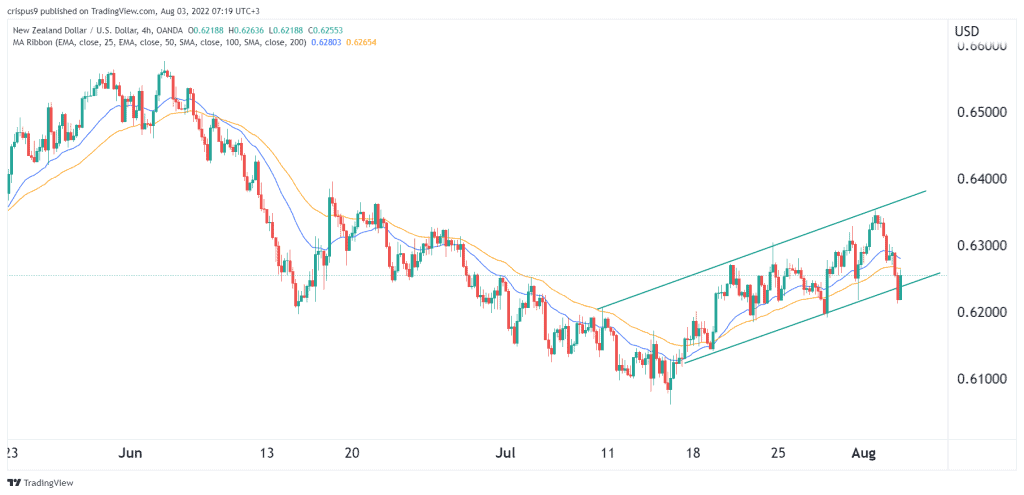 NZDUSD support and resistance level
At InvestingCube, our goal is to help traders and investors make better decisions. We developed the highly S&R indicator to help them in their analysis. In the past few years, the indicator has had a success rate of over 85%. You can subscribe to the indicator for more signals. The indicator also has a bullish view of the NZD/USD pair, with the next key resistance and support being at 0.6335 and 0.6183.