The Nvidia share price is currently trading lower in Tuesday's session, weighed down by profit-taking sentiment on the stock. This follows the failure of the bulls to maintain Monday's intraday violation of the 270.21 resistance. The decline of Tuesday preserves this resistance and provides a potential selling point for sellers banking on quick shorts to the 260.11 harvest point.
On the fundamental side, news that the number one producer of semiconductor coolant was forced to shut its Belgium plant over regulatory issues is constituting a headwind to semiconductor stocks. 3M operates a semiconductor coolant plant in Zwijndrecht, Belgium, accounting for more than 80% of the global output of this product. The indefinite closure of this plant could cause supply chain constriction and negatively impact the production of semiconductor chips.
While Focus Taiwan reports the company as having up to three months of coolant supply, a shutdown that extends beyond this time is likely to hamper attempts by semiconductor companies to bridge the existing supply gap. This could translate to higher costs for companies such as Nvidia.
At the moment, the dominating factor is purely technical, as traders who got into the stock at lower prices aim to cash in on their positions, especially as the double bottom pattern's measured move has reached completion point at 287.05.
Nvidia Share Price Outlook
The violation of the support at 270.21 has opened the door for a decline towards 260.11 (24 March 2022 low). If the bulls fail to defend this support level, the 241.01 price support becomes available. Other pivots include the 229.80 support and 208.62 (24 January and 24 February lows).
The reverse scenario sees a potential bounce off the 260.11 support prompting a renewed charge by the bulls at the 270.21 resistance. If the bulls successfully uncap this level, 287.05 (29 March high) becomes an automatic new upside price target. Only when this resistance barrier is breached can the recovery move continue towards 300.00 (23 December 2021 high and psychological resistance), followed by 314.28 (4 November and 28 December 2021 highs) and 322.99.
Nvidia: Daily Chart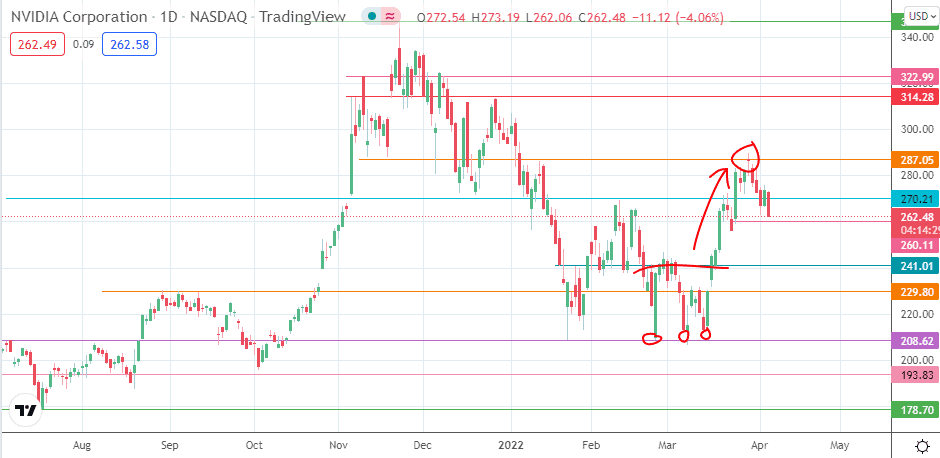 Follow Eno on Twitter.