Asian markets ended mixed today as latest China – USA tariffs take effect. The Hang Seng trading 0.59 per cent lower at 25,573, the Singapore Straits Times index finished 0.95 per cent lower at 3,077 and the Shanghai composite ended 1,31 per cent higher at 2,924. Aussie stocks finished lower after four consecutive positive sessions, the ASX ended 0.40% lower at 6,579.
Nikkei 225 finished 0.41% lower at 20,620 after Japan Nikkei Manufacturing PMI declined to 49.3 in August from previous 49.5. Nikkei 225 getting a boost from Pacific Metals +6.69%, Tokyo Dome +3.39%, Astellas Pharma +2.58%, SCREEN Holdings +2.46% and Olumpus Corp +2.33%. On the other hand DeNA -9.32%, Sumitomo Dainippon -3.99%,  Keio -3.31%, and Mazda Motor Corp. -2.26%.
The Nikkei digest the recent rebound from seven month lows, as the index feeling safe above the strong support at 20,330. On the downside immediate support stands at 20,614 today's low and then at 20,200 the low from August 15th. A break below that level might accelerate the selloff below the 20,000 mark. On the upside resistance for the Nikkei 225 stands at 20,667 today's high, a break above may carry more bullish implications, perhaps setting the stage for a move up to 21,126 the 200 day moving average.
In Asian forex markets USDJPY trading 0.02% higher at 106.26, the Aussie dollar trades 0,07% lower against greenback at 0.6728, while Kiwi trades 0.01% lower at 0.6307 versus USD. Gold started the week lower at 1,521, while crude oil is 0.02% higher at $55.11 per barrel.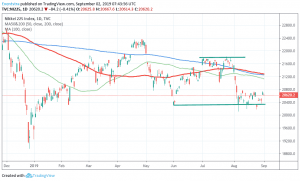 Nikkei 225 Gives Up 0.41% After Disappointing Manufacturing PMI