The Nifty 50 index suffered its 4th straight weekly loss, as Indian shares fell 1% on Friday to continue the market contagion that has resulted from the Russia-Ukraine crisis. Companies leading the plunge in the Nifty 50 are traded in the metals and financial sectors. The selling has been exacerbated by rising crude oil prices.
Crude oil prices are presently at highs not seen since 2011/2012 when the Libyan civil war raged. India is the third-largest crude importer, and its currency and stock markets tend to suffer shocks from increasing prices due to a rise in trade and current account deficits. Consequently, the Nifty 50 is trading at 7-month lows, trading at 16245 as of writing.
Nifty 50 Outlook
The signs look ominous for the Nifty 50 exchange if the pattern on the daily chart is to play out as expected. The progressively declining tops of 19 October 2021 and 18 January 2022 show that the recovery that started in May 2021 has stalled. The intervening dip towards 16407.75 forms the neckline for the resultant double top. The breakdown of 24 February and the subsequent downside move of 3/4 March confirm the pattern. An aggressive measured move to the south is now sought, targeting completion at 14985.85. This serves 16170.75, 15894.30 and 15473.00 as the support levels that the bulls must take apart in the process.
On the flip side, a bounce at 16170.75 truncates the measured move temporarily. If the bulls can uncap the 16407.75 and 16789.55 resistance barriers, the pattern is invalidated and the door opened for a potential flight to 17605.85. 17200 (7 December 2021 high and 23 February 2022 high) may be a pitstop for advancing bulls.
Nifty 50 Index: Daily Chart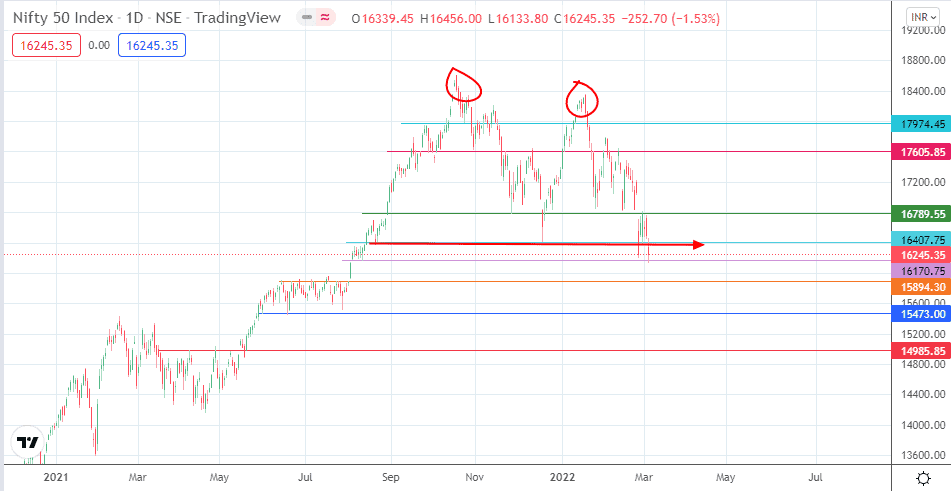 Follow Eno on Twitter.