Next housing crash might be closer than you think, as several macroeconomic factors are pointing toward it. After a slight downtick in house prices in 2022, the price has started to rise once again. This shows that the housing market remains resilient despite high interest rates in the US.
Many analysts expected the real estate market to be hugely impacted by the soaring interest rates in 2023. These analysts have now extended their predictions to the next year as the US economy is holding up nicely to high interest rates. The recession fears have also calmed down as the FED remains confident about a soft landing. However, things are not that good in the underbelly.
Homebuilder Sentiment Index Tanks To 45
According to the latest reports, the National Association of Home Builders (NAHB)/Wells Fargo index fell to 45 in August 2023. This is the lowest level for the index since April and a worrying sign for the real estate market. This shift in sentiment can be attributed to the constant rate hikes and the surge in mortgage rates.
The 2008 financial crisis occurred due to a sudden housing market crash. The subprime mortgage and the complex market of mortgage-backed securities acted as a fuel to the fire. In that crisis, the real estate didn't recover until the next 4-5 years. While the next housing market crash might not occur this year due to a stronger economy, we can't say the same for the next year.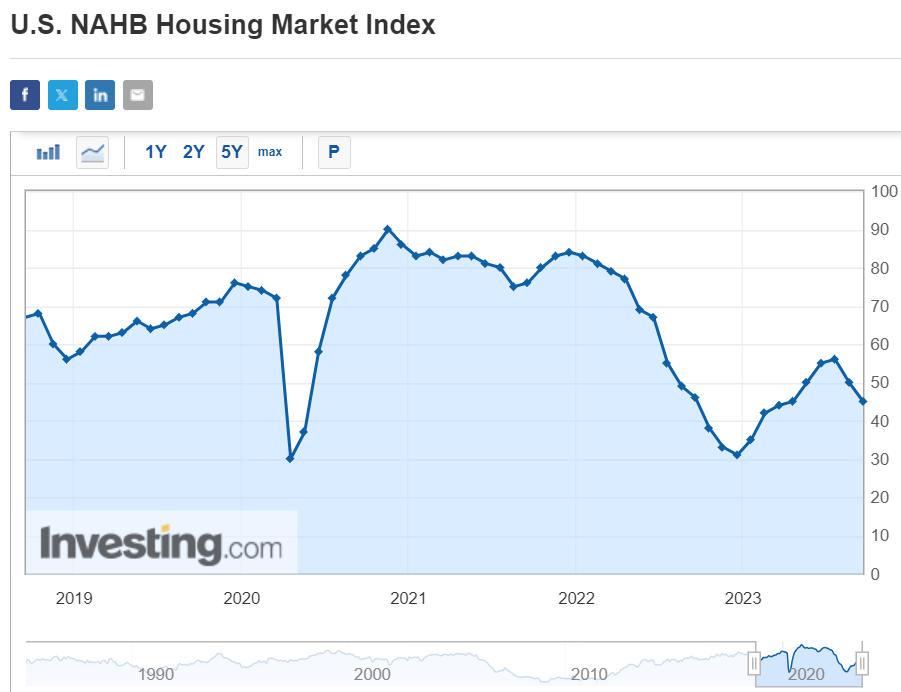 Next Housing Market Crash Prediction
The US Federal Reserve is set to meet on Wednesday this week. While analysts are expecting no rate hike in this meeting, at least one more rate hike still appears to be on the cards later this year. Another concerning thing is that the mortgage rates have been above 7% for quite a while.
Even if the Fed stops hiking the rates, analysts still expect the rates to stay elevated for a very long duration. These economic conditions may steer things towards the next housing crash. History shows that the real estate bubble takes more time to burst compared to other markets like equities, commodities, bonds, etc.
I also analyze the prices of stocks and cryptocurrencies. You are welcome to follow me on Twitter to stay updated on these assets.