The ongoing interest rate hikes and recession fears have put the speculative markets in a slump. In this risk-off environment, most investors are opting for passive income opportunities. Crypto-based decentralized finance has opened a whole new frontier in this regard. One major crypto lending platform, where many industry veterans are banking their digital assets is Nexo. In this brief Nexo review, we'll discuss how crypto holders can put their 'digital money' at work for them.
What is Nexo?
Nexo is one of the oldest crypto lending platforms that was established in 2018. Crypto holders can lend their coins to earn passive yields as well as borrow against them. In this way, Nexo allows the 'hodlers' to stay liquid without selling any of their beloved holdings. Currently, the platform supports the lending and borrowing of 30+ digital assets in a secure and regulated environment. Nexo offers up to 12% APY on stablecoins and other cryptocurrencies.

Over the past few years, Nexo crypto has evolved into much more than a lending platform. The addition of exchange features, fiat support and Nexo Card has taken its adoption to new heights.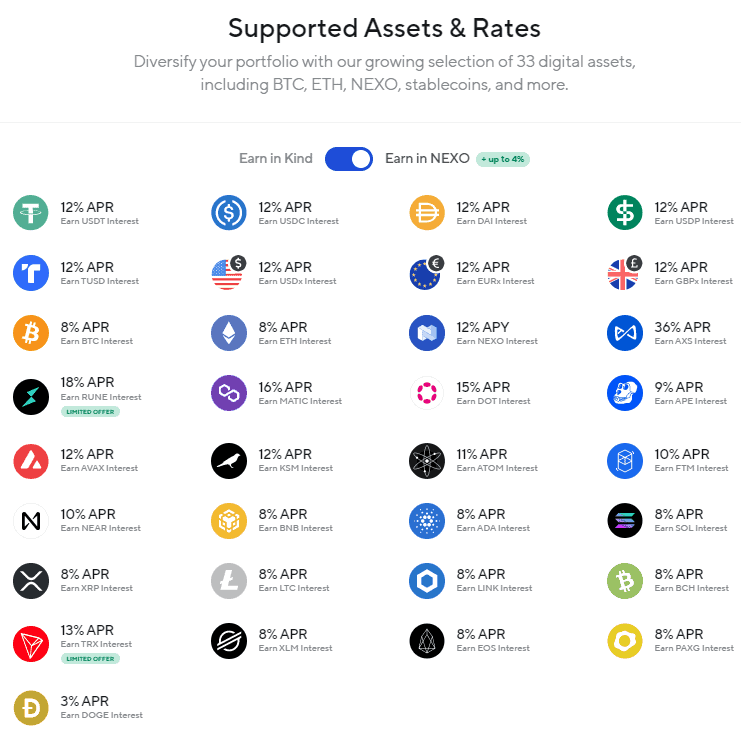 Getting Started with Nexo
Nexo boasts a beginner-friendly UI that allows any user to sign up and deposit their funds within minutes. The KYC process and Nexo login are also pretty straightforward. Users can opt for any of the 3 verification levels depending on their credit & withdrawal needs. After signing up and KYC, users can start earning interest immediately after transferring their crypto to Nexo Wallet.
The basic verification level grants users a credit line of up to $2,000,000 while also allowing them to withdraw up to $20,000 per day. It requires very basic details like a full name, address and telephone number.
Users can increase their withdrawal limits by going through advanced level verification to enjoy more flexibility. Advanced verification also enables bank transfers which are not available at a basic level. It also entitles the users to Nexo dividends and Nexo Card.
Nexo Fees
Any Nexo review would be incomplete without discussing its fees. Unlike conventional saving accounts, Nexo doesn't charge any maintenance fees. The platform guarantees one of the lowest fees in the industry without any hidden charges.
Nexo withdrawals have a structured fee depending upon the amount being withdrawn. The holders of Nexo coins are entitled to up to 5 free withdrawals per month according to their holdings. The base level requires 1% Nexo tokens and allows 1 free withdrawal per month.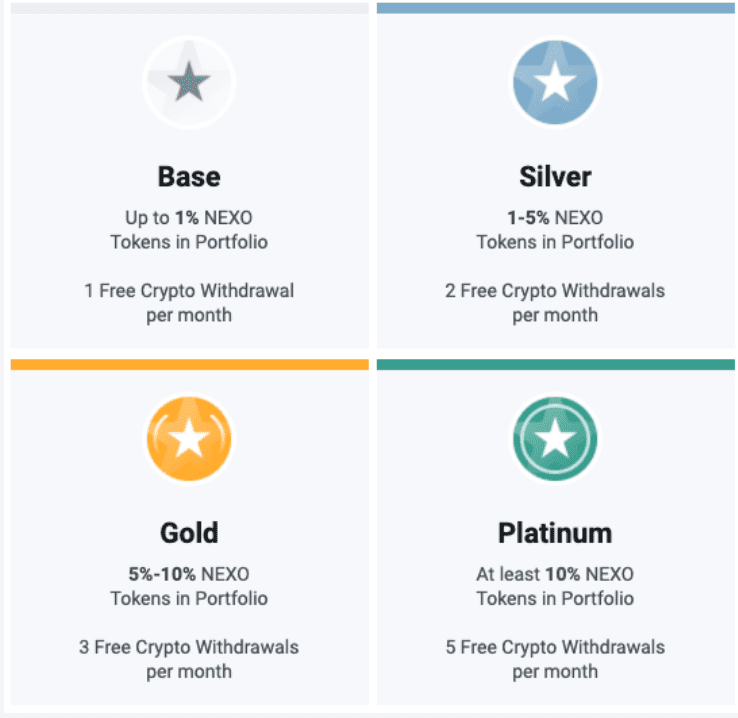 Nexo Features & Products
In the last few years, the Nexo ecosystem has expanded a lot. Launched initially as a lending platform, it has now also grown into a one-stop shop for crypto swaps, fiat deposits and crypto payments. A brief overview of these products and features is presented below.
Nexo Swap/Exchange
Instead of moving their assets to other exchanges, Nexo users can now exchange their cryptocurrencies on its inbuilt exchange. Nexo exchange supports fixed-price execution leveraging its Smart Routing System that connects to the top 10 exchanges at once. This makes it one of the most cost-effective exchanges. Users can trade across 300+ pairs and receive up to 0.5% cashback based on their loyalty tiers.
Since all the new assets are directly transferred into the saving account, Nexo allows users to earn even in between swaps.
Nexo Token
Nexo token is the native asset of the Nexo ecosystem. The coin was launched in 2017 with an ICO and gives its holders many privileges on the platform. Hence it acts as a key to unlocking the full potential of the platform.
Up until July 2021, Nexo used to distribute 30% of its profits from loans to NEX coin holders. These dividends were paid out in Ethereum. However, it was later changed to the daily interest payout method which is still effective. In addition, Nexo holders are entitled to higher APYs, low-interest rates on borrowing, and lucrative cashback.
Nexo Card
One of the major additions to the Nexo ecosystem is the Nexo Card. This is an extension of the entity's instant Crypto Credit Line. This card is just like a credit card where users can get instant fiat loans by using their crypto as collateral. Nexo card works on all the Master Card-supported merchants worldwide and allows users to shop without any need to sell their crypto holdings.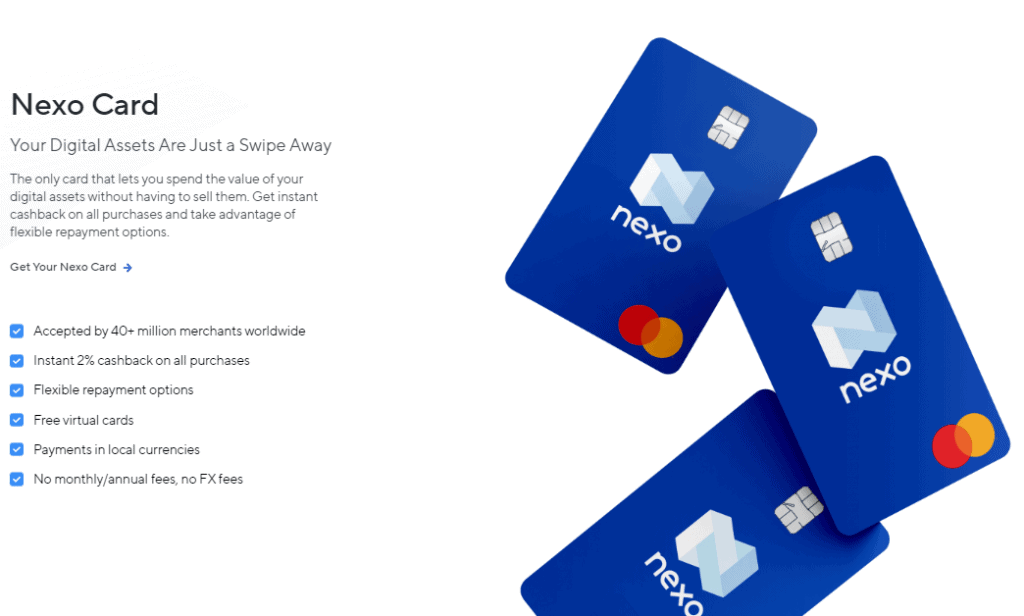 The traditional saving accounts provide near-zero interest rates without any cashback. However, Nexo card holders can enjoy more than 10% interest on their crypto while also getting up to 2% cashback. Whenever the card is swiped at a merchant, the equivalent amount is deducted from the user's credit line.
These cards can be ordered from Nexo Wallet App. The card supports fiat payments in local currencies without any forex fees. Unlike conventional credit cards, Nexo doesn't charge any maintenance fees or annual fees.
Fiat Deposits
It is very critical for a crypto business to have fiat support for onboarding new users. Therefore, Nexo also supports fiat deposits via credit cards and bank accounts. With this feature, users can directly invest in 41 digital assets and top up their crypto accounts while also receiving up to 0.5% cashback.
Nexo supports both Visa and Mastercard. This makes it a direct on-ramp for USD, EUR and GBP.
Mobile Apps
Nexo is not just a web platform for PC. Both the android and iOS apps are available for smartphone users and provide the same functionality as the desktop site. Nexo card holders can get transaction notifications and access other account management services via Nexo App.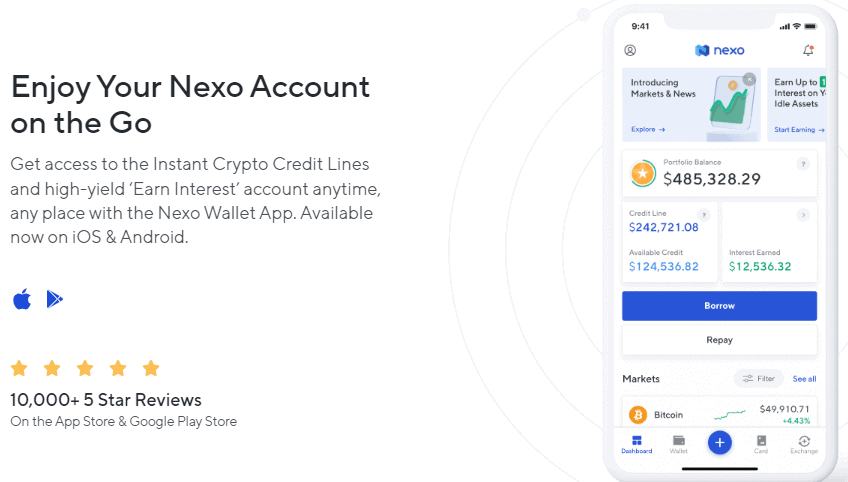 Is Nexo Safe?
Bring a veteran in the lending industry, Nexo has implemented bank-grade security for the user assets. The platform ensures that nobody except the owners has access to the accounts. This is made possible by implementing strict security checks on the website.
Nexo notifies users via email every time they log in or withdraw funds. The I.P address and location are also included in this notification. The team has also implemented special anti-phishing measures to ensure that the users are on the correct site. All Nexo transactions are audited by Armanino and the platform also boasts $375 million in insurance from various hedge funds.
Regulatory Compliance
Due to the growing use of cryptocurrencies for money laundering, regulatory compliance has become very critical for the survival of crypto-related service providers. Since its inception, Nexo has always worked hard to keep malicious practices like money laundering, tax evasion and terror financing at bay.
The company holds more than 35 operating licenses across the world and is expanding into even more jurisdictions. These also include licenses from the U.S Financial Crimes Enforcement Network (Fincen) and the State Banking Department of Alabama.
Conclusion
Nexo has emerged as one of the top 3 lending/borrowing platforms and it is giving the likes of Block Fi and Celsius a run for their money. With Nexo, crypto holders can now remain liquid without any need to sell their cryptocurrencies. The inbuilt exchange feature gives users opportunities to speculate on the market volatility while also bagging lucrative interest payouts at the same time.
Being one of the first movers in the lending industry, Nexo has onboarded millions of users who are banking their crypto assets on the platform. The trust of such a massive community and its fool-proof security measures makes it a top platform to park your funds for passive income. Nevertheless, it is still recommended to do your own research before trusting any platform with your funds. Users can also compare this Nexo review with those of its competitors for a better decision.