Netflix (NFLX) stock price has been slammed in the past few months as concerns about growth, competition, and cost of doing business has increased. As a result, the shares are loitering near the lowest level in April 2020, having collapsed by over 45% from its all-time high. In addition, other media companies like Disney, Roku, CuriosityStream, and FuboTV have been in a sell-off, as shown below.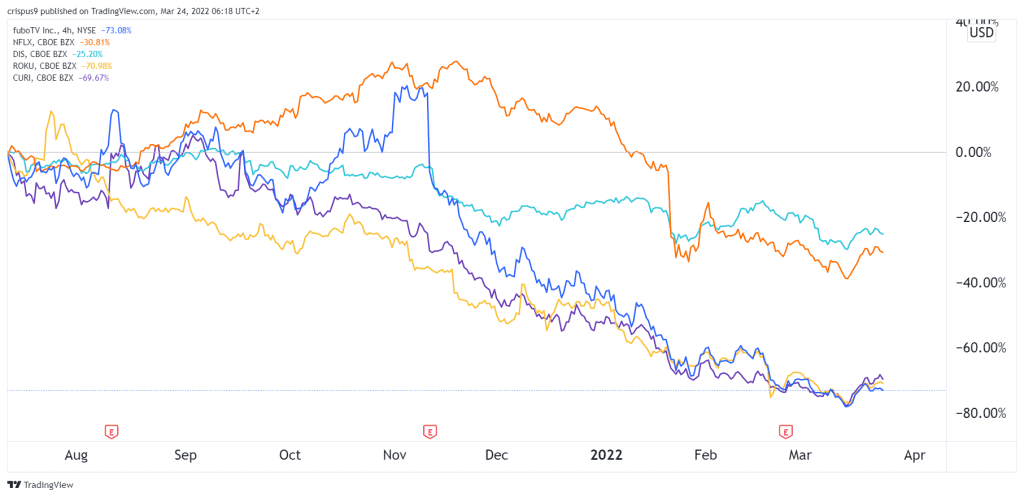 The main reason why the NFLX stock price is languishing is that there are concerns that its business may have peaked during the Covid-19 pandemic. As most people go back to work, there are expectations that the number of new subscribers will decline. Indeed, in the past quarter, the company added 8.3 million users, bringing 222 million. But it lost users in the United States, and analysts expect slower growth this year. Its management even downgraded its forward guidance.
Buy Netflix is fighting back. Recently, the management announced a plan to fight password sharing, a widely used concept globally. It is experimenting on this feature in Chile, Costa Rica, and Peru. In a statement on Wednesday, analysts at Cowen said that a full crackdown of the practice will lead to about $1.6 billion of global revenue, which is equivalent to a 4% upside to its 2022 revenue guidance. The report estimated that about 42% of all American subscribers share their passwords.
The Netflix stock price will also likely benefit from its investment in gaming. This week, the company announced a new slate of mobile games, including Unleashed, This is a True Story, and Shatter Remastered. In addition, it hopes that gaming will become an integral part of its business in the coming years. The company is currently in the process of buying Next Games, a Finland company that published the Walking Dead.
Another potential catalyst for the Netflix share price is the recent investments in Dr Seuss shows and Inventing Anna, among others. According to Nielsen, Inventing Anna has been one of the top streams with over 3.28 billion minutes streamed. Other popular shows are Love Bind and Ozark.
Netflix stock price forecast
NFLX share price has been in a deep dive since November 2021, making it one of the worst-performing FAANG stocks. In February, it even did a 20% gap after it reported weak quarterly results. As a result, the stock has formed a small descending channel pattern and is currently slightly below its upper side. Further, the shares' smart money index (SMI) has been in a bearish trend.
Therefore, in my view, Netflix remains under pressure until a new catalyst emerges. This will likely happen when it is reporting its Q1 results. While Bill Ackman is optimistic, I see no signs of a bullish reversal. This will change when the stock moves above $400, which is the upper side of the channel.