Netflix (NASDAQ: NFLX) stock price has been in a strong bullish trend in the past few months as the embattled company goes through a major turnaround. It rose to a high of $332 on Friday, which was the highest point since December 13. The NFLX stock price has more than doubled from its lowest level in 2022. It has a market cap of over more than $148 billion, making it one of the biggest media stocks in the world.
Latest Netflix news
Netflix share price has reacted to numerous news events recently. First, Nancy Pelosi, the former house speaker, disclosed that she had sold her Netflix shares in the fourth quarter. Investors tend to focus on Pelosi, because, as a senior representative, she has access to classified briefings. In the past, some of her stock buys and sells have been timed well for the market. 
Second, Netflix successfully started displaying some ads in a cheaper tier. It is still too early to determine whether the tier has been successful or not. However, in a statement, the head of its ad business said that he was pleased with the tier so far. Netflix Basic costs $6.99 per month, making it the most affordable tier in the company's platform.
Third, the most important Netflix news will come this week when the company publishes its quarterly results. These results will provide more color about user growth during the holiday season and the performance of its ad tier. The average estimate in Wall Street is that the company made $7.84 billion in the quarter and a profit of $0.54 per share. That will be a decline from last quarter's revenue of $7.93 billion and $3.10, respectively.
These results will be important because they will provide more information about the company's user growth and the progress the firm is making in it crackdown of account sharing.
Netflix stock history
Netflix has had an interesting performance as a publicly traded company. The company went public in 2002 after the dot com bubble. At the time, it was just a Blockbuster disruptor that was selling movies using DVDs. As such, interest in Netflix was relatively mild. Its stock was trading at less than $1. It then started gaining traction in 2010, when it soared to a high of $45.
Netflix stock price then gained momentum starting from 2010 and peaked at $703 in 2021. The most recent gains happened as the company became so popular during the pandemic. Also the company became popular as a member of the FAANG Group of stocks.
Netflix share price then tumbled after the pandemic as its growth waned. It has fallen by more than 72% from its all-time high. This drop pushed its market cap to about $148 billion.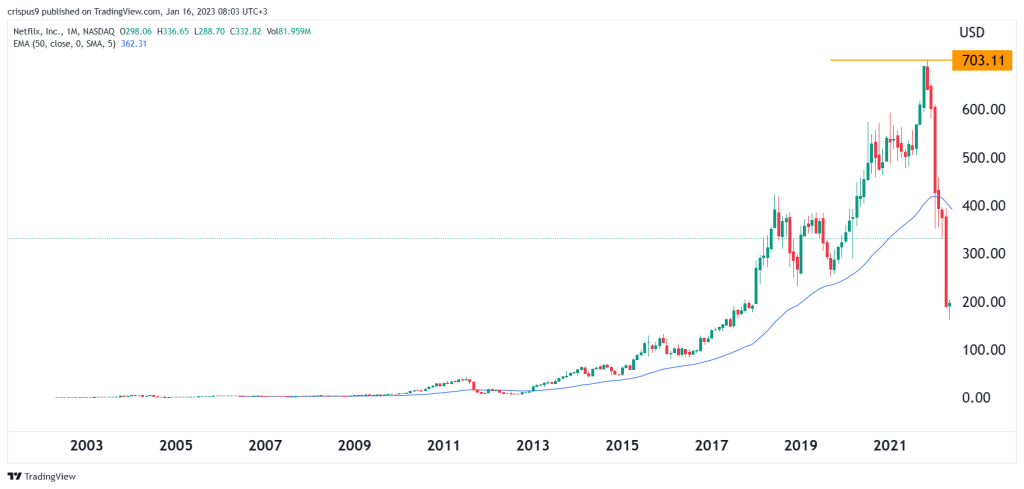 Why is Netflix stock falling?
There are several reasons why the Netflix share price crashed from its all-time high. First, after years of unprecedented growth, the company started losing users during the pandemic. This was unheard of a few years ago. Second, the company's revenue growth slowed dramatically. For example, its revenue rose from $7.48 billion in Q3'21 to $7.9 billion in Q3'22. Traditionally, Netflix was growing by double digits. Its gross profits dropped to $3.1 billion.
Third, Netflix share price plunged because of rising competition in the movie streaming industry. Some of its top competitors are Disny+, Hulu, HBO Max, Curiosity Stream, Paramount+, and Amazon Prime. Disney+ has seen its number of users surge to over 165 million while HBO, HBO Max, and Discovery+ added over 92 million users.
Is Netflix a buy, sell, or hold?
Wall Street analysts have a mixed outlook of Netflix share price. Some, like those at Oppenheimer, Jefferies, CFRA and Morgan Stanley are bullish on the shares. They believe that the stock will ultimately recover in the long term. On the other hand, analysts at Goldman Sachs and Societe Generale have a bearish outlook on the stock. The average Netflix stock price prediction is $308, which implies a 7% downside.
Another data of 32 analysts shows that it has a moderate buy rating. 15 of these analysts have a buy rating while 14 have a hold rating. 3 have a sell rating, as shown below.

Who is Netflix biggest shareholder?
Netflix was started by Reed Hastings who is one of its biggest individual shareholders. He has a 2% stake in the company that is worth about $2.8 billion. The top shareholders of Netflix are institutions, which own it through their ETFs. Vanguard Group holds about 7.89% stake in Netflix and is followed by Blackrock, FMR, State Street Corporation, Capital Research, and T. Rowe Price. In terms of the percentage of their total assets, Edgewood Management and Eagle Capital Management are key holders.
Netflix stock price forecast 2023
My most recent NFLX stock price prediction was accurate. As the shares were tumbling, I said that bottoming signs were starting to emerge.
A clear picture of what to expect with Netflix in 2023 will depend on its results this week. If the performance is better than expected, I suspect that the shares will have a bullish breakout and rise to over $500 in 2023. However, if the opposite happens, it could crash to below $200. On the daily chart, we see that the stock has formed an ascending channel shown in red. It has also moved above the 50-day moving average. Therefore, while it is too early to tell, I believe that the stock will continue rising in 2023 because of the Fed decisions.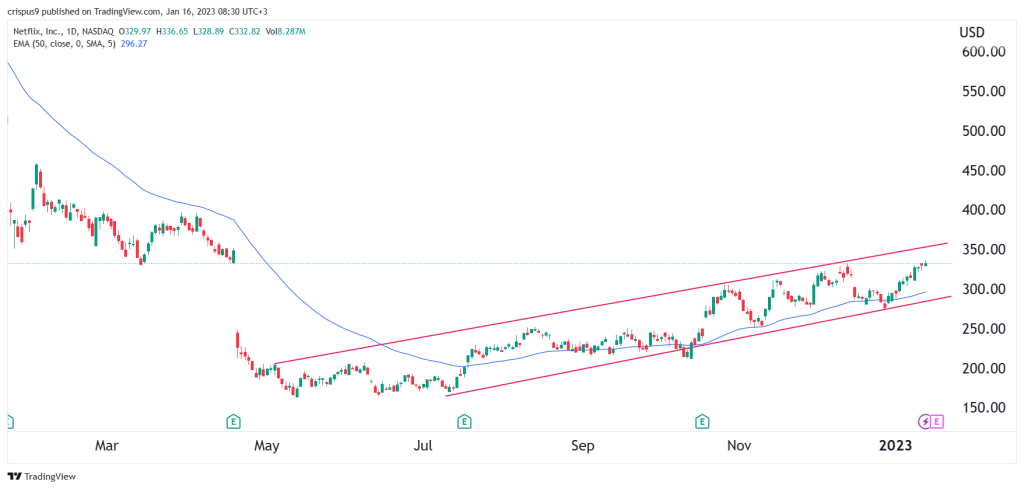 Netflix stock forecast 2025
Making a Netflix stock price prediction for 2025 is a bit difficult because of how the media business is changing. In my view, I believe that the company will still be a major part of people's lives in 2025. For the stock, however, I am a bit pessimistic because of the competitive nature of the business. I believe that the shares will be below $200 in 2025. 
Netflix stock price prediction 2030
Quality stocks always rise in an extended period. Indeed, while key indices like the Nasdaq 100, Dow Jones, and S&P 500 have pulled back lately, history suggests that they will rebound. If this happens, I believe that Netflix will rebound by 2030 and be above $400 per share. Still, the 2025 and 2030 predictions should be taken with a grain of salt.
What is the Netflix dividend yield?
A common question is whether Netflix pays a dividend. Unfortunately, like many growth companies, Netflix does not pay a dividend. Instead, the company spends most of its money on content creation. Its hope is that this content will give it more customers. Analysts believe that Netflix will start paying a dividend in the next three years. Netflix also rewards its shareholders through share repurchases. However, as shown below, the trend of repurchases has been falling recently.

Netflix biggest competitors
Netflix is in a highly competitive industry. As mentioned above, Disney+ is the company's biggest competitor with over 164 million members. It is followed by HBO, which is owned by Warner Bros Discovery. Other top Netflix competitors are companies like Paramount, Fox, and YouTube.