The Nasdaq 100 index is having a strong day, posting gains of 1.01% as of writing. This puts the index on the path to snapping a three-day losing streak.
The index was sold off heavily in the first two trading days of the week after rising yields caused a shift of investment flows away from risk-sensitive tech stocks into the bond market. US Treasuries have ticked higher after the last FOMC minutes, which provided the strongest indication yet of a possible rate hike by the Fed in March.
Despite the day's gains, the sentiment around the Nasdaq 100 remains negative as the markets price in monetary tightening in 2022.
Nasdaq 100 Outlook
The intraday bounce on the 15006 price support has allowed the bears to attain the 15201 resistance. A break of this barrier allows the price activity to track towards 15639, leaving 15980 as another barrier to the upside.
On the other hand, rejection and pullback from the 15201 resistance allow for a potential test of 15006 once more. If the bulls fail to defend this price mark, 14811 becomes the next downside target. If the decline is more extensive, the 5/6 October 2021 price lows at 14437 make for another potential target.
Nasdaq 100: Daily Chart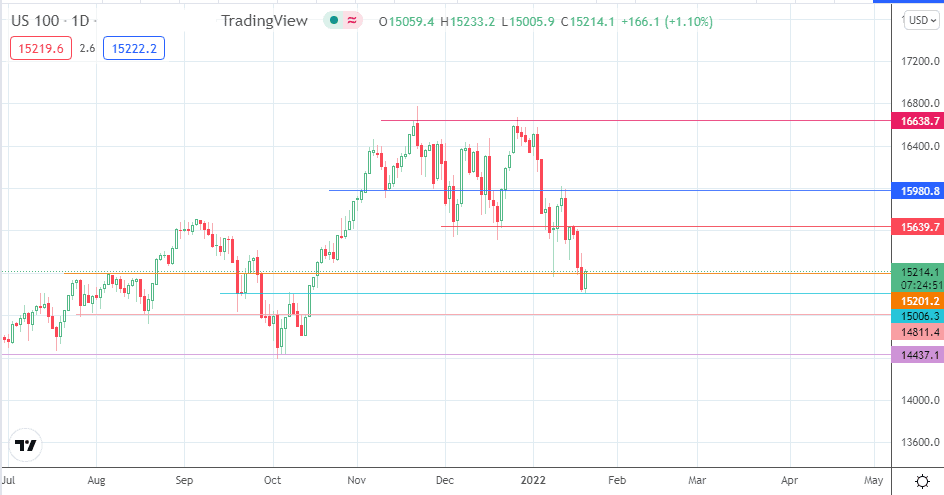 Follow Eno on Twitter.