The LUNA price is once again facing skywards after spending a week consolidating above trend line support. Terra (LUNA) is trading at $38.92 (+3.15%), higher by just +0.06% in October, and +5,670% year-to-date. The stablecoin protocol currently has a market cap of $15.6 billion, making it the 12th-largest crypto project, behind Uniswap (UNI/USD).
Although Terra is unchanged this month, the LUNA token is trading almost 600% higher than July. The token's impressive performance in the third quarter is largely due to network advances. Terra is growing in popularity amongst Decentralized Finance (DeFi) developers, and the Total Value Locked assets of projects using Terra has grown to $9.34 billion. Furthermore, as Decentralized Finance grows, Terra should continue to gobble up market share, providing a significant tailwind for the LUNA price.
LUNA Price Analysis
The daily chart shows Terra has been trending broadly higher all year. As a result, an upward sloping trend line has formed above the price at $56.40. Below the market, a concise rising trend line offers support at $34.00. The 50-Day Moving Average at $36.63 adds to the considerable price support.
As long as Terra remains above trend support, I expect it to extend higher to test trend resistance. If this proves true, it will mark a new record price for the LUNA token, possibly attracting momentum chasing buyers, catapulting the Terra price into the $80-$100 range. Of course, as with all cryptocurrencies, volatility is never far away, and on that basis, if LUNA drops below the rising trend support at $34, the bullish view becomes invalid.
Terra Price Chart (Daily)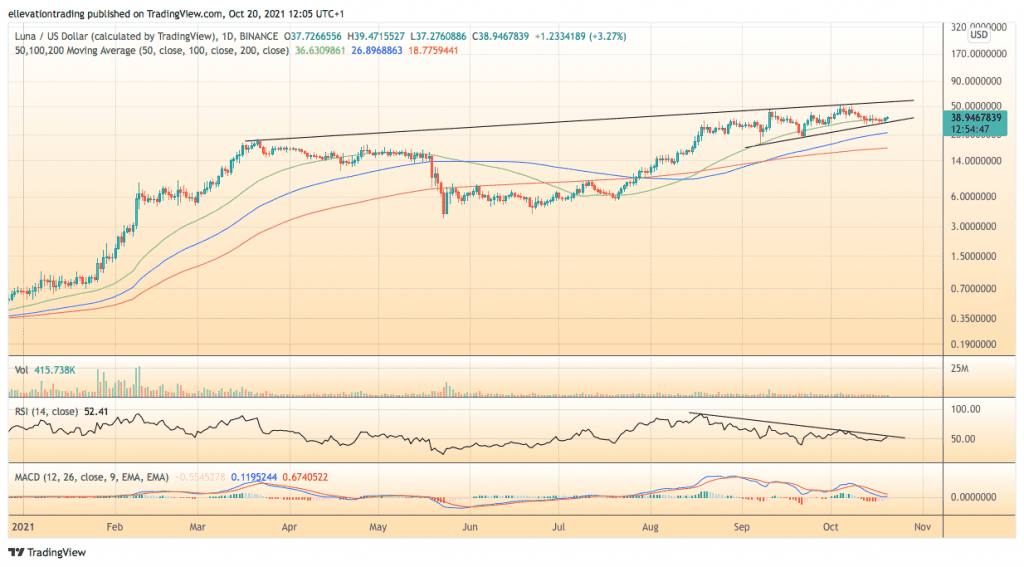 For more market insights, follow Elliott on Twitter.