Terra LUNA Classic (LUNC) price chart is one of the most heartbreaking sights in the whole crypto industry. The fall of Terra wiped off billions of dollars from the crypto markets depriving many investors of their life savings. In this article, we take a shot at LUNA Classic price prediction to see if there's any chance of a recovery.
What is LUNA Classic price?
The current price of Luna Classic (LUNC) is US$0.0000597, with a market capacity change in the last 24 hour of %-0.94. LUNC changed in the last 24 hours with -0.9364955 per cent. It is currently 2.91048467% from its 7-day all-time high of 0.0000638$, and 2.91048467% from its 7-day all-time low of 0.000056636$. LUNC has a circulating supply of 6,835,281,226,498.9482421875 LUNC.
What Is LUNA Classic?
LUNA Classic is the name of the legacy Terra LUNA blockchain. In May 2022, Terra blockchain collapsed as its flagship algorithmic stablecoin UST de-pegged. This resulted in an exponential increase in the circulating supply of LUNA cryptocurrency. After this event, the founder, Do Kwon, announced a Terra 2.0 blockchain, and the older chain was named Terra LUNA Classic.
Luna Classic Latest News
According to the latest LUNA Classic (LUNC) news, the total locked value (TVL) on the legacy Terra blockchain has been reduced to only $2.7 million. Just 12 months ago, the same figure stood at a whopping $20.2 billion. This record collapse has been unprecedented, even in a highly volatile industry like crypto.
Latest Terra Classic Prices Today

Terra Classic Price
$0.00008034
Price Change 24h
+$0.0000008307
24h Low: / 24h High:
$0.00007885 /

$0.00008184

Trading Volume 24h
$17,907,351
Market Dominance
0.04%
Market Rank
#81
Market Cap
$466,653,169
Fully Diluted Market Cap
$549,493,483
7d Low: / 7d High:
$0.00007885 /

$0.00008255

30d Low: / 30d High:
$0.00007843 /

$0.00009632

All Time High: Apr 05, 2022 (a year ago)
$119.18
All Time Low: May 13, 2022 (a year ago)
$0.00001675
Terra Classic ROI
100.00%
Last Update
2023-08-02 10:11
Terra LUNA Classic Chart
LUNC price has been in a downward spiral since the fall of Terra blockchain. This has resulted in a 99.99% drop in the price. The following chart shows that the LUNC price has seen something quite unprecedented in the industry. The de-pegging of UST stablecoin emitted trillions of LUNC coins into circulation, tanking the price to oblivion.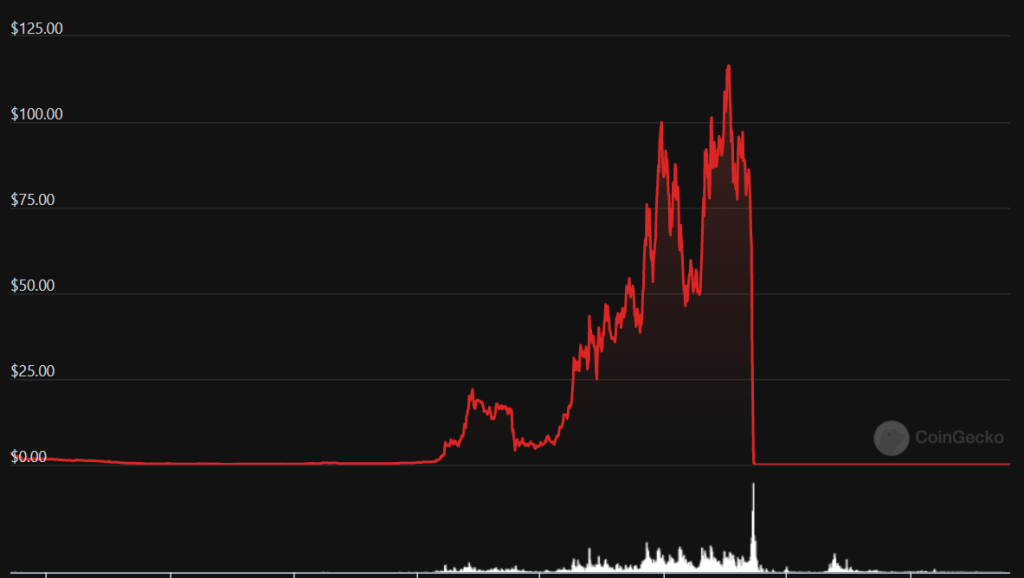 Luna Classic Price Prediction 2023
The price chart of LUNC shows that the coin has become a whale's playground. The low price has made its price action like a meme coin instead of a smart contract cryptocurrency. The LUNA Classic price prediction 2023 is not looking very bullish, as the coin is yet to show any sign of strength.
The price is currently retesting its $0.00008500 support level, which may result in a relief bounce. A break below this level may send the price to its August 2022 lows.
In the meantime, I'll keep posting my updated LUNC analysis in my free Telegram group, which you're welcome to join.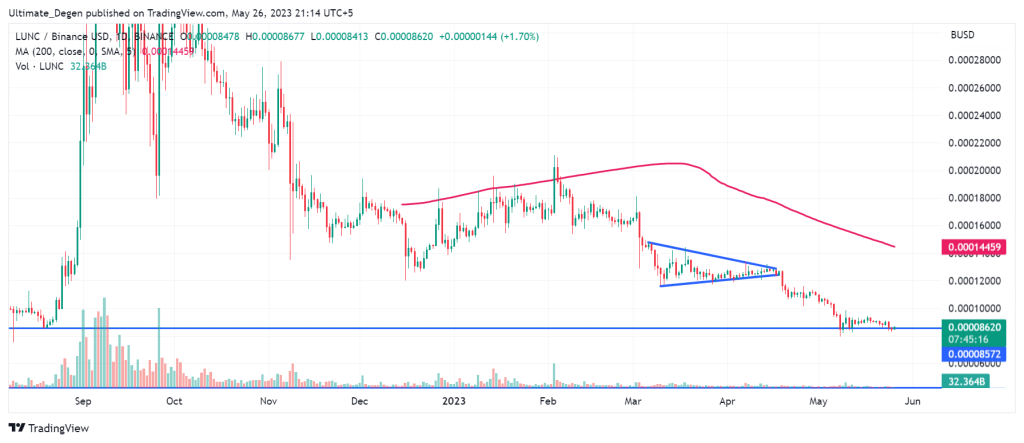 Luna Classic Price Prediction 2025
To predict the price action of a volatile asset like a cryptocurrency 2 years from now is very tough. Nevertheless, considering the history of LUNC crypto, it doesn't appear to be a long-term investment. While it can have a few pumps and dumps in the coming years, I think that it will never see the same hype as it did in 2021.
Luna Classic Price Prediction 2030
A lot can happen in the next seven years. The global macroeconomic and geopolitical landscape will be totally different by then. If Bitcoin really establishes itself as a digital store of value by then, we can expect the other cryptocurrencies also to do well.
However, I'll be surprised if something like LUNA Classic is still relevant at that time. Considering the lack of any developmental activity on Terra classic chain, I think the network will slowly phase out in the coming years. Therefore, it is needless to say that Terra LUNA classic price prediction 2030 is extremely bearish.
Where To Buy Luna Classic?
LUNC crypto is currently available on all major crypto exchanges. After last year's drama, many exchanges delisted the Terra LUNA as the investors lost $50 billion within just a couple of days. However, the troubled coin is back on major exchanges like Binance, Kucoin, and Bitget.
How High Can Luna Classic Go?
At this point, Terra LUNA Classic price has become a laughing stock. Whales love to manipulate the prices of such cryptocurrencies. This is achieved by pumping the prices to lure new investors into buying more coins and then suddenly dumping their holdings at higher prices.
How Many Luna Classic Have Been Burned?
The unofficial site, Lunaburn, shows that 565,596,235 LUNC have been burned till now. The site also reveals that the total supply of cryptocurrency is 6,850,484,388,698, out of which 6,849,006,650,054 coins are currently in circulation.
Who Owns Luna Classic?
Terra LUNA Classic cryptocurrency was launched by Terraform labs and the project was led by founder Do Kwon. The South Korean founder of the troubled project was accused of multiple wrongdoings and faced a severe backlash after the failure of UST. In 2023, Do Kwon was arrested in Montenegro in one of the major developments of the year for LUNC price.
How To Send Luna Classic To Ledger?
Hardware wallets are one of the safest ways to store cryptocurrencies. These devices store the private keys in encrypted chips, which provide maximum security. It is always advisable to store the longterm holdings off the crypto exchanges. One of the best practices is to store the funds on the blockchain protected by Ledger or Trezor hardware wallets.
The official Ledger website suggests the following way to send LUNA Classic to your ledger devices.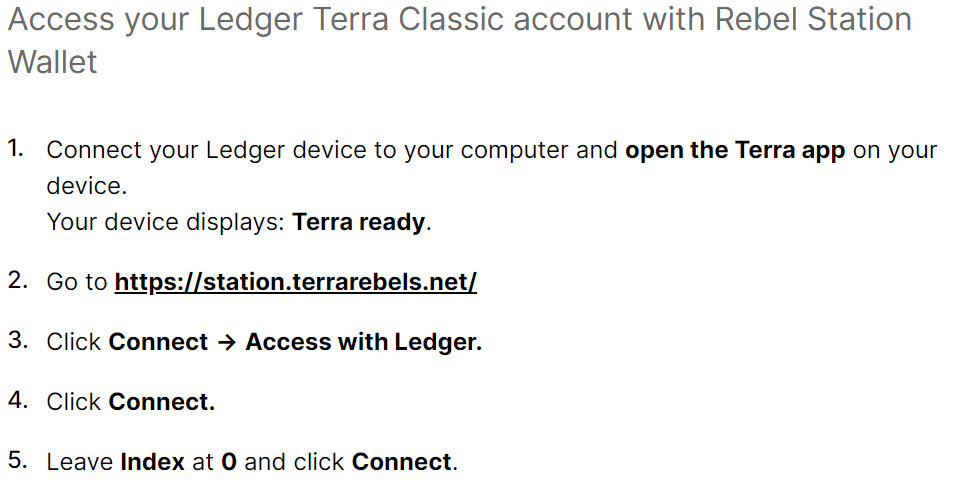 Conclusion
I know that many people are holding on to their LUNA bags from the 2021 bull run. Many pseudo-analysts are throwing dubious price targets for LUNC price to get the attention of these troubled investors. However, the fact is that the LUNA Classic price prediction is very unlikely to flip bullish.
The reason is that its circulating supply has increased thousands of times due to UST de-pegging. This makes any significant price growth almost impossible. Therefore, LUNC is unlikely to hit even 1 cent, let alone its previous all-time high.