Litecoin price remains on downward pressure; trading below the psychologically crucial level of $200 since early December 2021. In late January, it momentarily dropped below $100 for the first time in two months. While it has since rebounded, the bears are eyeing this crucial zone at the altcoin's current price of $110. In this article, the focus will be on Litecoin price prediction for the short, medium, and long term. This includes a look at the underlying drivers.
What is Litecoin and what is its purpose?
Litecoin was founded in 2011 by Charlie Lee as a Bitcoin fork. However, towards the end of 2017, the founder sold and donated all of his LTC tokens.
The crypto was introduced to the market as a 'lite version of Bitcoin'. The development team sought to make transactions cheaper and faster, which is one of the key pros of LTC.
Litecoin vs. Bitcoin
Bitcoin is often compared to gold. Subsequently, Litecoin is seen as its 'silver'. On average, the verification of Bitcoin transactions take slightly below nine minutes. This is significantly longer that the 2.5 minutes needed for Litecoin transactions.
Besides, the average cost of $0.023 for a Litecoin transaction is considerably lower than the leading crypto's minimum of $2. In future, these features may offer it an added advantage in its adoption for retail use.
Even with this competitive advantage, the crypto is often categorized in the same group as other altcoins as opposed to being viewed as an alternative to Bitcoin. From that perspective, Ethereum is the most preferred choice after BTC.
LTC price history
Litecoin price has had mixed returns in the past few years. The coin's price initially rallied to an all-time high of $420 in December 2017 during the then crypto rally. It then slumped by over 90% in 2018 as the Fed embraced a highly aggressive tightening policy. The next rally happened between March 2020 and May 2021, when it rose by more than 1,500%. Since then, the price has declined by over 75%.
Notably, the crypto market has expanded aggressively in the recent past. The launching of numerous digital currencies has seen Litecoin's market share dwindle. By the end of 2017, it was ranked the fifth cryptocurrency by market capitalization. According to CoinMarketCap, it is now ranked 20th with a market cap of $7.733 billion. In comparison, USD Coin is now the fifth crypto with a market cap of $52.617 billion.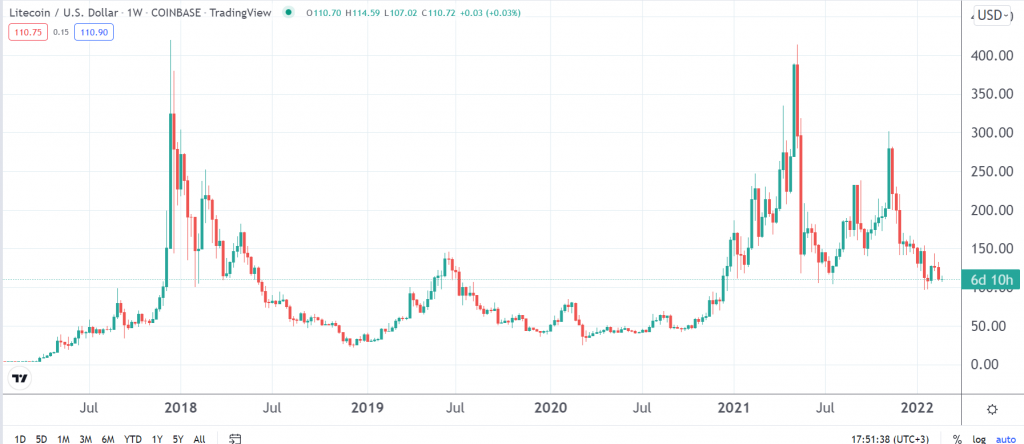 Litecoin (LTC) Whales
In mid-January 2022, Litecoin price rebounded to around $150 as crypto whales accumulated the altcoin. In fact, recent data by Santiment, a cryptocurrency analytics company, showed that this class of investors had triggered a 15-week accumulation pattern. Notably, this was the longest streak since 2017.
In a tweet posted on 12th January, the firm noted that in a span of 15 weeks, those holding between 10,000 and 1 million LTC had increased their holdings by 5% of the altcoin's supply. Subsequently, the crypto rose by 27.35% in one week to January's high of $154.05. Nonetheless, the bulls lacked enough momentum to sustain the rally amid the broad market sell-off.
Bearish Drivers of Litecoin Price
Since hitting January 's high of $154.05, it has dropped by about 40%. It is also close to 65% below the 6-month high it hit in November 2021. As aforementioned, competitiveness in the crypto market, and the subsequent decline in its market capitalization, has contributed to Litecoin's downward pressure. Altcoins such as Dogecoin, Cardano, and Solana have been aggressive in their performance.
Besides, as observed in other cryptocurrencies,  the Fed's hawkish pivot has been weighing on Litecoin price. Since late last year, investors began pricing in four interest rate hikes as the US central bank strives to tighten its monetary policy. Indeed, the bank's tone in the January meeting was more hawkish than expected. As a result, some analysts are of the opinion that the Fed may increase rates by up to seven times by the end of the year.  
Interestingly, the impact that the hawkish stance has had on cryptocurrencies is comparable to that of other risk assets. Bitcoin, the leading crypto by market cap, has dropped its value by over 40% since November 2021. Notably, it has been trading below the psychologically crucial level of $50,000 for about two months.
The downward momentum that has defined Bitcoin price movements in recent months is also observable in other cryptocurrencies including Ethereum, Ripple, and Litecoin.
LTC vs stocks correlation
Equities, which are another class of risk assets, are also on downward pressure. A month ago, Dow Jones plunged to a 10-month low of $33,168.69 as the markets braced for the tightening of the Fed's policy. It is currently finding support around $34,000 after reversing gains from earlier in the month. Even with the recent bounce back, it is still significantly below the all-time high it hit at the beginning of 2022 at $36,979.49. S&P 500 and NASDAQ are also on downward pressure.
From this perspective, the correlation between cryptocurrencies and other risk assets has increased. In prior years, digital assets did not necessarily respond to the global policy in the same way as equities and other financial markets. However, investors are shifting their perception of crypto from a unique hedge against inflation to a typical risk asset. In the foreseeable future, Litecoin price will likely continue to move in tandem with the stock market.
Litecoin price prediction for 2025
LTC price prediction according to Wallet Investor indicates that the altcoin will likely record gains in the near term. The firm expects Litecoin price to be at $117.73 by the last day of February and rise further to $122.45 within a span of one week.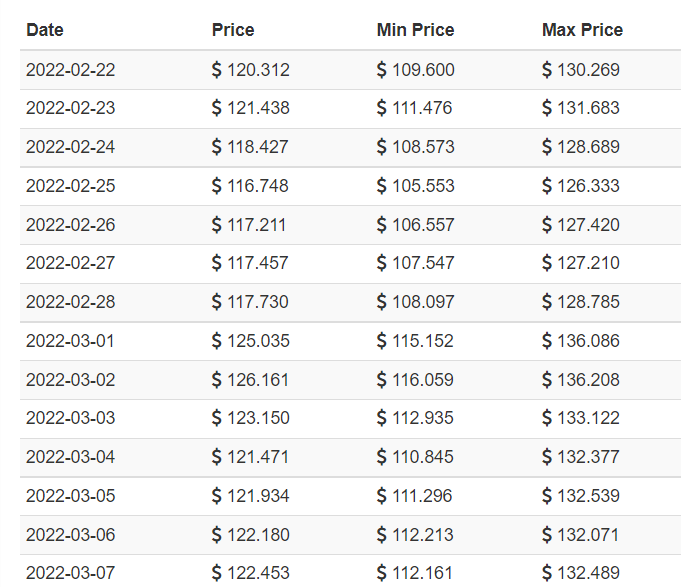 For long-term investors, one of the lingering questions is what will be Litecoin price in 2025. Seeing that Bitcoin often sets the path for altcoins' price movements, it is possible to predict Litecoin price for the coming years based on Bitcoin price forecast by various credible analysts.
LongForecast expects the leading cryptocurrency to reach $61,361 as at January 2025 before pulling back to $47,028 by June and further down to $38,744 by year-end.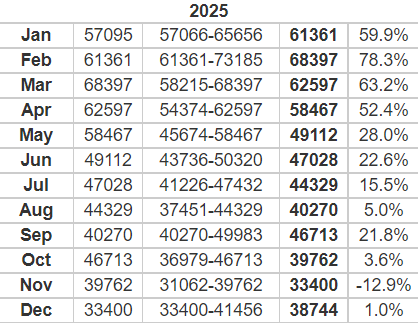 Based on the current prices, the BTC/LTC ratio is 352.29. If the current trend continues in the coming years, Litecoin price will likely open the year at $174.17, but decline to a closing price of $109.97 in December 2025. A look at this forecast for the period between 2022 and 2025 indicates that the crypto may not attract enough buyers to push it to December 2021's level of $200.
LTC price prediction for 2030
It is somewhat difficult to predict Litecoin price for 2030 as crypto due to the high volatility associated with this class of financial assets. However, with increased adoption for retail use, it will likely rise significantly within a decade.
Litecoin price 2022 prediction
A look at the daily chart highlights a downtrend that has been ongoing for close to three months. It has remained below the 25 and 50-day exponential moving averages; a sign that further losses are likely in the ensuing sessions. Besides, it is still below the long-term 200-day EMA.
At its current level of $110.00, it will likely continue to find support at the crucial zone of $100. With additional downward pressure, the bears will have an opportunity to retest December 2020's zone of 80.
Even with the probable rebound, I expect Litecoin price to remain below $150 in the short term. As such, a bounce-back may have the alt-coin find resistance along the 50-day EMA of $129.36.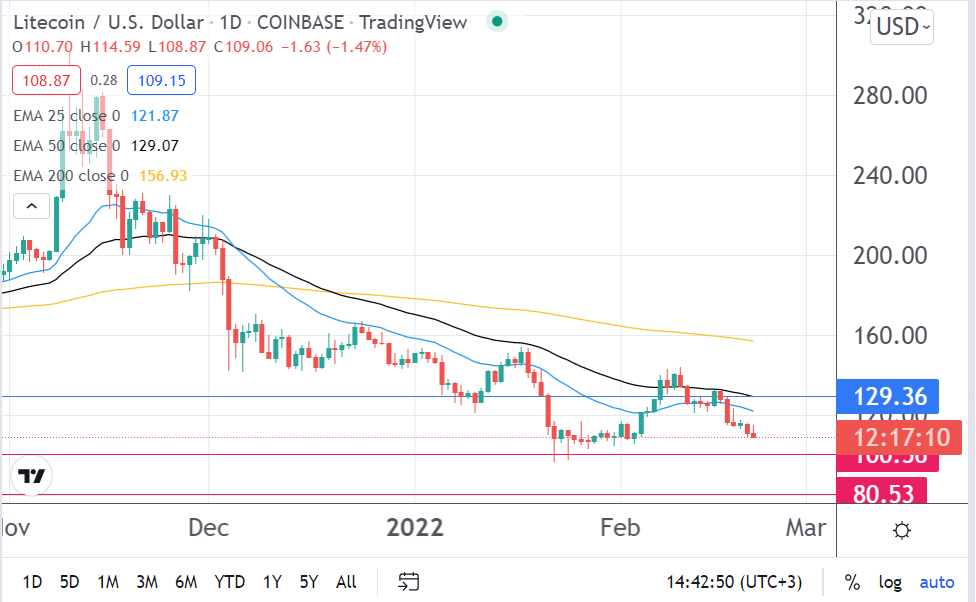 Will LTC reach $1,000?
Cryptocurrencies are largely characterized by heightened volatility. While Litecoin price will probably record significant gains in coming months, $1,000 is rather unlikely in the current decade.
How to buy Litecoin
One can purchase Litecoin via apps such as PayPal and Cash App. However, the more common approach is to use crypto exchanges like Coinbase, Binance, and Crypto.com. Regardless of the option you decide to use, it is helpful to consider the platform's security, fees, and ease to use.