After retracing 50% from the highs, the Loopring price has reached decision time, which I expect will lead to an explosive reaction.
Loopring (LRC) surged ten-fold in two weeks at the start of November as investors rushed to jump on board the furious altcoins rally. The Ethereum-based LRC Token was one of several 'under-the-radar' cryptos that burst onto the mainstream, reaching record valuations last month. Between October 28th and November 10th, Loopring's market cap jumped from under $500 million to over $4.5 billion. However, like many of the digital assets that experienced parabolic rallies, LRC has fallen sharply from the highs. But despite the decline, LRC's still ranks at 52nd most valuable cryptocurrency behind The Graph.
LRC Price Analysis
The daily chart highlights several significant developments. Firstly, the Loopring price has retraced 50% from last months high. Furthermore, LRC is testing trend line support at $2.100. As a result of the confluent support, the Average True Range Indicator (ATR) of 0.09 is at a four-week low.
Considering the significance of the rising trend line, one of two outcomes is likely. Either LRC holds the line and bounces towards last weeks high of $2.980 or crashes through support.
If LRC starts to break down, a return to the December 4th low of $1.620 is probable. However, a steeper correction could extend to $1.130 (0.786 Fibonacci retracement level).
Although LRC is holding the line, I am leaning towards a bearish outcome. However, the negative view relies on a close below the trend. On that basis, I am on the sidelines, awaiting confirmation.
Loopring Price Chart (4-hour)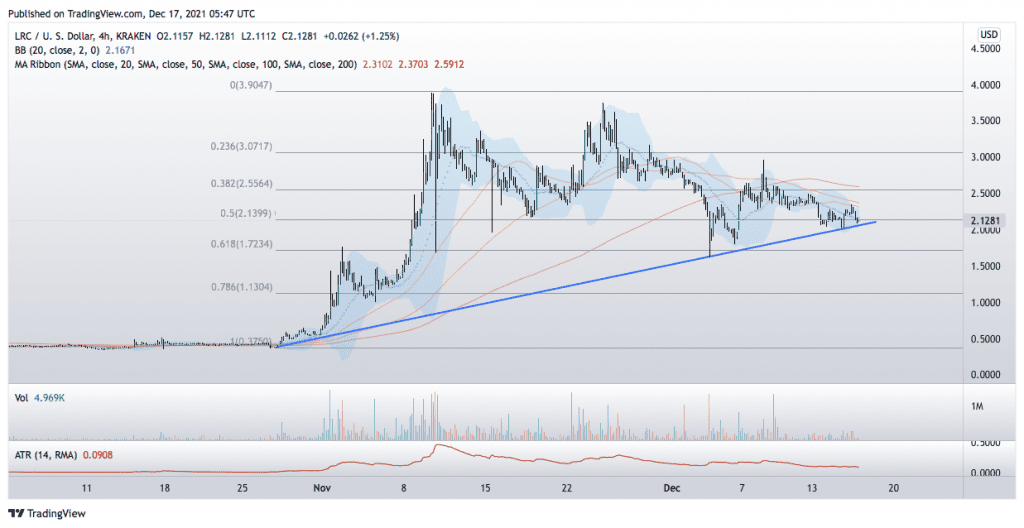 For more market insights, follow Elliott on Twitter.