The Loopring price prediction for today will cover some potential short term plays on the lower time frame charts, as the pictures on the higher time frame charts show an asset in consolidation. Loopring (LRC/USDT) is correlated with Bitcoin, and its moves closely mirror the picture seen on the BTC/USDT chart.
Loopring started the week negatively, losing 5.56% in Sunday's trading before sharp gains on Monday and Tuesday put it in the green territory for the week. Unfortunately, Wednesday's spike was not sustained, as the bears fought back and sent prices below the 0.9561 support, putting the LRC/USDT pair on the back foot, where it has remained this Thursday. 
Traders woke up to the news that the Binance exchange was restricting trading services to Russian users with more than €10,000 in their accounts, putting the entire market on red alert and dampening sentiment. Presently, the LRC/USDT pair is down 0.76% on the day.
The support and resistance levels on the LRC/USDT chart continue to dictate the Loopring price prediction outlook. Following the formation of a doji pattern at the 1.0247 resistance level on 20 April, the LRC/USDT pair was sold off hard, eventually catching a break at the 0.9312 minor support (14 April high and 19 April low). A short bounce was short-lived, and the price is now resting at the 0.9561 price mark. How will the price moves play out for the rest of the week? Here is the Loopring price prediction for day traders.
Loopring Price Prediction
A break of the 0.9561 support brings 0.9312 into the mix as the next target point for sellers. Below this new target, the price may find some discovery at the top end of the rectangle, where the 0.9069 price mark lies. 0.8833 forms the lower border of the rectangle and is the next target point on the way down before additional mainstream support comes in at 0.8545 (17 April low).
On the flip side, a bounce on the 0.9312 support will provide an opportunity for a retest of 0.9561. If the retest successfully clears this resistance, 1.0247 will enter the mix once more as a new barrier to the north. Only when 1.0247 is taken out can there be an advance to 1.05000 (8 April high) before 1.0990 forms an additional barrier to the north. There is a chance that the psychological price mark at 1.0000 may become a pitstop for the bulls.
LRC/USDT: 4-hour Chart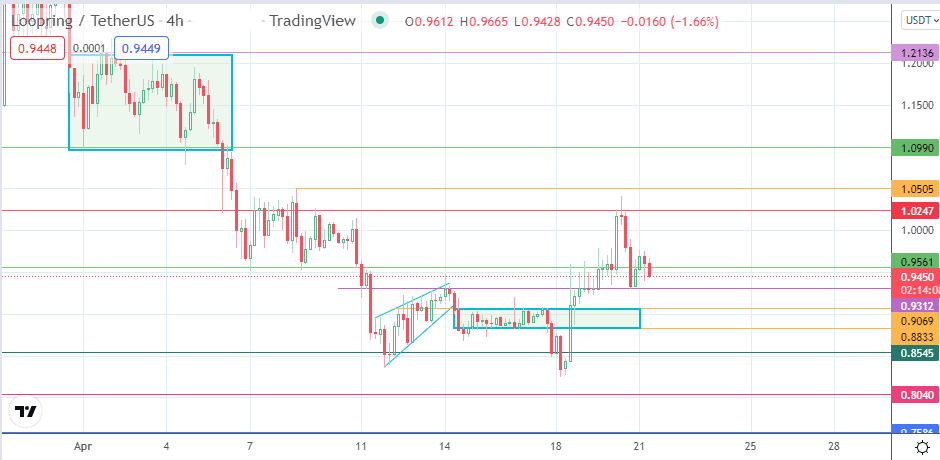 Follow Eno on Twitter.