Lloyds share price opened the week in the red after the bulls successfully pushed the shares back above the crucial 41.4p support level at the end of last week. The shares are currently valued at 42.2p a piece as the market awaits some confirmation of its breakout.
The UK stock market experienced a correction today after the construction PMI figures showed a sharp decline in output. The weak consumer confidence and the harsh financing options are possible reasons for the disappointing figures. As a result, UK equities tumbled and the FTSE 100 index lost 7 points in the first trading session of the week.
JP Morgan and Barclays both have raised some concerns regarding Lloyds as they trimmed their price targets for the British bank. More accurately, JP Morgan has slashed its price target to 41p while Barclay expects Lloyds share price to hit a price target of 67p in the future.
Despite posting positive Q3 earnings, Lloyds Banking Group had to face the loss of its net interest margin in Q3 which haunted other British banks as well. However, the bank remains optimistic that its outlook and profits will meet its expectations.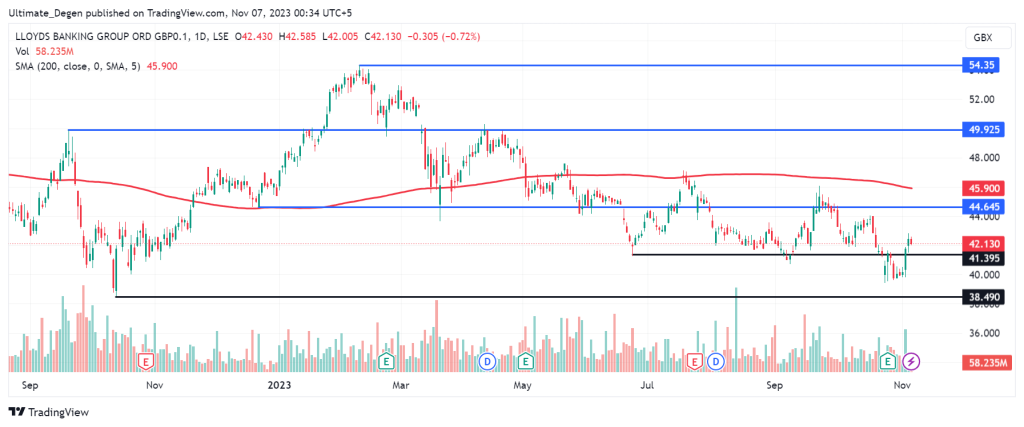 Lloyd Share Price Forecast
The chart below shows LON: LLOY in a downtrend ever since it hit its peak back in February 2023. Since then, the shares have plunged 22.5% as UK interest rates soared. Consequently, the shares of the British bank are now 8.2% below its 200 MA which has acted as resistance on two previous occasions. Those retests resulted in approximately a 13% correction.
As mentioned above, the bulls now need to confirm the recent breakout above the 41.4p level. Therefore, if the price successfully flips the 41.4p into support, this will put a 7.76% rally towards the 44.6p resistance level on the cards. However, the Lloyds share price forecast might take a bearish turn if the price breaches 41.4p.