The Lloyds share price is down for the 6th consecutive session as a round of weakness hit UK banking stocks over fears that the economic impact of rising energy prices may have negatively affected borrowing customers.
There are fears that UK banks may see less borrowing in 2022 if the rise in energy prices pushes up the cost of living in the UK. Last week, consumer inflation data showed that the cost of living in the UK is at its highest levels in a decade, spurred mainly by a rise in the price of food, energy, housing, etc.
The bank is said to be mulling a share buyback scheme, with about £1billion-worth of its shares in line for being re-acquired from investors as part of a new strategy to invest the bank's surplus capital said to be worth £4 billion. This buyback is set to kick off in February 2022, which could spark a new round of demand on the stock.
The Lloyds share price is currently down 2.09% as of writing.
Lloyds Share Price Outlook
The intraday decline is testing support at 50.51. A breakdown of this area takes the price on a lower run towards 47.95. 46.00 and 44.99 are additional price targets to the south that become relevant if price deterioration occurs.
On the flip side, a bounce on the 50.71 support allows the bulls to attack the 52.09 resistance. If the bulls successfully uncap this barrier, 55.20 becomes an attainable target. Only when the price activity trends beyond 55.20 can the uptrend recovery continue. This would bring 58.57 into the mix as a new northbound target. 
Lloyds: Daily Chart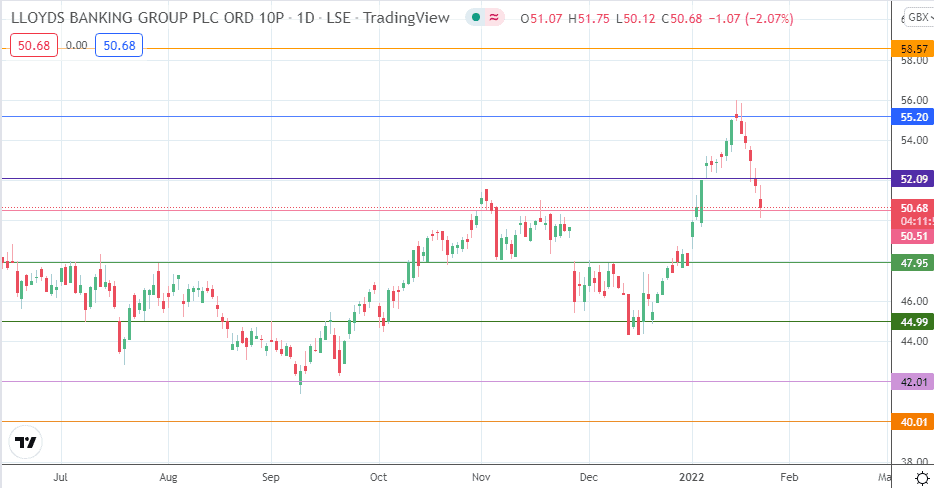 Follow Eno on Twitter.