Lloyds share price has struggled in the past few years as concerns about a post-Brexit Britain continue. The stock has crashed by almost 40% in this period, meaning that it has underperformed the SPDR Bank ETF (KBE), which has risen by about 5% in this period. Lloyds Bank stock has also plunged by more than 16% this year.
What is a Lloyds Bank?
Lloyds Bank is a leading British company that serves more than 27 million people in the country. It owns some of the best-known brands in the UK, including Lloyds, Bank of Scotland, Halifax, Scottish Widows, Schroders Personal Wealth, MBNA, Blackhorse, Birmingham Midshires, Lex Autolease, Embark Group, AMC, and LDC.
All these companies offer different solutions. For example, Embark offers retirement solution to more than 350k people with over 37 billion pounds in assets. Schroders Personal Wealth is its joint venture with Schroders, a company with over 650 billion worth of assets. Black Horse and LEX Autolease provide auto leasing solutions.
Still, Lloyds Bank makes most of its money from its banking services in the UK. Unlike its peers like Barclays and HSBC, it does not have any major footprint abroad.
Lloyds share price history
Lloyds Bank Group has had a long and challenging period as a publicly traded company in the UK. The firm went public in 1998. At the time, the stock was trading 130p. Shortly afterward, the stock surged to an all-time high of 548p during the dot com boom. The good times ended when the dot com bubble burst and the shares plunged by 72% between 1999 and 2002.
The worst period for Lloyds share price was during the Global Financial Crisis (GFC) when the company neared going bankrupty. It survived due to a 20.3 billion pound government bailout. The stock crashed to an all-time low of 16.59 during the period.
After that, the stock has been in a slow recovery that saw its shares peak at 89.71 in 2014. It has now crashed by 53% since that time.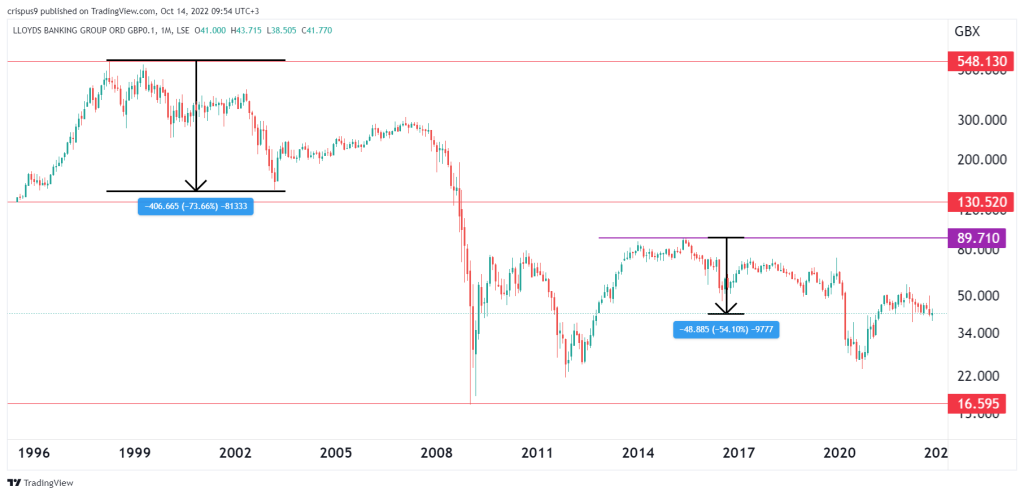 Lloyds share price today
On Friday, the LLOY share price was trading at 41.7p. This price was about 54% from its highest point in 2014. It was also about 76% above the lowest level in 2020 during the Covid-19 pandemic. In all, while Lloyds is one of the most actively traded stocks in the FTSE 100, the reality is that it has not been a good investment over time.
Lloyds Bank share price news
There are several news that will move the Lloyds Bank stock price. First, there are lingering concerns about the UK economy following the tax cuts implemented by the new government. These tax cuts have fueled a massive Bank of England (BoE) interventions and worries about the UK economy. This is notable since Lloyds is often viewed as a barometer for the UK economy.
Second, the Lloyds share price will react to the upcoming US bank earnings season. Some of the top banks that will publish on Friday and Monday are JP Morgan, Citigroup, Wells Fargo, and Bank of America. While Lloyds has a different operating model from these banks, their results will set the tone for bank stocks. Lloyds will publish its results later this month.
Why is Lloyds share price too low?
Lloyds share price is undoubtedly cheap. For one, it has a price-to-book ratio of 0.6, making it cheaper than other popular European banks like Intesa Sanpaolo, HSBC, ING, BBVA, and Caixabank. This is also notable since Lloyds has one of the best balance sheets in Europe. As shown below, it has the best core tier-one ratio in Europe after Unicredit.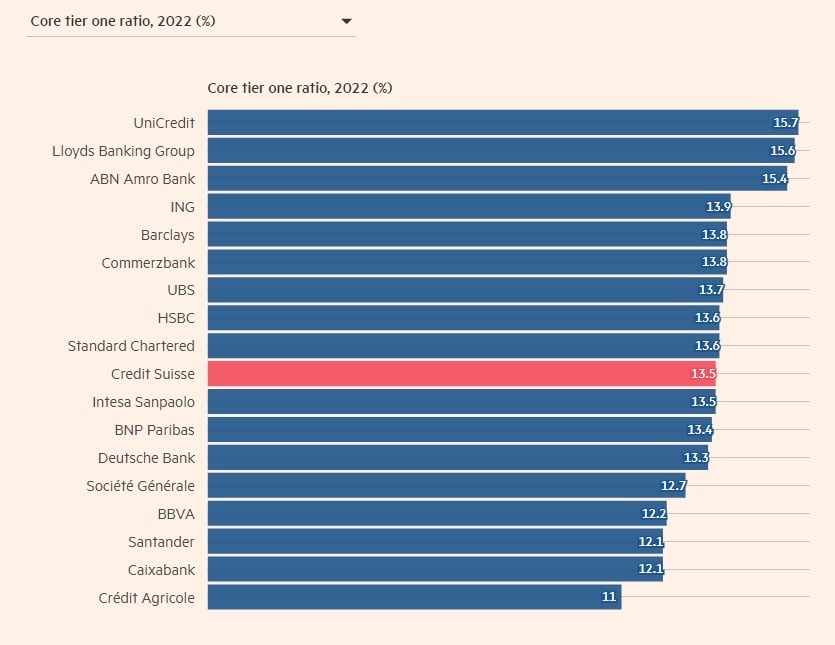 Lloyds share price is cheap because of worries about the UK economy post-Brexit, the falling British pound, and the overall lack of growth in the banking sector. Also, the low-interest rates of the past decade made it relatively hard to invest in.
When will the Lloyds share price recover?
A closer look at the bank's stock chart shows that it has struggled to move above the important resistance level at 60p. Therefore, a common question is when the stock will bounce back. It is hard to tell since there are lingering concerns about the UK economy. Also, with global stocks in an overall downward trend, there is a likelihood that it will remain in a consolidation phase for a while.
Lloyds share price forecast 2022
The daily chart shows that the LLOY stock price formed a bullish engulfing pattern. In price action analysis, this pattern is usually a bullish sign. It then formed a bullish gap pattern. The stock remains at the 25-day and 50-day moving averages while the Relative Strength Index (RSI) moved close to the neutral point.
Therefore, I suspect that the Lloyds share price will remain between 40p and 50p in 2022 as concerns about the British economy remain. A drop below the support at 38p will mean that bears have prevailed, which will see it continue falling.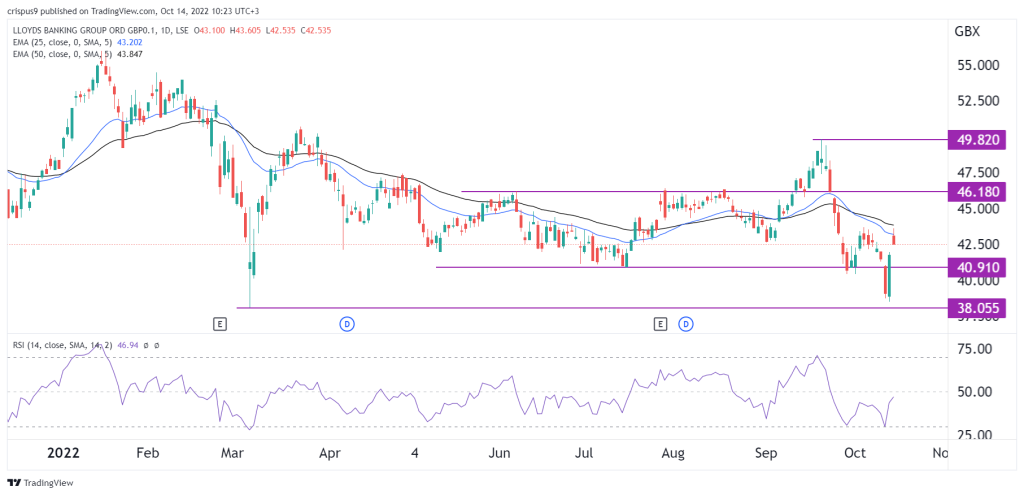 Lloyds share price forecast 2025
The next few years will be difficult for Lloyds and other UK banks like NatWest and Virgin Money. That's because analysts believe that the UK economy will struggle in the coming years. A look at the weekly chart shows that the stock formed what looks like a head and shoulders pattern. In price action analysis, this pattern is usually a bearish sign.
The stock is also below the 38.2% Fibonacci Retracement level and the lower side of the Andrews Pitchfork. Therefore, there is a likelihood that the stock will fall below 30p by 2025.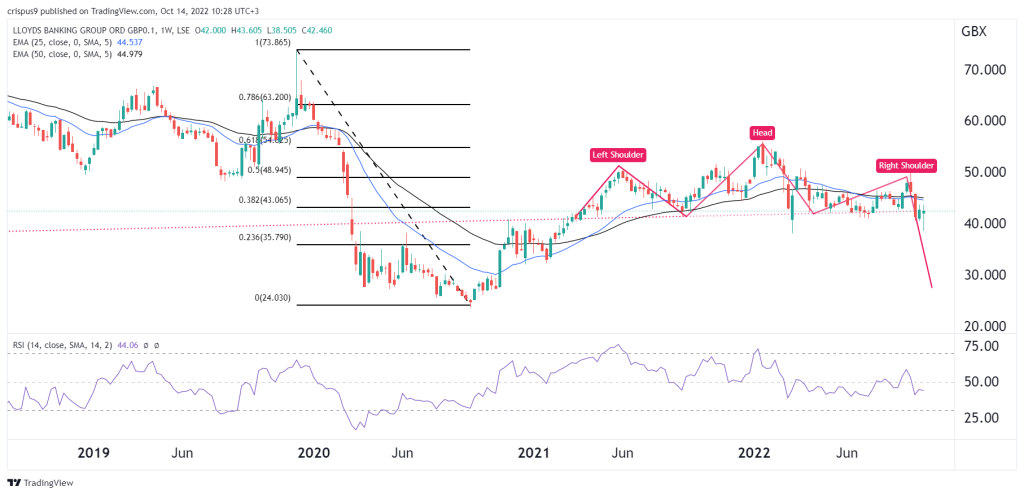 Lloyds Bank share price forecast 2030
To be fair, it is relatively difficult to predict where the stock will be in 2030. But looking at the monthly chart below, we see that it has been in a bearish trend in the past two decades. In this period, it moved below the descending trendline shown in black. In this period, it has crashed below all moving averages. Therefore, we can't rule out a situation where the shares crash to about 25p by 2030.