The Litecoin price has been unable to capitalise on Bitcoin's recent strength and remains capped by the 200-day moving average. Despite Bitcoin almost tagging $60k this morning, Litecoin is frustratingly quiet. For the last week, LTC has changed hands in a tight $165-$185 range. However, at some stage, the crypto coin will break free from its shackles.
The combined crypto market cap has climbed to $2.43 trillion this morning, within $60 billion of may's record. However, the gains are not shared evenly. Bitcoin has vastly outperformed over the last two weeks, Increasing its market dominance to 45.9%, leaving many altcoins way behind. In light of the strength at the top of the table, you could be forgiven for thinking the Litecoin price would be performing better than it is. LTC is currently trading at $182, the same price it was in August. As a result of the lethargy, Litecoin has slipped to the rank of 15th-largest cryptocurrency. LTC's current market cap sits around $12.35 Billion, marginally ahead of Avalanche (AVAX) at $12.28b.
LTC Price Analysis
The daily chart shows the litecoin price of $182 is below the 200-Day Moving Average (DMA) at $189.20 and above the 100-DMA at $161.66. Depending on which of the indicators Litecoin crosses first will dictate the direction as we advance.
If LTC clears the 200 DMA, an extension towards the September high of $237.88 is probable. However, if LTC falls below the 100-Day indicator, a drop to the September low at $140 is possible. Therefore, an accurate Litecoin price prediction hinges on how it performs in the immediate future. For now, it's unclear which of the indicators will dominate the price action. And for that reason, I hold a neutral view on LTC and wait for a bullish or bearish signal to emerge.
Litecoin Price Prediction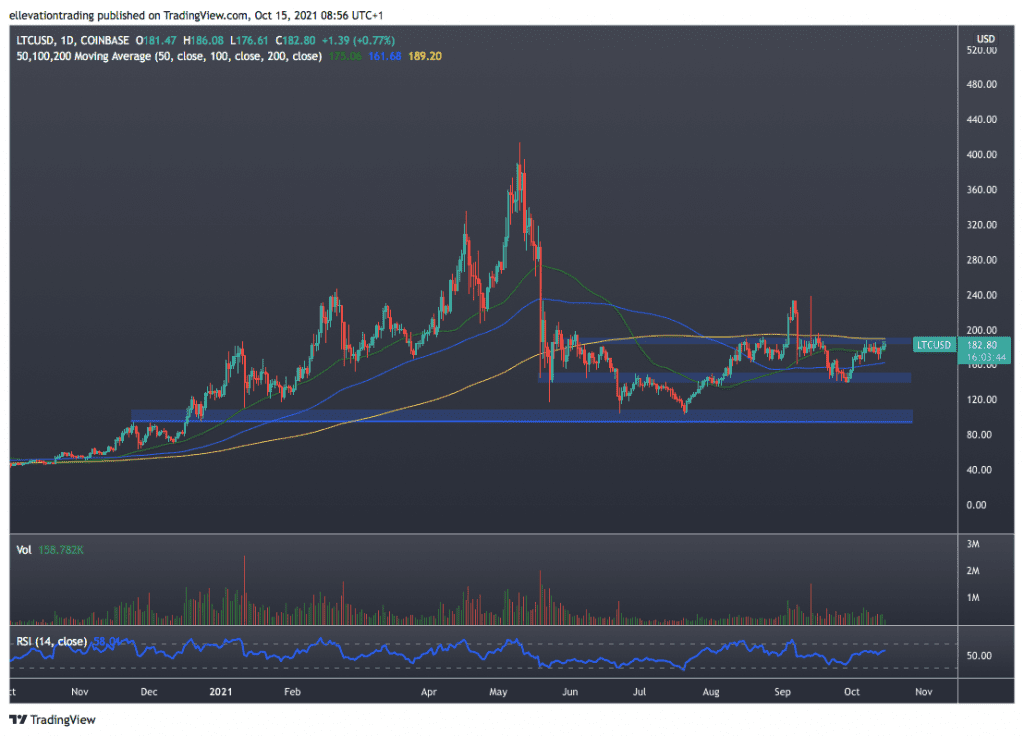 For more market insights, follow Elliott on Twitter.