A breakdown of the recent Litecoin price action, long-term Technical Analysis, and the current macro backdrop for cryptocurrencies.
On Tuesday, Litecoin (LTC) is slightly softer at $150.16 (-2.05$) in early trading. LTC has lost -27% in December, over 50% from the November highs, and 65% below May's three-year high. Litecoin's market cap has fallen from $25.9 billion to approximately $10.6 b in the last seven months, currently ranking LTC as the 18th most valuable cryptocurrency.
Like most legacy cryptocurrencies, Litecoin never recovered from the crypt collapse in May. While some, like Bitcoin and Ethereum, forged new highs in November, helping the crypto market reach a $3 trillion valuation, LTC struggled to regain the form it saw at the start of 2021. Furthermore, Litecoin has underperformed the broader market on the way down.
Several macro factors are weighing down cryptos at the moment, including the FOMC's decision to accelerate the taper timeline. The hawkish stance has pushed the US dollar to an 18-month high and destabilised equity markets. As a result, investors have reduced exposure to risk assets, including cryptocurrencies. This morning, BTC is trading at $47,00, around 32% below the November all-time high. Subsequently, the Litecoin price has retraced to a significant support long-term level, which LTC must maintain to keep the 2021 bull market alive.
LTC Price Forecast
The weekly chart shows the Litecoin price is approaching confluent support around $140. A rising trend line from October 2020, aligned with the September lows, should provide a considerable long-term floor. As long as LTC remains above the trend support, it could turn higher onto the $200-$240 range in the medium term.
However, if LTC closes below the trend (on a weekly basis), I expect long liquidation to follow. In that event, the price should extend toward the July low of $104.
For now, I am cautiously optimistic. However, traders should pay close attention to overall macro sentiment, as a broader risk-off in stocks will exert negative pressure on Bitcoin, and subsequently, Litecoin.
Litecoin Price Chart (Weekly)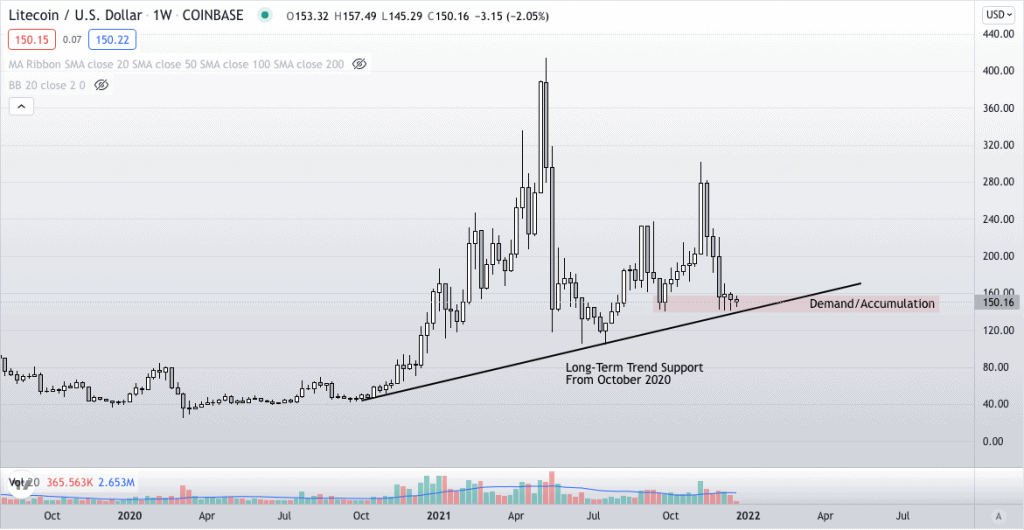 For more market insights, follow Elliott on Twitter.