Tuesday's bullish performance by the Bitcoin analogues is spurring the potential for bullish Litecoin price predictions, as the LTC/USDT pair makes a bold attempt to re-establish new 1-month highs. In a previous analysis of this pair, the descending trendline was identified as a key resistance that needed to allow this to happen, a consequence of the pair's emergence from the rectangle's upper border.
This scenario is playing out as Bitcoin's price advance has pulled Litecoin and Ethereum upward. As a result, the intraday, correlated upside move on the LTC/USDT pair has violated the 121.6 resistance level. The upside move comes a day after Litecoin and Walmart was forced to deny a news report of a purported partnership between both entities (not for the first time). But unlike the last time when Walmart denied any collaboration with Litecoin, the Litecoin price activity has retained its upside momentum. The LTC/USDT pair is up 5.00% as of writing.
Litecoin Price Prediction
The breakout from the rectangle pattern on the daily chart is challenging a double resistance at the 120.4 price mark, coupled with the descending trendline that connects the highs of 24 December 2021, 17 January, and 11 February 2022. Any further advance is only possible if the bulls remove these resistance barriers. If the bulls succeed in uncapping these barriers, there will be clear skies to initially aim for 140.2 (28 September 2021 low and 8 February 2022 high). Additional upside targets are seen at 152.2 and 165.1 (23 September/23 December 2021 highs).
On the other hand, rejection at the current resistance levels will open the door for a pullback that aims to retest the 105.6 support (22 June/20 July 2021 lows and 31 January/3 February 2022 lows). Below this level, 98.3 and 91.6 form the immediate pivots, which become viable if the price declines further. Finally, a further price deterioration brings 78.4 and 66.3 into the picture.
LTC/USDT: Daily Chart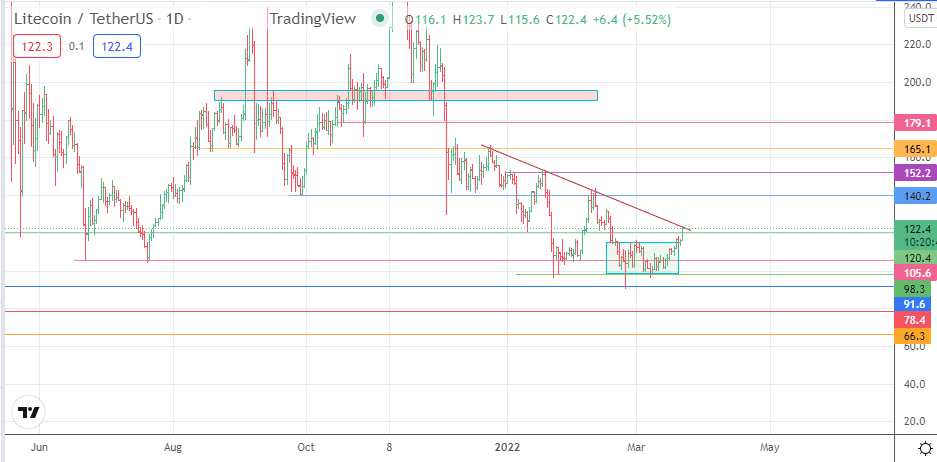 Follow Eno on Twitter.