Las Vegas Sands Stock (NYSE: LVS) is down 12.5% this week as China considers stricter rules for casinos in the Asian gambling mecca. LVS dropped to $36.15, the lowest price since March 2020, before paring losses into the close. However, considering the large footprint the US Gaming company has in the region, it may have further to fall.
Via its majority-owned subsidiary, Sands China, Nevada-based Las Vegas Sands Corp owns several properties in Macau. Among them is Venetian Macau, which at 10,500,000 square feet and 39-stories, is the biggest in Asia and the second-largest in the world. Therefore Las Vegas Sands Stock has a lot on the line.
China Clamps down
As yet, the exact nature of the policies is unclear. However, they are expected to include legal requirements for casinos to monitor potential money laundering. Furthermore, the Chinese government is hoping to reduce the region's dependence on Gambling. Currently, Macau derives around 80% of its revenue from the gaming industry, and authorities have asked Casino operators to play their part in reducing that.
LVS Price Forecast
The weekly chart shows the Las Vegas Sands stock price is approaching a major support level. The band of support between $33.70 and $36.00 has held firm for over a decade. Therefore, should LVS break down below $33.70, it could be in serious trouble. Technically speaking, there really isn't much in the way of significant support until around $26.00, more than 50% below last nights $38.05 close.
However, the stock did see a bid late on yesterday session, which could indicate willing buyers. Furthermore, the volume into the close is encouraging and may lead to support holding. If LVS stays above $36.00, it would suggest support is intact. And as long as that remains the case, the stock can recover.
On that basis, there may be some who are prepared to take a gamble on LVS. Although until there is clarity on which measures are to be imposed, it will be exactly that, a gamble.
Las Vegas Sands Stock Chart (Weekly)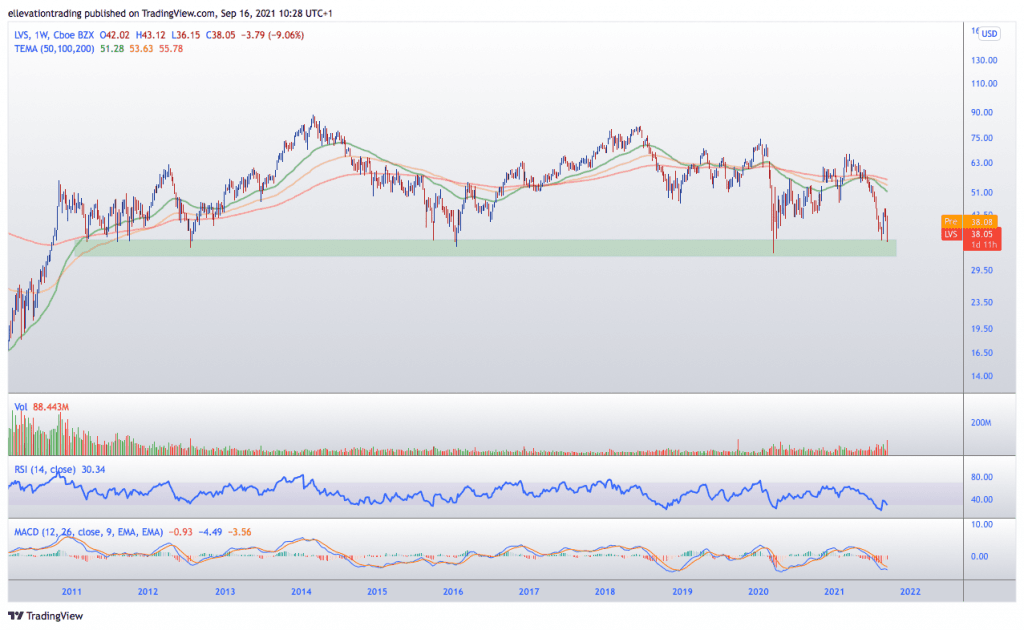 For more market insights, follow Elliott on Twitter.