After this week's explosive upside breakout, the Polkadot price is taking a break this morning and lower by 3% to $32.20. However, this may be just what it needs to make a run at may's all-time high. Like most established cryptocurrencies, Polkadot (DOT/USD) has been on a six-week winning streak following July's selloff. In that time, the DOT coin has gained more than 200% in price, increasing Polkadot's market cap by $20 billion to just over $30b. This ranks Polkadot as the 9th-largest cryptocurrency, behind high-flying Solana (SOL/USD).
The cryptocurrency market as a whole is extending gains this morning, and its combined market cap has increased two a four-month high of $2.2 trillion. This has undoubtedly helped DOT, but we must give some credit to Kusama's (KSM/USD) parachain auction yesterday. This is particularly interesting for DOT holders, as winners may someday be promoted to the Polkadot protocol. This could be the catalyst for the Polkadot price to build on recent gains and attack the ATH.
DOT/USD Price Forecast
The daily chart reveals some positive developments. Firstly, the Polkadot price has broken out of a triangle formation. Furthermore, DOT has scaled $31.50, which marked the top of the knee-jerk bounce following the crypto collapse in May. Moreover, despite retracing this morning, the price remains above $31.50.
Additionally, the Moving Average Convergence Divergence (MACD) Indicator has now turned positive. However, the Relative Strength Index (RSI) reads 71.32, which is considered high. This could indicate the price needs to consolidate further to sustain the rally. Although cryptocurrencies rarely take notice of what they should do and often overshoot in both directions.
The outlook is encouraging now that the price has broken above the descending trend line at $27.20. This should lead to DOT trading higher in the coming days. A logical target for the bulls is clearly May's $50.74 record. And as long as DOT stays above the trend, this remains a viable possibility.
However, this bullish view relies on the trend and on that basis, if the Polkadot price drops below $27.20, it will invalidate the optimistic call.
Polkadot Price Chart (Daily)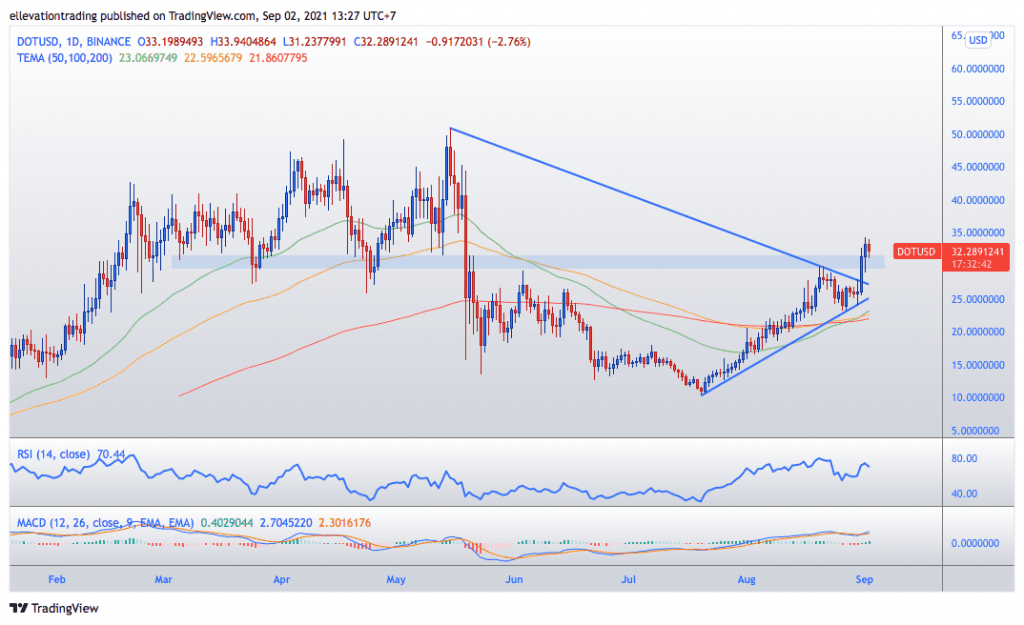 For more market insights, follow Elliott on Twitter.