The Litecoin price has struggled this month and is currently 35% below the September high. However, LTC is starting to look relatively cheap. Whilst Bitcoin (BTC) and Ethereum (ETH) are recovering from last weeks selloff Litecoin (LTC) is still down 11.5% during the previous seven days. However, it's not just recently that LTC has underperformed. Litecoin has lagged BTC for months and is close to a three year low against the market leader, which historically has been an excellent time to buy Litecoin.
Litecoin has undoubtedly suffered more than many of the top-ranked cryptocurrencies in 2021. At the latest price, LTC is up around 18% year-to-date. Although respectable, when measured against its peers, the performance is downright miserable. Despite dropping $20,000 in the last four months, BTC is still 50% higher than on January 1st. Furthermore, some altcoins are showing returns in the 1000%'s, leaving Litecoin bulls even more frustrated. However, the Litecoin price could be in for a period of outperformance, against BTC at least.
LTC vs BTC
The below chart shows the price of Litecoin vs that of Bitcoin. As we can see, currently, 1 LTC buys approximately 0.0035 BTC, approaching the three-year low of 0.0032 in March. Furthermore, it is around 50% below the 0.0072 high in May. Additionally, a rising trend line from the March low underscores the LTC/BTC support at 0.0034. Therefore, Litecoin is starting to look attractive against Bitcoin. And not to mention, when LTC looks good vs Bitcoin, it usually proceeds a rally against the dollar.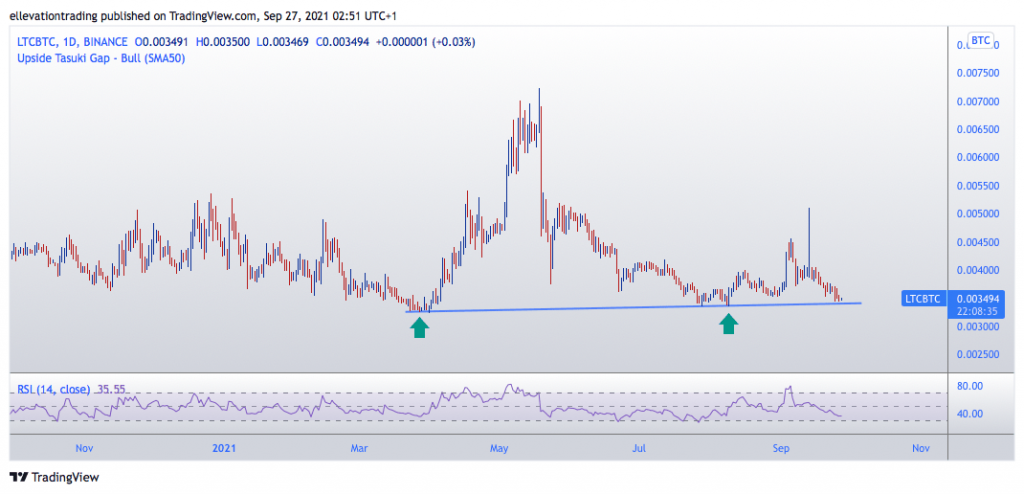 LTC price Analysis
Interestingly, previously this year, when the LTCUSD pair has traded to the trend support, a Litecoin rally has followed. In March, when LTC/USD turned higher from 0.0032, the Litecoin price started a bull run to the May high of $413. Again in August, after LTC/USD bounced from trend support, LTC doubled in the following month. In the last week, LTC/BTC has pulled back to the trend support.
Notably, the Litecoin price is also finding support against the US dollar in the $140-$150 range, which may provide a cheap entry point. As long as LTC holds the horizontal support of $140, it should turn higher. Furthermore, if LTC/BTC sustains trend support, Litecoin should see some buying from relatively value players. Therefore, bulls could add LTC longs and place a stop below $140. Of course, if BTC turns lower, it will take Litecoin with it. However, if Bitcoin continues to recover from last weeks selloff, the Litecoin price would increase at a much faster rate. The initial target on the trade is the 200-day moving average at $191, where longs should book at least 50% of profits.
Litcoin Price Chart (Daily)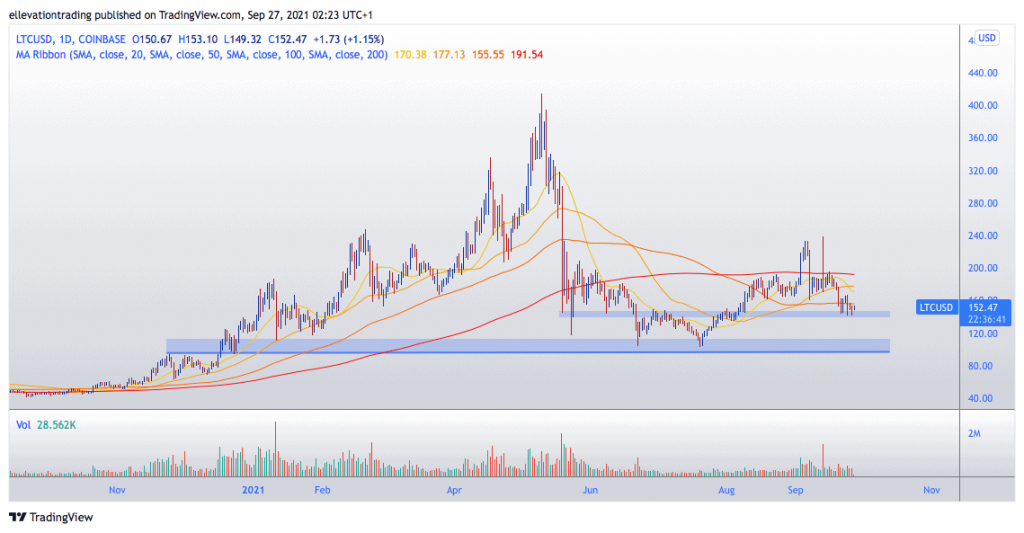 For more market insights, follow Elliott on Twitter.