The Ethereum price averted a breakdown yesterday, climbing 4.5% to reclaim the $3,400 level and a $400 billion market cap. Furthermore, the number two crypto got a ringing endorsement from investing guru Cathie Wood who said ARK Invests confidence in Ether has 'gone up dramatically' following Ethereum's upgrade.
Talking to Andrew Ross Sorkin at the SALT conference on Monday, Wood reiterated her belief that cryptocurrencies are not only here to stay but are also massively undervalued. Wood said growing institutional adoption could send the price of Bitcoin (BTC/USD) soaring to $500k in the next five years. And whilst BTC remains her first choice, she told Sorkin Ethereum (ETH/USD) comes in a close second.
"Ether, however, is seeing an explosion in developer activity thanks to NFTs and DeFi," she said, referring to nonfungible tokens and decentralized finance. "I'm fascinated with what's going on in DeFi, which is collapsing the cost of the infrastructure for financial services in a way that I know that the traditional financial industry does not appreciate right now."
Woods' vocal support came at just the right time for the Ethereum price. On Monday, ETH was trading at $3,110, testing the 50-day moving average and trend line support. Yesterday's price action hasn't only relieved the immediate pressure but may also lead to a bullish breakout.
ETH Price Forecast
The daily chart shows that Ethereum has been trending higher for the last two months. This has resulted in an uptrend forming, which is currently seen at $3,180. Just above the trend, the 50-day moving average at $3,188 reinforces the price support.
Monday's recovery has now lifted ETH to the first resistance level of $3,400. As the chart shows, $3,400 has acted as robust resistance and support over the last two weeks. Following last Tuesday's mini-crash, the Ethereum price has struggled to clear $3,400 on a closing basis.
Therefore, if ETH finishes the day above $3,400, it should set the price up for an extension towards last weeks top around $4,000. Furthermore, if $4,000 falls, the may $4,646 peak should follow.
The bullish view remains as long as the Ethereum price respects the rising trend line. Therefore, if ETH breaks down below $3,180, the positive price prediction becomes invalid.
Ethereum Price Chart (Daily)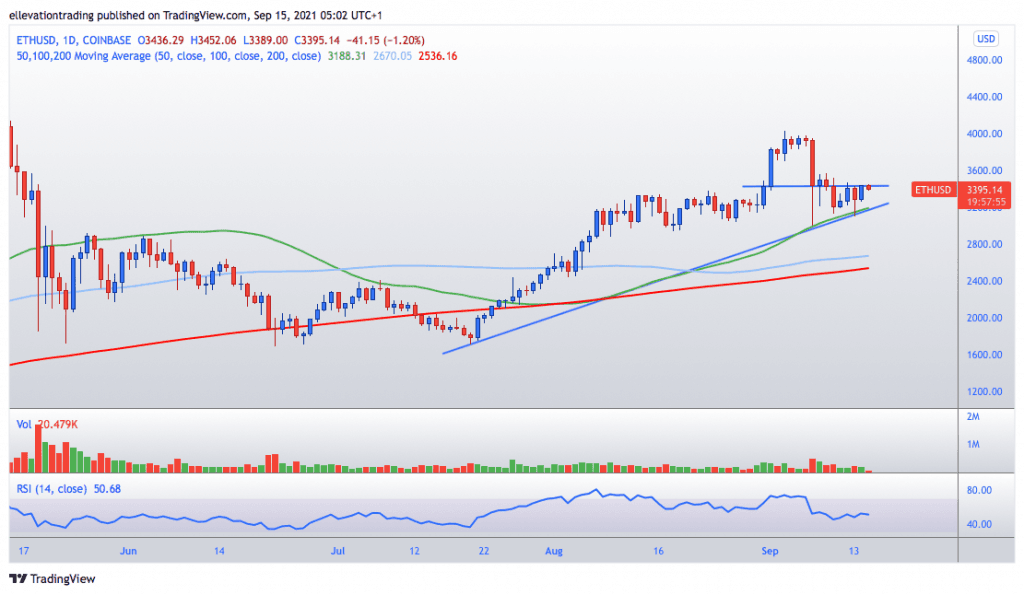 For more market insights, follow Elliott on Twitter.