As risks continued, the Barclays share price joined other global stocks in a major sell-off on Monday. The BARC stock slumped by over 1.72% and reached a low of 144.18p. It has dropped by more than 32% from its highest level this year as concerns about its investment bank division remained. Other London banks like Lloyds and Natwest have also pulled back.
The Barclays stock price will be in the spotlight this week as investors wait for the company's financial results that will come out on Thursday. Analysts have low expectations because of how challenging the first quarter was. For one, there is a possibility that both it's retail and investment banking slowed, as we saw in Wall Street banks like JP Morgan and Citigroup.
In a report on Monday, Bloomberg said that Barclays traders made a whopping $644 million in emerging markets trading in the first quarter. The key catalyst for this performance was the volatility associated with the Russian invasion of Ukraine. This will be a solid performance considering that EM currencies brought in 400 million pounds in the fourth quarter. As a result, there is a likelihood that this trading revenue helped it offset a slowdown in deal-making. 
Analysts expect that the total income was 5.7 billion pounds in the first quarter. They also expect the bank's total income to rise to over 22.1 billion pounds in FY22, 23 billion pounds in FY23, and 23.76 billion pounds. Its net operating income is expected to be 5.4 billion pounds, while its profit after tax was 679 million pounds.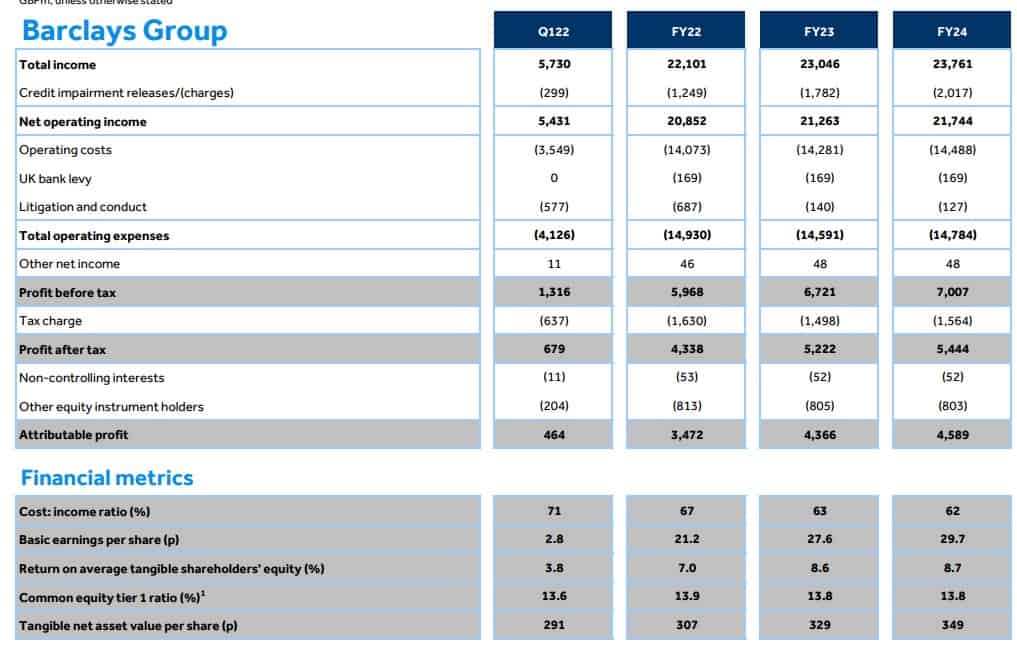 Barclays share price forecast
The 4H chart shows that the BARC share price has found a strong support at 140.58p. It has struggled moving below this support level several times this year. This could be a sign that the stock could be bottoming. It remains slightly below the 25-day and 50-day moving averages while the Stochastic oscillator has moved to the oversold level.
Therefore, there is a likelihood that Barclays share price will bounce back after earnings. However, a drop below the support at 140p will invalidate the bullish view.