Loopring is back on the buyer's radar and up over 30% in the last four days, which could signify that things are about to get interesting. Loopring (LRC) started this month with a $750 million valuation, but by the 10th, a 540% rally had lifted its market cap to almost $5 billion. And despite retracing around 30% since, Loopring still commands a healthy $3.5 billion valuation, making it the 50th-largest cryptocurrency., ahead of PancakeSwap (CAKE).
Loopring is an open protocol that combines the best aspects of decentralised and centralised cryptocurrency exchanges to form an efficient hybrid model. The protocol's unique features have recently prompted a surge of capital into its native LRC token, resulting in a 2,000% year-to-date rally to this month's all-time high of $3.9777. But since then, the price has been trending broadly lower in a parallel channel. However, this morning, LRC is attempting to break free from the bearish pattern, which could prompt another buying rush.
LRC Price Analysis
The 4-hour chart shows the price is testing trend resistance at $2.7600. Successful clearance of the trend should encourage momentum buying, potentially targeting the ATH. However, buyers should also consider the impressive performance so far in 2021. Therefore, profit-taking could cap a sudden spike higher, similar to earlier this month.
Another possible scenario is that LRC fails to break out on the upside. In that event, sellers could drive the price towards the bottom of the channel at $1.8000, around 35% lower.
As long as LRC remains in the downtrend, the path of least resistance is lower. On that basis, below $2.7600, I am bearish with a $1.8000 price target. However, a bullish break above trend invalidates this thesis.
Loopring Price Chart (4-Hour)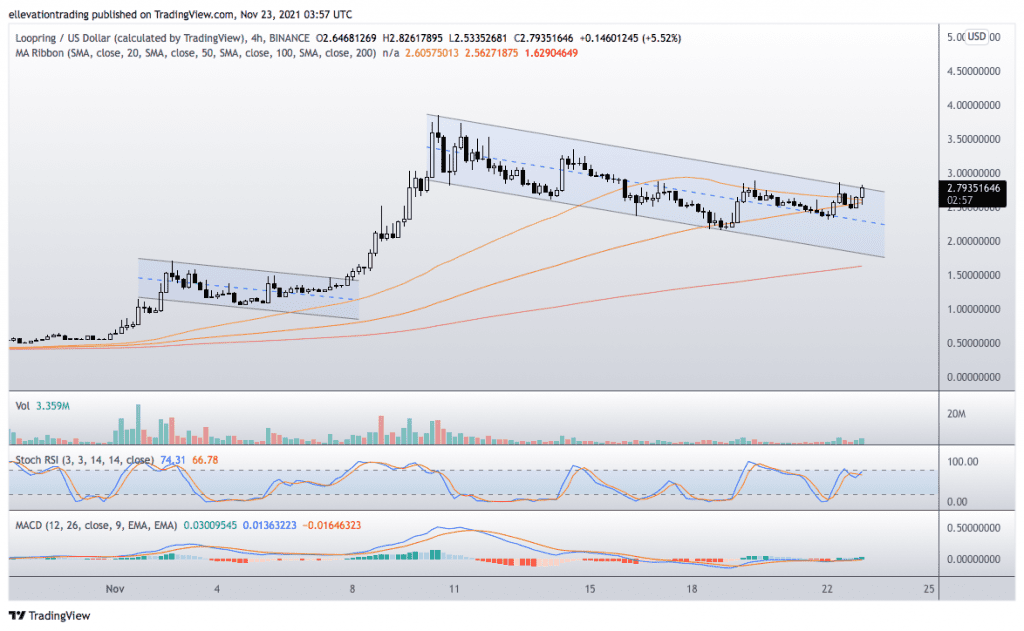 For more market insights, follow Elliott on Twitter.