The Enjin Coin price has lost a third of its value, which is either a great buying opportunity or the start of a significant decline.
Enjin Coin (ENJ) is slightly firmer on Wednesday at $3.5650 (+1.77%), down 7% in the last seven days but up more than 35% in November. The recent weakness has shaved around $1 billion from ENJ's market, but at $3b, Enjin Coin is still the 60th most-valuable cryptocurrency behind Zcash.
Similar to many Metaverse and gaming related cryptos like The Sandbox and Decentraland, the ENJ token performed well in November. However, the lofty valuations have attracted profit-taking over the last week as early investors take money off the table. Furthermore, the cryptocurrency market as a whole has tracked equity markets lower following last weeks Omicron risk-off. As a result, ENJ's immediate prospects are up in the air. On the one hand, investors may consider the 30% discount from the high a steal. Others, however, may be underwater on their purchases and ready to pull the trigger if the price drops further.
ENJ Price Forecast
The daily chart shows the Enjin Coin price has broken below the support of April's former all-time high at $4.033, but finding support at the March ATH of $3.333. As long as ENJ holds above the $3.333 support, the odds of a rally above $4.033 are high. In that event, the price should continue towards the $5.000 record.
The biggest danger for the bulls is if the price falls below $3.333. If that happens, I expect a slide towards the horizontal support at $2.540.
For now, it's unclear as to which path ENJ will take. However, considering the recent performance, it is unlikely the price will hang around at the current valuation long. Therefore, I expect one of the above scenarios to play out in the coming sessions. For that reason, I am neutral on the Enjin Coin at the current level, awaiting confirmation.
Enjin Coin Price Chart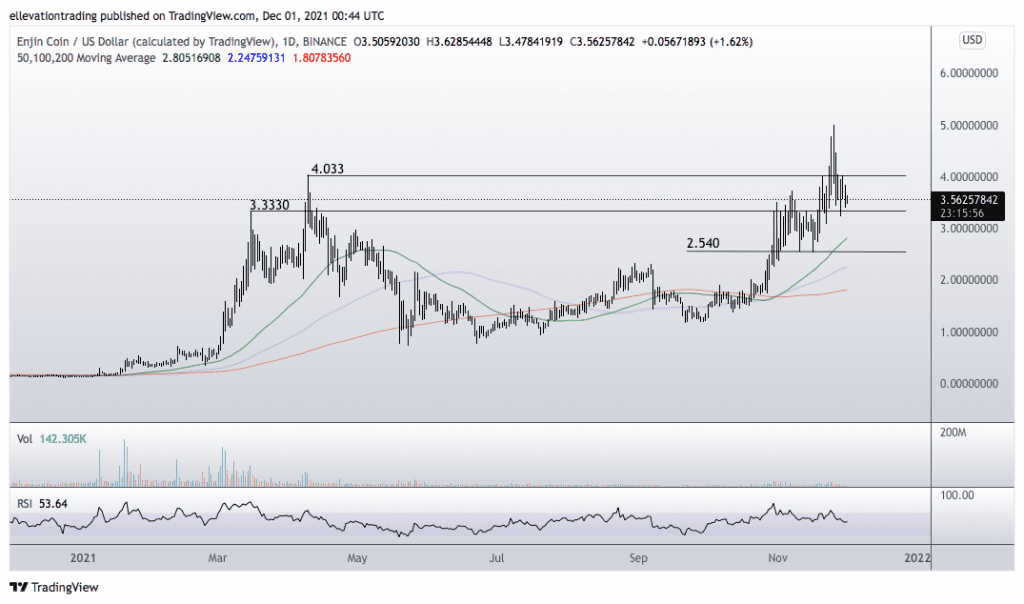 For more market insights, follow Elliott on Twitter.