The Internet Computer price is fighting hard to recover from $40 support and recoup the heavy losses it took over the last week. In the last 24-hours, Internet Computer Protocol (ICP) found good support at $40 and clawed back almost 10%. Nonetheless, ICP has a long way to go to return to the $88.81 high from the start of September.
Long-suffering ICP bulls are desperately in need of a break. The internet Computer Protocol launched on multiple crypto exchanges in May, at the peak of the 2021 bull market. Debut day confusion led to wild price discrepancies on different exchanges. The ICP token started the day on most trading venues around $220, reaching a high of $450. But on the Binance exchange, the ICP token surged to $3,161 before collapsing to $204.
Furthermore, the crypto market entered a sharp downturn between May and July, and ICP lost 80% of its value, spending the remainder of the summer trading below $40. The ICP token did stage a strong recovery from the July low, and by September 6th, the Internet Computer price had climbed to $88.81. However, the rally was short-lived, and ICP crashed -55% to $40 by the end of September.
The crypto market has staged a fractious recovery in October. This morning Bitcoin (BTC) is trading at a five-month high of $58,400 and closing in on May's $64,400 record. But even though BTC is close to an all-time high, ICP is languishing at $44.00.
ICP Price Forecast
The 4-hour price chart shows encouraging signs of a short-term bottom for ICP. Yesterday, the token traded down to $40.24, where it found support towards the September low of $39.70. As a result, ICP has started to turn higher. Notably, the trading volume has increased over the last 24-hours, indicating willing buyers on the dip. However, a descending trend channel from last weeks high caps the price at $45.50. For ICP to regain bullish momentum, it must clear the trend resistance. If the internet Computer price advances past $45.50, the rally may gather pace, targeting the psychological $50 barrier.
The bullish view relies on ICP maintaining the $39.50-$40 support level. Subsequently, if Internet Computer breaks down below $39.50, it will invalidate the thesis.
Internet Computer Price Chart (4-Hour)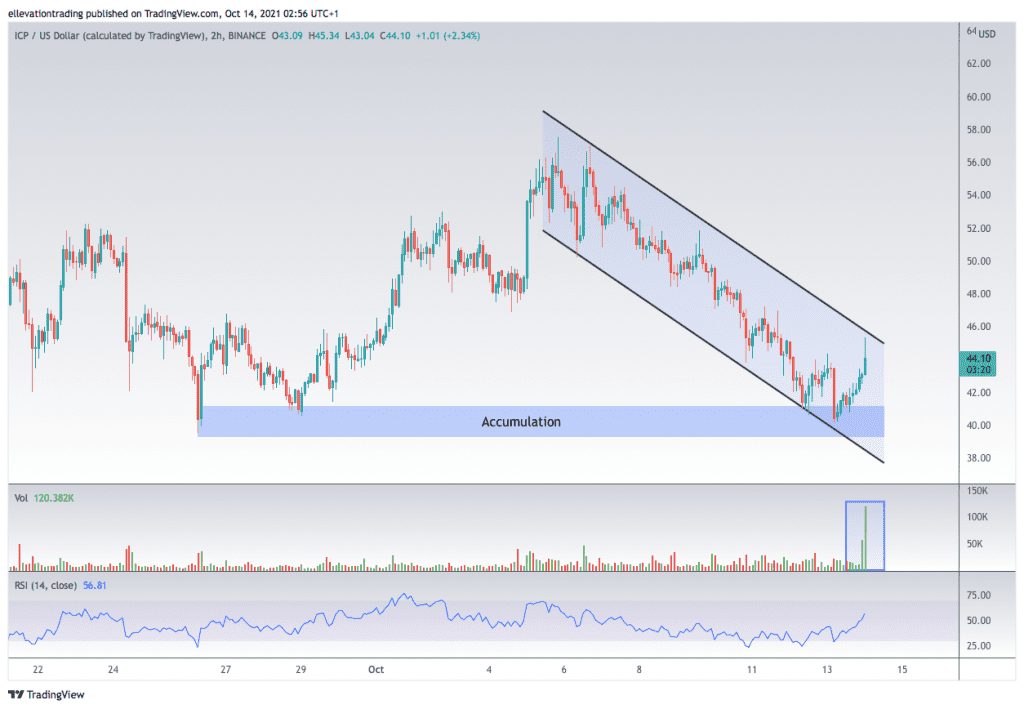 For more market insights, follow Elliott on Twitter.