The Apple stock price has rebounded in the past few days as investors reflect on the company's strong quarterly results and future prospects. The AAPL stock is trading at $175, which is about 12.9% above the lowest level in January. It has jumped by 400% in the past five years and 30% in the past 12 months.
Apple market sentiment
Apple, like most stocks had a difficult month in January as investors remained concerned about the Federal Reserve. After surging to an all-time high of $183, the Apple stock price declined by about 15% in the first three weeks of the year.
Other growth stocks had a similar price action as evidenced by the performance of the tech-heavy Nasdaq 100 index. The index declined by over 18% in the first few weeks of the year.
The main concern was that the Fed will end quantitative easing policies and then start hiking interest rates. Historically, growth stocks like Apple, PayPal, and Crowdstrike tend to underperform in a period of high-interest rates.
In the past few days, however, market sentiment has made a strong rebound as investors have rushed to buy the dips. Indeed, the fear and greed index has jumped to 34, which is higher than the January low of less than 30. The CBOE VIX index has also retreated substantially recently.
Fear and greed index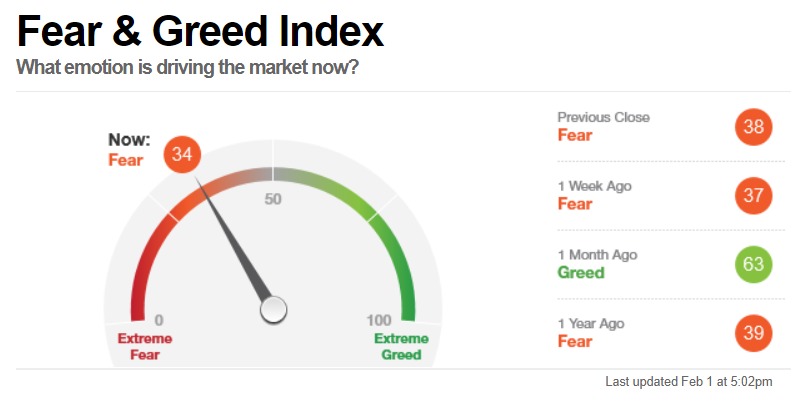 Latest Apple news
Apple has been in the headlines in the past few weeks. In the final week of January, the company published strong quarterly results. In total, the firm's revenue jumped to an all-time high of more than $123.9 billion. This was a substantially higher increase than what most analysts were expecting. Its profit also surged to $2.10 per share.
Apple's revenue rose even as the company continued to be affected by the ongoing supply chain crisis. In the report, the company said that its revenue would have been higher by $6 billion if it were not for the chip shortage.
The second important Apple news was its 10-q regulatory filing. The report showed that the company's gross margins were improving well. This margin expansion was mostly because of the improving supply chain measures.
Third, in a recent report CounterPoint research showed that the company's market share had expanded by 25% in Europe. The market share rose to 26% in Europe as Samsung remained unchanged at 32% in 2021. Other companies that saw a higher market share were Xiaomi and Oppo.
Apple smartphone market share chart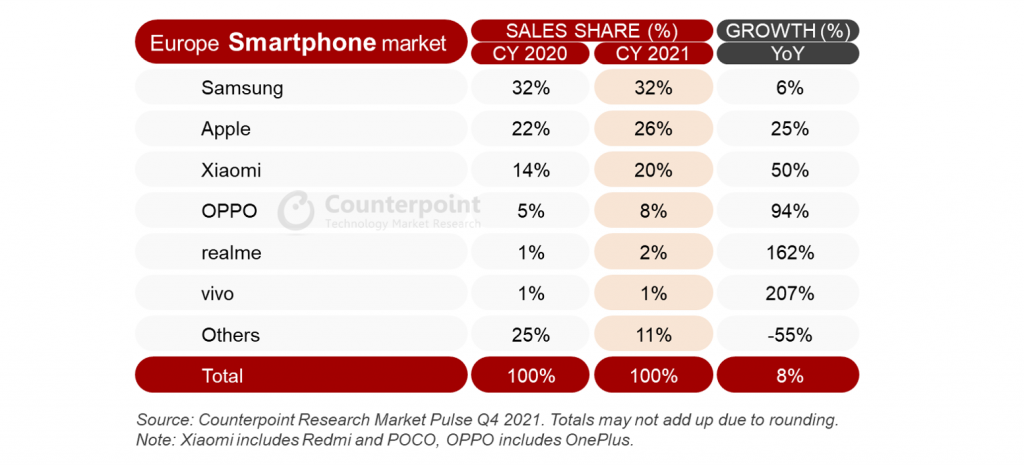 AAPL stock history
Apple went public in the 1980s. As a public company, the stock has jumped by more than 225,000%. This message that people who bought shares worth $10 in 1981 would currently have more than $22,000. Including dividends, the return would have been stronger.
As you can see below, the upward trend of the Apple share price has not been without challenges. For example, it declined by more than 82% during the dot com bubble and by 63% during the Global Financial crisis.
Apple shares history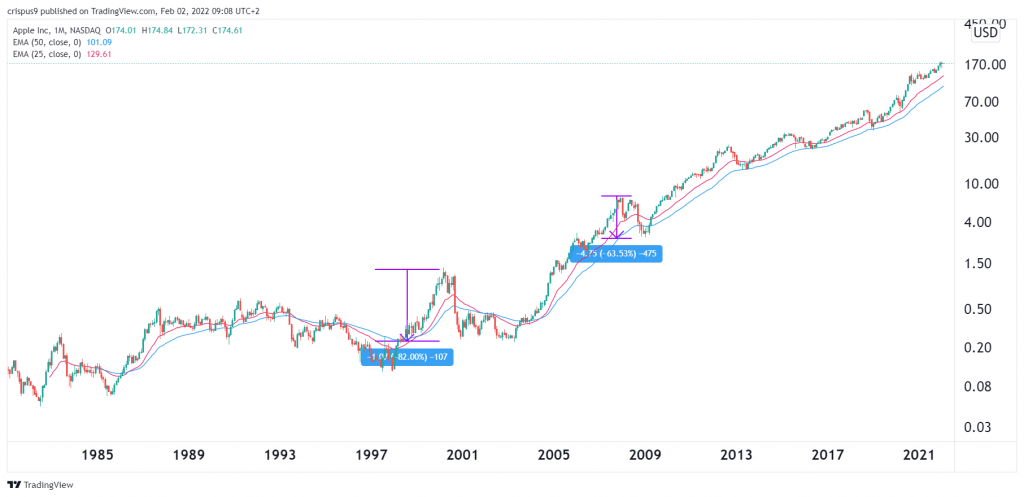 Apple valuation | Is Apple undervalued?
Apple is the biggest company in the world in terms of market capitalization. It has a market cap of more than $2.7 billion. The other most valuable companies are Microsoft, Saudi Aramco, Amazon, and Alphabet.
So, at the current market cap, is the Apple stock undervalued or overvalued? There are many ways to look at this.
First, we can look at the Apple PE ratio, which looks at the price-to-earnings. Apple has a trailing twelve-month (TTM) PE ratio of 28.94. While this is a high multiple, it is just slightly above the S&P average of about 25.93. It is also lower than the Microsoft PE ratio of 35. This means that the Apple stock is not all that overvalued on a trailing basis.
Meanwhile, using estimates, Apple has a forward PE ratio of 28.55 while Microsoft has a multiple of 32. Based on Apple's strong growth, there is a likelihood that the stock is fairly valued using this metric. The chart shows the Apple profitable grade. As you can see, its performance is better than most of its peers.
Apple profitability grade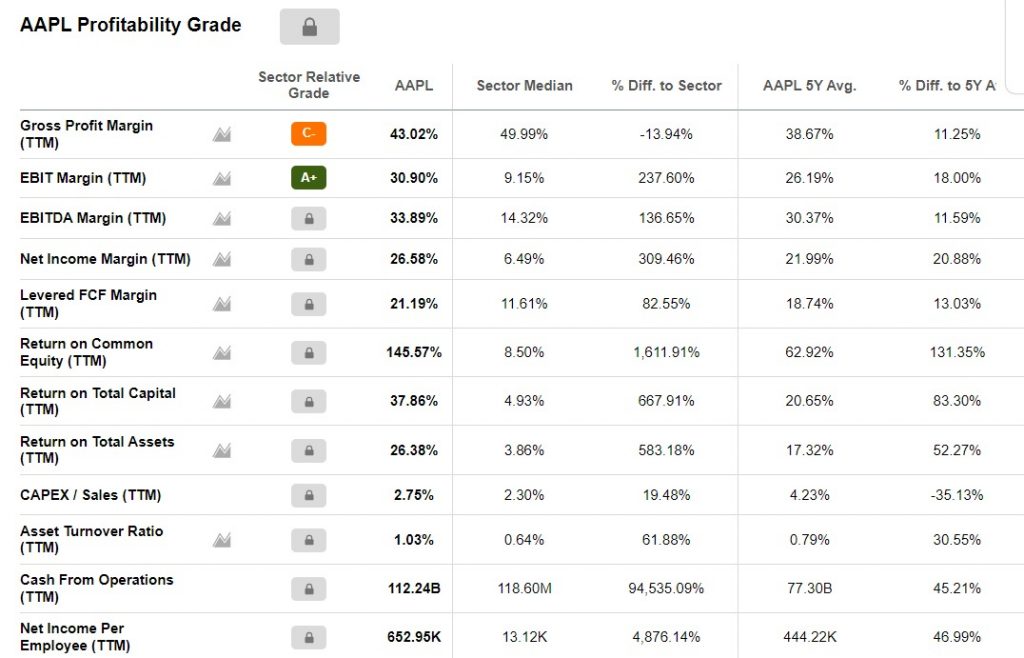 Another way to look at whether Apple stock is undervalued is to look at the Discounted Cash Flow (DCF) calculation. This is a calculation that looks at the present value of future cash flows. The chart below shows that the Apple stock price is undervalued by about 4%.
Apple DCF Valuation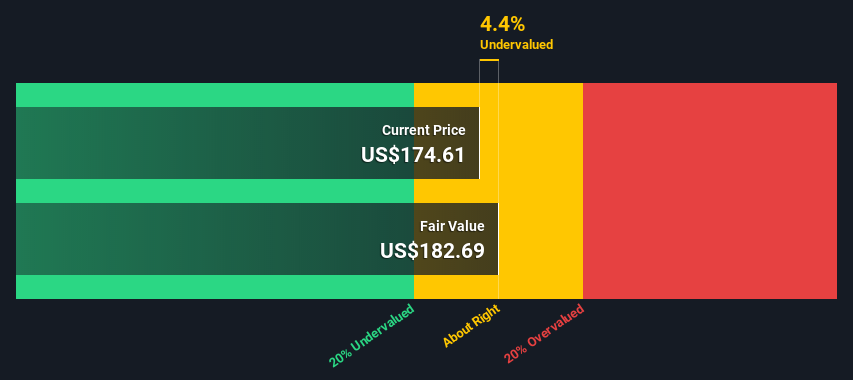 Is Apple a buy, sell or hold stock
Apple has been one of the best-performing stocks in the world. It has grown from a small computer company to the biggest form globally. As such, a common question among investors is "what is Apple's stock future?"
In my opinion, Apple has all the ingredients that make it a good company to own. It has a good market share in most industries that it competes in. It is also a free cash flow machine and has the biggest cash hoard in the US. It has more than $160 billion in cash.
Most importantly, Apple is the biggest holding by Warren Buffett, the most well-known investor in the world.
What is Apple ESG rating?
Another main thing that is driving the Apple stock price is the ESG factor. Over the years, the company has done well to improve its environmental, social, and governance situation. As a result, it has received a lot of investments from ESG investors.
According to Morningstar, Apple has an ESG risk rating of 16.27, which is really good. Another report by Sustainalytics, Apple has an ESG risk rating of 16.3. Finally, MSCI gives Aplle an A rating when it comes to ESG.
Is AAPL a dividend stock?
Apple is one of the best rewarders of shareholders in Wall Street. The company spends billions of dollars every year in dividends. It has a dividend yield of just 0.49% because of the strength of its stock. It has a dividend payout ratio of 14.32%. Apple is a future dividend aristocrat since it has a good balance sheet and has raised dividends in the past 9 straight years.
How often are Apple's dividends paid?
Like most companies, Apple pays its dividend per quarter. At times, it also pays a special dividend. The chart below shows Apple dividend history in the past few quarters.
AAPL Dividend history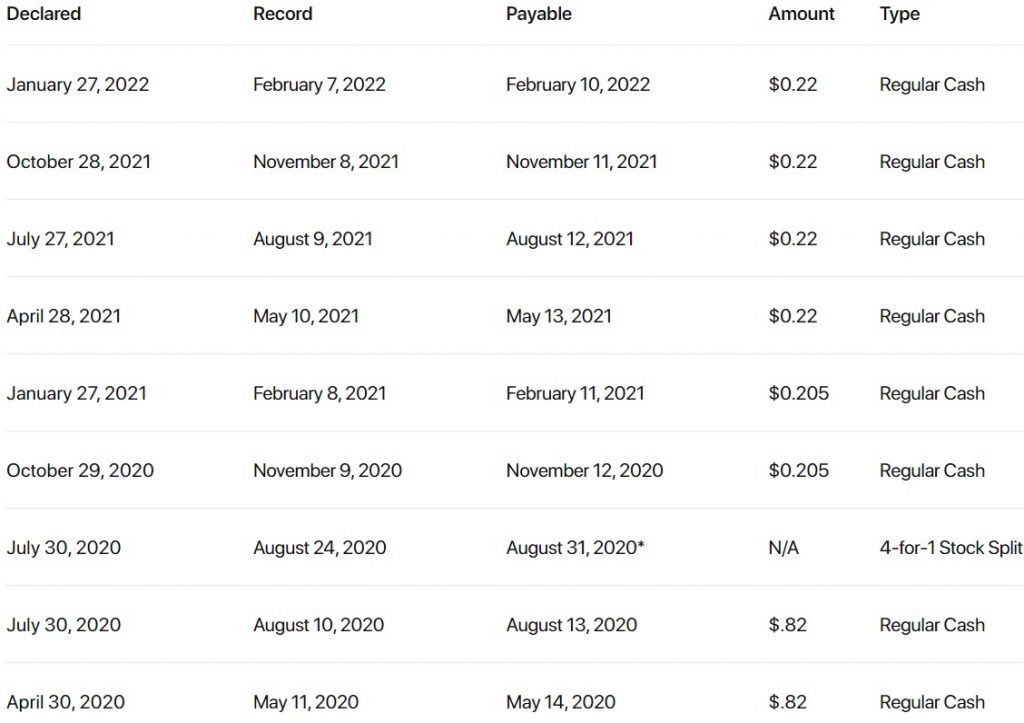 Apple stock price forecast for 2022
The Apple share price is currently trading at $174. Most analysts have a favorable rating on the stock. For example, those at Canaccord and Cowen expect that it will rise to $200 while those at DA Davidson expect that it will rise to $185. Other bullish analysts are from Morgan Stanley and Raymond James. In total analysts have an average target of $188 as shown below.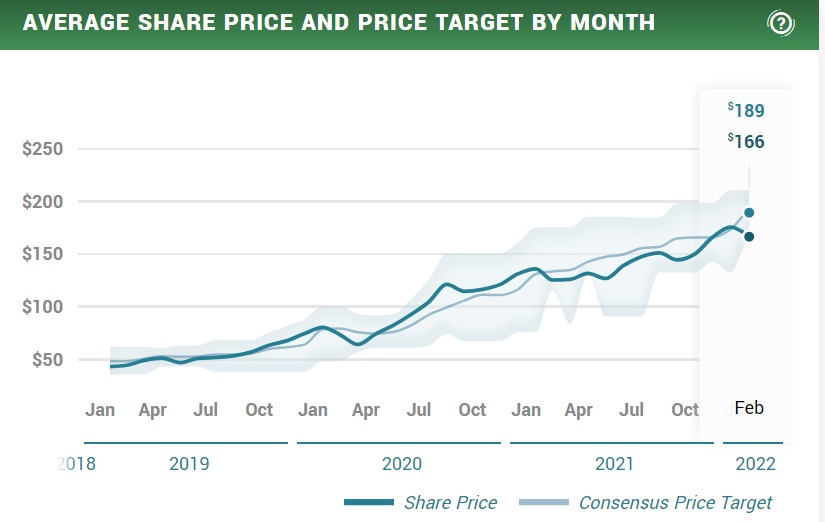 Meanwhile, Tipranks has tracked 29 analysts. 24 of these analysts have a bullish outlook on the stock and they expect that it will rise to $192. The highest outlook of the Apple share price is $215 while the lowest is $162.