The Immutable X price is on the slide again, down over 13% in Asian trading hours on Thursday as sellers regain control of the IMX token.
Immutable X (IMX) started trading last month, the IMX token has experienced wild price swings. In the last four-weeks, the price has gyrated widely between $3.060 and $9.500. However, after reaching the $9.50 all-time high of November 26th the token has been trending lower. As a result, on Saturday, when Bitcoin flash-crashed from $53k to $42k, it dragged IMX down to $4.350 and a -53% two-week decline.
Whilst BTC's poor price performance has played a part in IMX's recent decline, the weak NFT market is more significant. Immutable X is the first layer-2 sacling solution for Non-fungible tokens on the Ethereum Network. therefore, teh IMX's tokens fate depends on the overall health of the NFT market. Over the last week or so, many high-profile metaverse, gaming and NFT projects have suffered substantial losses, which has bled into IXM. Nonetheless, in my opinion, the IMX could offer an attractive long-term NFT play. However, a better entry point may soon be on the horizon.
IMX Token Price Forecast
The daily chart shows the Immutable X price is approaching the wide band of support between $4.350 and $5.300. And taking into account the negative momentum today, I feel IMX may trade down to the bottom of the wide channel.
Previous dips towards $5.00 have been hoovered up recently so I expect scale-down buyers to emerge on further weakness. Subsequently, I am bullish overall as long as the price doesn't exceed the bottom of the accumulation range.
Therefore, a close below $4.350 suggests buying has run dry, potentially triggering an extension towards $3.000, and invalidating the bullish outlook.
Immutable X Price Chart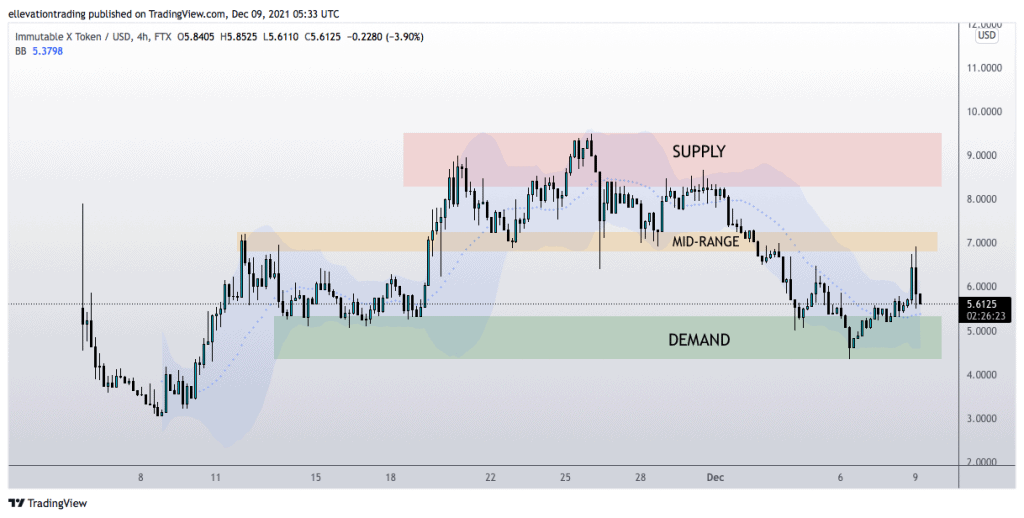 For more market insights, follow Elliott on Twitter.