The IAG share price is up marginally on Tuesday as the stock looks to bounce back from recent losses triggered by the company's downgrade of its February forward guidance. The IAG share price fell for three straight sessions after it said it was cutting back on plans to increase its short-haul flights. The measure, the company said, was to reduce potential disruptions at London's Heathrow airport during the summer holiday season.
As a result, IAG said it was downgrading its full-year capacity guidance from the February forecast of 85% of 2019 levels to 80% of 2019 levels. It said the cuts were necessary to protect the long-haul flight network of subsidiary airline British Airways. CEO Luis Gallego said the company's struggles to recruit junior staff and the longer processing times for security clearances added to existing crew absences due to COVID-19 and ground staff shortages.
The revelations are coming after the company reported a larger-than-expected operating loss of 754 million euros when the market expectation stood at 510 million euros. However, the loss represented a reduction from the loss incurred in the same period the previous year. The Omicron variant's impact, Gallego said, was responsible for the operating loss and also the costs of ramping up capacity to take advantage of the 2022 summer season. The IAG share price is up 0.27% as of writing.
IAG Share Price Forecast
The decline seen on Friday and Monday resulted from the breakdown of the rising wedge pattern on the daily chart. This breakdown seeks completion of the measured move at 124.48 (20 December 2021 low and 4 March 2022 low). Further price deterioration takes out this support and opens the door for an extended decline towards the 7 March low at 110.26. 102.68 (3 August 2020 low) is another downside target of note which becomes viable if the bulls fail to defend the support at 110.26.
On the flip side, a bounce on the 124.48 support following completion of the wedge's measured move targets 136.64 initially (10 March and 8 April highs). If the bulls uncap this resistance, an advance to 143.94 (24 February low and 23 March high) looks likely.
Additional targets to the north lie at 149.72 (29 March and 4 May highs) and at 156.40 and 167.54 (17 January and 18 February highs). A break above the latter breaches the upper border of the large descending channel, opening the door to further barriers at 177.46 (10 November 2021 and 16 February 2022 highs) and 187.24 (8 July 2021 and 30 September 2021 highs).
IAG: Daily Chart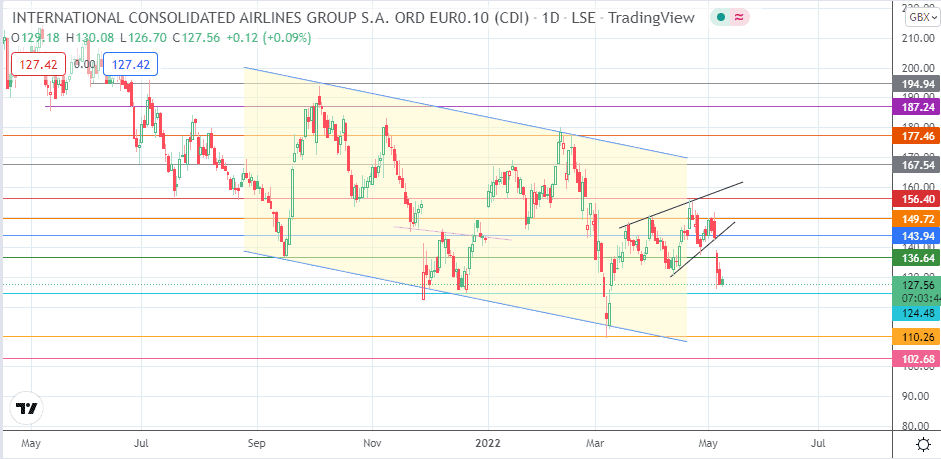 Follow Eno on Twitter.