Tezos (XTZ) is an asset we've been covering at HYCM over the past couple of years. Unfortunately, it's a smart contract platform that doesn't get as much attention as Ethereum despite being ahead of it in some key areas: proof-of-stake, on-chain governance, throughput, and transaction fees.
We've previously drawn attention to how the Tezos chart describes a much more orderly up-and-to-the-right trajectory than other crypto assets. Even the COVID-19 Crash of 2020 failed to break this trend.
The last time we covered Tezos, back in February, it had tested the July 2021 low at around $2.50, maintained a weekly higher low, and was attempting a bounce. We asked whether that was to be the bottom and offered $3.05 as a level to watch.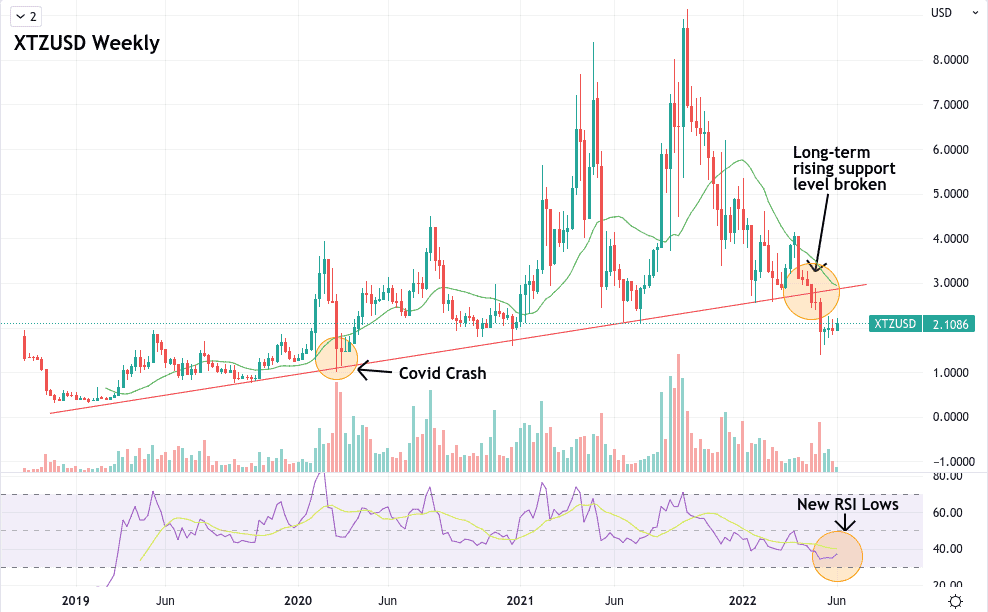 As you can see, that level failed to hold, and the crypto sell-off has continued with all the major crypto assets setting new weekly lower lows.  The recent relief rallies we're again witnessing in risk assets have investors calling the bottom, so let's see if there's anything interesting to be gleaned from the Tezos price chart.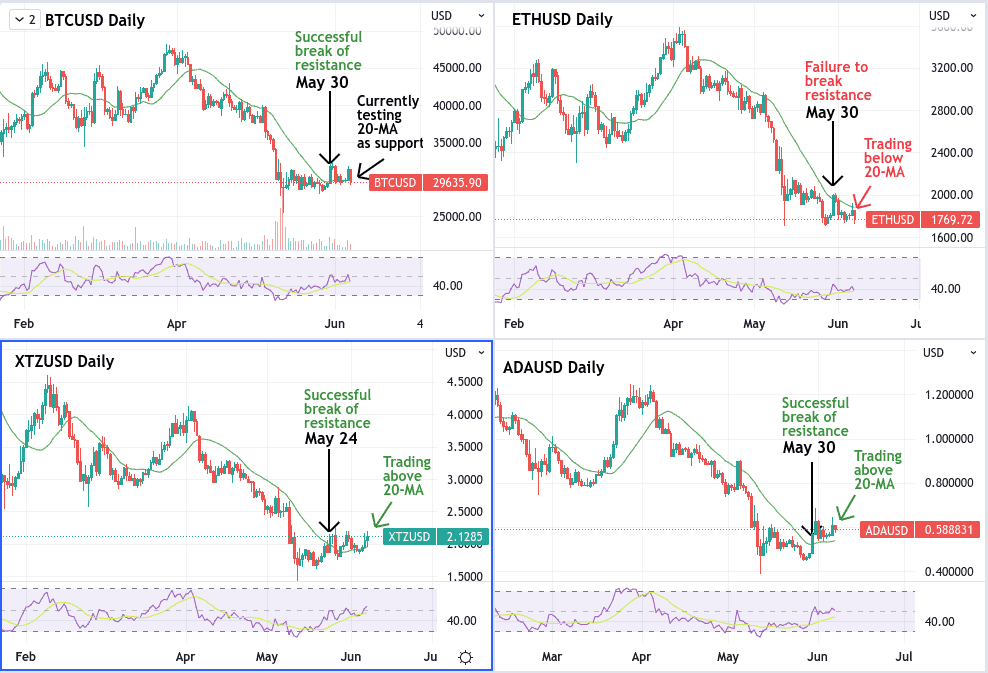 Notably, Tezos broke its bearish trend before bitcoin and its other smart contract rivals like ETH and ADA. As you can see, XTZ breaks above its 20-day moving average to set a higher daily high on May 24. BTC, ETH, and ADA all broke or attempted to break with their 20-day moving averages on May 30. Of the three, ETH is the only one to have failed to set a daily higher high or break above its 20-day MA.
Lower lows obviously doesn't bode well for any asset. The exception is at the end of a bear market or crash. In these scenarios, the "capitulation moment" you often hear analysts talking about involves a new, and often substantially, lower-low in which the asset becomes severely oversold. This can often mark the bottom cycle and offer investors an opportunity to get back in. 
If this recent sell-off was a capitulation moment, it certainly hit Tezos holders harder because XTZ is currently at levels it was trading at back in 2020. In contrast, in the case of ETH and ADA, the sell-off has taken them back to 2021's price levels. Furthermore, XTZ has never been this oversold on the weekly timeframe, and, as you can see from the first chart, it has broken support in a manner that even a global pandemic failed to cause.
Things to watch
We have no clarity at the moment as to whether the bear market is to continue; however, keeping an eye on the relationships between XTZ, ETH, and ADA is important regardless of the overall market direction. Sentiment around ETH has taken a distinctly bearish turn as uncertainty mounts around its transition to proof-of-stake. It's quite unusual to see it failing to follow bitcoin's moves up as XTZ and ADA have. 
Both XTZ and ADA are direct rivals to ETH at similar stages in their development. Currently, ADA's market cap is ten times that of XTZ's, and ETH's is around ten times that of ADA's. Should investors become impatient with ETH, both XTZ and ADA could be direct recipients of this liquidity. This reshuffling can also take place regardless of whether the underlying market trend is bullish or bearish. 
Tezos, Cardano, Ethereum, Bitcoin, and other cryptocurrencies are available for trading at HYCM and instruments in other asset classes.