It has been a brutal few months for bitcoin, specifically, and crypto in general. Since dipping below the 20-week moving average back at the end of November, bitcoin spent about five weeks testing the 50-week moving average before capitulating below it at the beginning of the year.
The entire crypto market topped early in November. However, it had already undergone a 25% drop along with other risk assets in the general risk-off mood inspired by the Federal Reserve's even more hawkish tone in January.
On the daily timeframe, bitcoin has set a series of progressively lower-highs and lower lows since peaking at around $69k on November 10. It is also currently trading below all its major moving averages, having hit oversold RSI conditions on January 7, just as it did in early December when the price started testing the 200-day moving average on the way down.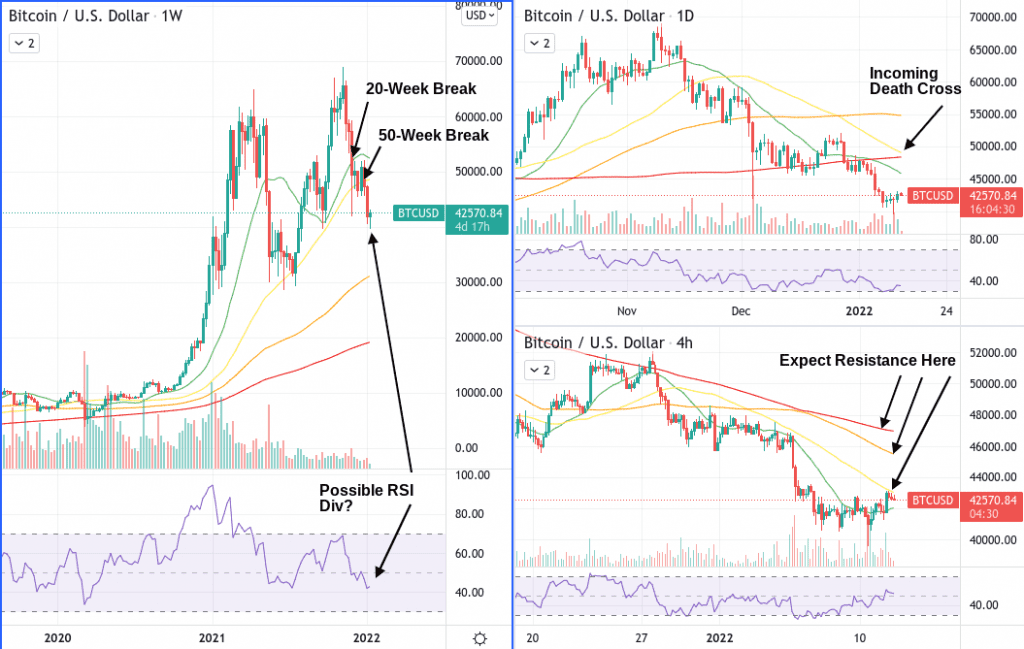 There is a lot of noise in the financial media regarding the imminent "death cross" that the number one cryptocurrency is about to undergo.
A death cross is when the 50-day moving average dips below the 200-day moving average, signalling that a more profound trend change may be underway. This is in stark contrast to a "golden cross", which occurs when the 50-day crosses the 200-day from below and is regarded as a bullish signal.
The trouble with using either of these crosses as indicators is that they lag the market so much that, unless the underlying asset is moving into a prolonged bear or bull market, the move may very well be over by the time they have provided a signal.
Could this be the onset of the next crypto winter? It certainly could be, but the correlation it has demonstrated with US equities – specifically tech stocks – since the pandemic has many looking to traditional markets for bitcoin's next move, a highly unexpected turn of events considering its former status as an uncorrelated hedge against the incumbent financial system.
If this is a more pronounced downturn, it's notable that bitcoin has yet to become oversold on the weekly chart, unlike many other crypto assets. Finally, be on the lookout for RSI divergences as the signal of exhausted bears and significant support lies at $30,000.
HYCM clients can trade various CFDs, including cryptocurrencies such as Bitcoin, indices, stocks, commodities, and forex.