Risk assets continue to slide as the post-pandemic tightening cycle has investors scrambling for safer bets. The general risk-off mood has hit crypto markets particularly hard, with many higher market cap names (other than bitcoin) approaching capitulation territory.
In last month's update, bitcoin had tentatively broken above its 20-week moving average (at around $46k) following a peak-to-trough move of over 50%. However, as markets continue to digest a Federal Reserve stance that appears willing to prioritise the reduction of inflation over the possibility of a recession, crypto continues to be dragged down with other risk assets. This is much like it was back in March 2020 and December 2018.
The last few weeks of price action have effectively taken bitcoin back to where it was trading in July of last year, following a more than 53% drop from its peak to its current price. The recent rejection from the 20-week MA is highly notable as bitcoin is currently trading around the only other significant weekly support level: last summer's bottom at around $31,600. Should bitcoin fail to hold this level, then all the gains it has made since the run-up from $20k in December of 2020 will be in play for the bears. Incidentally, this would represent a 70% peak-to-trough drop for the number one cryptocurrency, which would be in keeping with an entire historical bear market and subsequent capitulation sell-off.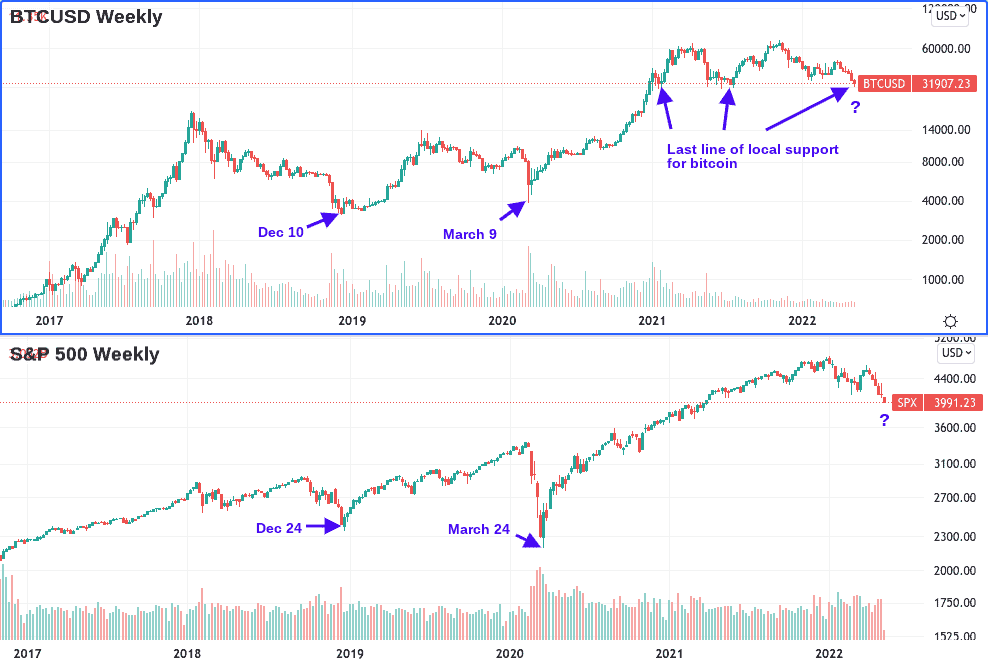 Keep in mind that even though bitcoin has yet to set a weekly lower-low, many of the more speculative cryptocurrencies have, even the larger cap names. For example, Solana and Cardano are down 76% and 78% at the time of writing, respectively, from their November 2021 peaks. These cryptos are very close to that capitulation moment, with any investments made in the past 12 months now firmly underwater.
Is there hope? The extent of the altcoin sell-off provides some hope for the bulls in that these markets are now massively oversold on the weekly timeframe. Another interesting point to consider is that bitcoin bottomed a full week before the S&P 500, both in December 2018 and March of 2020. That 30k level is probably the most important one at the moment, regardless of whether or not it has broader implications for other markets. Nevertheless, it's worth paying attention to.
Bitcoin, Solana, Cardano and other cryptocurrency CFDs, as well as instruments in forex, commodities, indices, and stocks, are available to trade with global forex broker HYCM.