Volatility is back in a big way, and that's saying something for an asset class renowned for its volatility. Bitcoin crashed on Saturday, December 4th, to around $41,800, a 20% drop to a level last seen at the end of September. Dip buyers stepped in to defend the 200-day moving average, but the bulls remain hesitant.
Looking at the headlines, the chatter, and the price action itself, it's interesting to note just how similar the crypto narrative is to what's going on in the US equity markets. So much of the conversation has been about whether bitcoin is an inflation hedge or a high-beta version of risk-on/risk-off assets like growth stocks.
This won't be the first time this year that attention has been paid to the correlation between bitcoin and US equities. However, this recent dip has seen the bitcoin/S&P 500 correlation coefficient reach 0.33, one of the highest readings this year. Indeed, every S&P 500 dip to the 50- or 100-day moving average this year has either led, lagged or coincided with a larger, more pronounced dip in bitcoin price.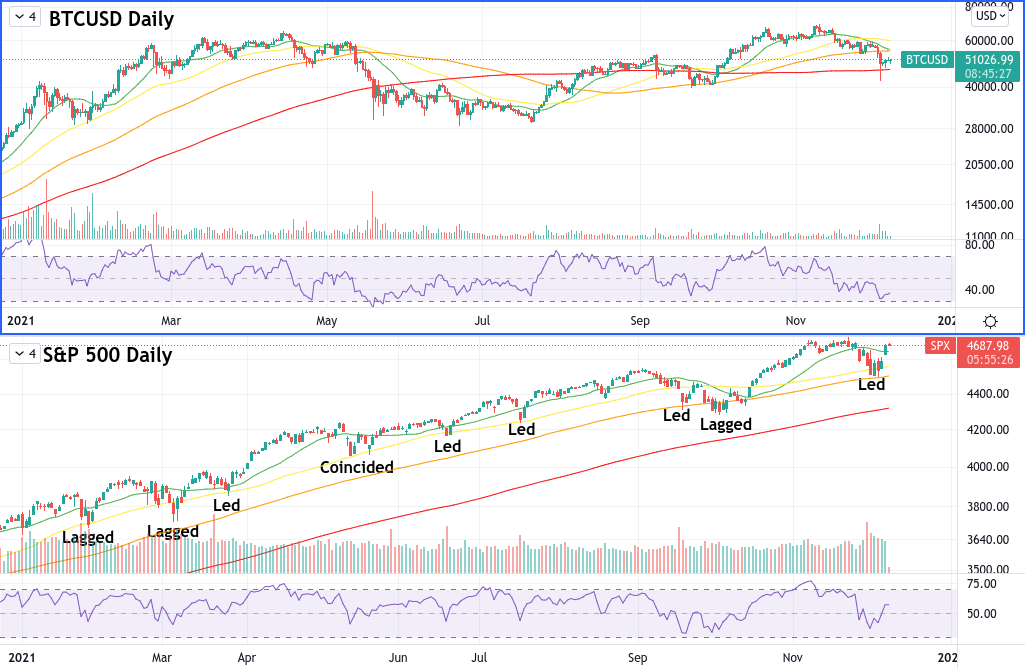 It could be a by-product of all the institutional involvement in this cycle or a result of the extreme market action we've experienced since the pandemic. Whatever the case, it means that crypto traders will begrudgingly have to pay more attention to the traditional markets for signals as to what may be on the horizon.
This means that like it or not, bitcoin is responding to Omicron variant fears and to the uncertainty surrounding the Fed's hawkish talk and its roadmap to withdrawing monetary support and raising interest rates.
If US markets are anything to go by on these two issues, then it would seem that Omicron fears are gradually being put into context, and markets are comfortable to continue their upward trajectory for the moment, despite a general sense that the party can't continue indefinitely. The scenario of a heated rally into year-end is still on the table.
Cryptocurrencies are available to trade at established and regulated global broker HYCM, as well as over 300 other instruments in forex, stocks, indices, commodities, and ETFs.
Note: Cryptocurrencies and ETFs are not available for trading under HYCM (Europe) Ltd and Henyep Capital Markets (UK) Ltd.