Further to our previous crypto update, Bitcoin has followed its weekly and daily all-time highs with a record monthly close at $61,200. The case for the cooling-off period we previously outlined appears to be provisionally in play. Bitcoin has closed between $60k and $62k for the past three weeks of trading, despite an intra-week trading range between $56.2k and $67.2k.
In the same period, BTC dominance has dropped from 46.5% on October 10, to 44.2%, at the time of writing. Again, this is an indication of confidence in the broader crypto market. With BTC at these levels, investors feel more comfortable venturing into more speculative coins along the risk curve. Technically, the October 10 close on the BTC dominance chart is a weekly lower-high, which is encouraging. However, this shouldn't be considered a confirmation of "altcoin season" yet, as a bitcoin rally from here could easily break these technical levels and leave the rest of the market behind.
Take Stock
For those scouting entry points or already trading the rest of the crypto market (apart from bitcoin), these lulls in bitcoin's price action are opportunities to take stock of how the "altcoins" have behaved against BTC. Charting against BTC, rather than just in dollar terms, provides insights into how over-bought or oversold these coins are against the market's big mover.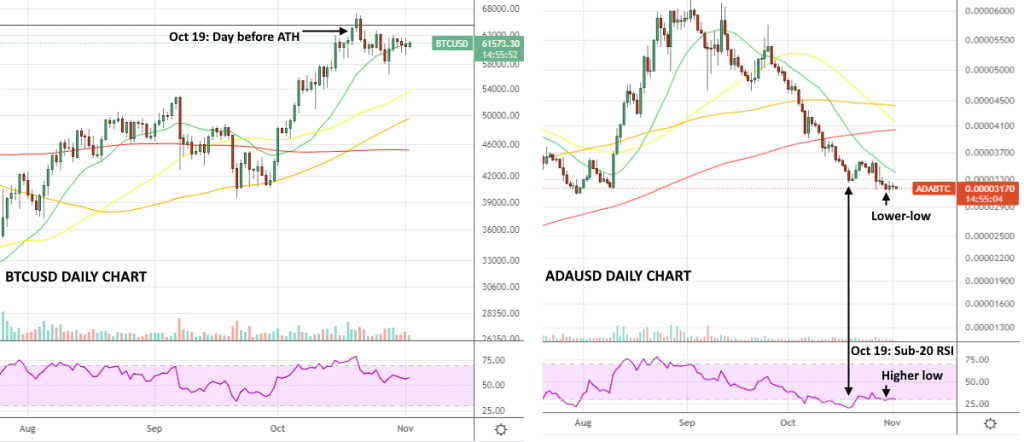 For example, in this recent BTC rally, the fifth largest coin by market cap, ADA, did not stir in terms of its dollar value; in fact, it has dropped in dollar terms. This has caused ADA to become extremely oversold against BTC on the daily chart. On Oct 19, just before BTC broke all-time highs, ADA reached oversold levels not seen since March 2020. With no fundamental reason for ADA to lose market share (other than how far it has already gone this year), the ADABTC chart suggests that if there's nothing broken in the Cardano ecosystem, this could be a buying opportunity. BTC has been known to make altcoin investors miserable for extended periods when it continues to break to new highs, and this should always be firmly in mind when trading this market.
HYCM offers over 20 cryptocurrency CFDs, including Bitcoin, ADA and all the major altcoins.