The StanChart and HSBC share prices have lagged most of their FTSE 100 banking peers. As shown below, the two shares have underperformed other banking groups like Barclays, Lloyds, and NatWest. The Stanchart share price has collapsed by 18% year-to-date while HSBC has declined by 10%.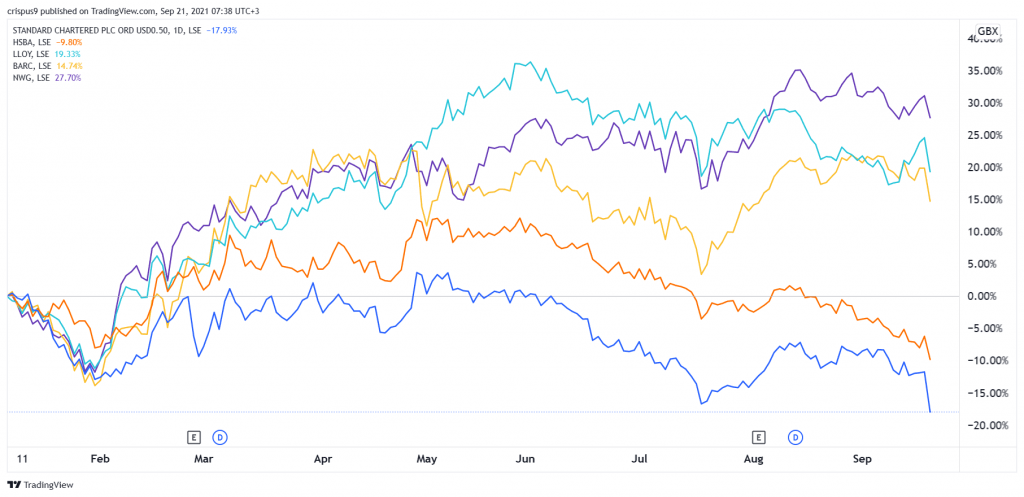 Jim Chanos hints
The two share prices have lagged their other FTSE 100 peers because of their exposure to the Chinese and Hong Kong markets. While the two banks have western roots, they both generate most of their earnings in China and Hong Kong.
For example, Standard Chartered made more than $6 billion in annual income from Greater China and North Asia region in 2020. This was substantially higher than the second region, ASEAN and South Asia, where the firm had an annual operating income of more than $4 billion.
The two stocks have come into the spotlight because of their exposure to the ongoing collapse of Evergrande, the second-biggest real estate company in the country. Analysts believe that the two banks will have significant exposure because of the collapse.
Besides, they have provided financing to Evergrande directly. They have also funded many of Evergrande's suppliers and customers. At the same time, they have an exposure into other strained real estate companies.
Meanwhile, in an interview on Monday, famed short-seller, Jim Chanos hinted that he was short both HSBC and Standard Chartered. While he did not mention the two banks by name, he gave clear signs that he was short banks with a dual structure of Hong Kong and London. The two are the biggest. You can watch the interview below.
StanChart share price forecast
I did a relatively indepth forecast of the HSBC share price on Friday. So, in this article, I will focus on the Standard Chartered share price.
On the daily chart, we see that the stock crossed the key support level at 412p on Monday. This was a notable level since it was the lowest level since July 20. It was also below the 25-day and 50-day moving averages. The stock has also dropped below the neckline of the head and shoulders pattern.
Therefore, the path of the least resistance is to the downside. If this happens, the next key levels to watch will be the 61.8% retracement level at 400p followed by 350p. This view will be invalidated if the stock rises above 440p.