The HSBC share price sell-off accelerated on Friday as investors assessed the bank's exposure to Asia's housing market as Evergrande problems mount. The stock is trading at 368p, which is the lowest level it has been since November last year. It has dropped by more than 20% from its highest level this year, meaning that it has just moved into a correction.
HSBC and Evergrande woes
HSBC is the biggest bank in Europe in terms of total assets. The company makes most its money in Hong Kong and other Asian countries. Indeed, it has recently intensified its efforts to woo wealthy clients in places like China and Hong Kong. It has even transferred some of its senior executives from London to Hong Kong.
The HSBC share price is one of the worst performers in the FTSE 100 index. This performance is mostly because of the crisis facing Evergrande, the biggest real estate company in China. The firm's shares tumbled by an additional 10%, meaning that it has declined by more than 85% this year.
This performance is mostly because the company faces a significant debt load that it is unable to pay. In total, it owes more than $303 billion. This week, the firm hired Houlihan Lokey, an American restructuring expert to help it come up with a strategy to go forward. It also announced that its property sales have been in trouble in September, which is typically a good month for real estate firms.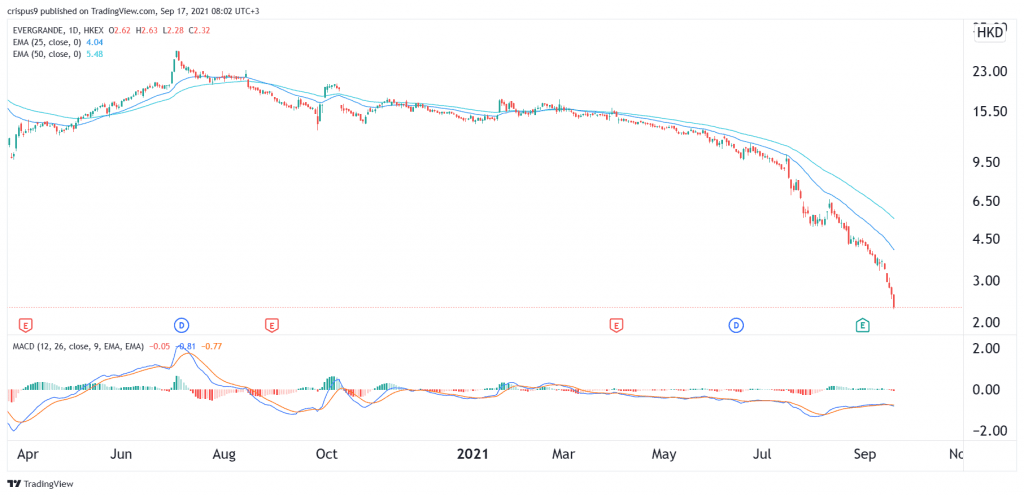 Therefore, the HSBC stock price has lagged its peers in London because investors worry the firm could have some exposure to Evergrande. In case of a default, the company will have some major exposure because of the scale of the problem. It is not clear how much money Evergrande owes HSBC. Still, a default will have an impact on most companies in Asia and around the world. An analyst told Bloomberg:
"A long-term slowdown in property construction, an industry that represents around a fifth or a quarter of China's economy by most estimates, would cause a significant decline in GDP growth, commodity demand, and would likely have disinflationary effects globally."
In addition to this, HSBC is struggling because of the other crackdown that the Chinese government has implemented in the market this year. It has targeted tech firms like Alibaba and Tencent and started a program known as Common Prosperity that seeks to redistribute wealth.
HSBC share price forecast
The daily chart shows that the HSBC share price has been in a deep sell-off lately. And today, it officially entered a correction zone. It has moved below the 25-day and 50-day moving averages and the 50% Fibonacci retracement level. Oscillators like the MACD and Relative Strength Index (RSI) have also been falling. Therefore, the stock will likely keep falling as long as the Evergrande problems remain.