Our Holochain price prediction suggests that the price might increase by 250% in 2022. HOT crypto price couldn't break out of the downward trendline despite multiple attempts. Consequently, it is now facing more sell pressure and correcting along with the rest of the markets. Holochain price needs to hold the level of $0.005 or it may plummet another 20%. This level has become critical as it is 0.618 Fib retracement. It forms when the $0.00373 low and the March high of $0.00733 are connected.
Latest Holochain News
Holochain aims to give everyone complete autonomy over their data. HOT crypto allows every device to have its own ledger-based chain. In this way, each device can function independently without any need for regular synchronization. In this way, users can control their own data without letting any central entity monetise their data without their knowledge. However, any Holochain price prediction mainly depends on the adoption of its protocol just like any other platform.
The HOT coin is the native asset of Holochain and has a market cap of $945 million. As per the latest Holochain news, the team has released an updated roadmap which is available on the project website. The project has also partnered with Promether which is an Adaptative Symbolic Platform (ASP)and specializes in networking & security.
Holochain Price Prediction
Technical analysis of Holochain price chart shows that it is in downtrend since hitting ATH of $0.03 in April 2021. At the time of writing, HOT crypto is trading at $0.0054 and still 83% below its April 2021 ATH. After bottoming out at the $0.0037 level, Holochain retested the downward trendline. However, the price failed to close above 200 EMA and failed to break out of the trendline.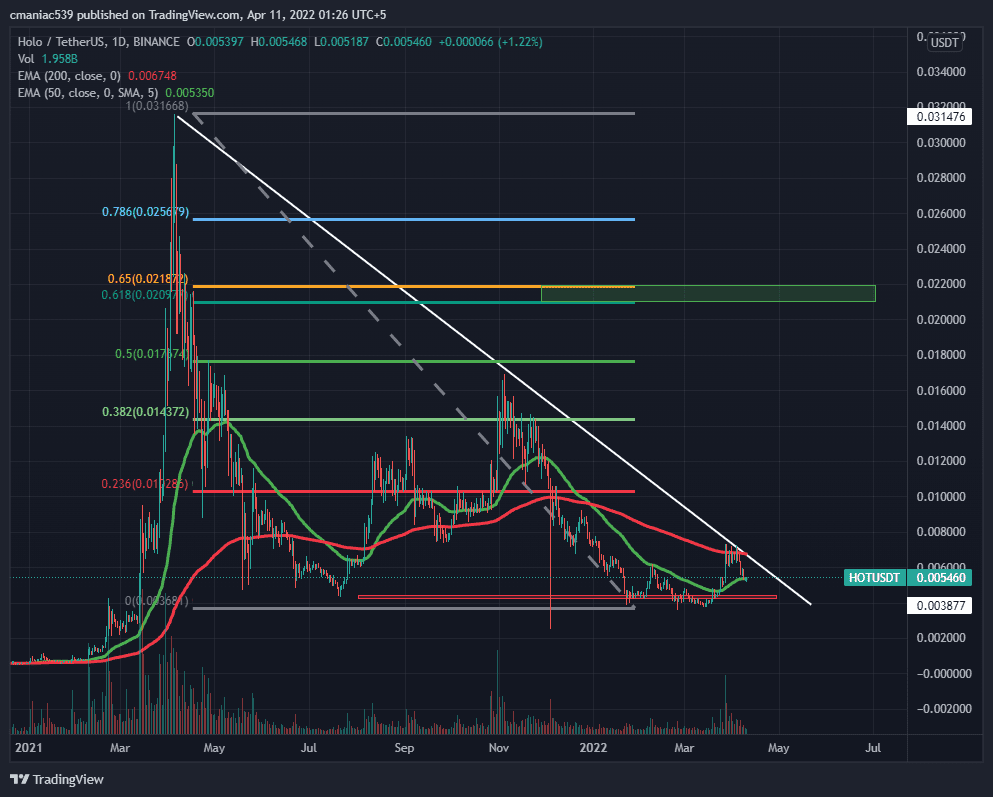 For any bullish Holochain price prediction, the price needs to break out of the trendline. The most significant level for bulls right now is the $0.005. Any close below this level might give bears more momentum. However, in event of a strong bounce from current levels price might soar to $0.014 in the medium term. This 0.382 Fib level comes into play connecting the $0.03 ATH with the March low of $0.0037. If you're asking yourself 'Could HOT hit $1?' then the short answer would be, not any time soon. This is due to the massive HOT circulating supply of 177 .6 billion which makes such high price targets not quite achievable.