As we predicted, the Helium Price crashed last week after breaking down below significant support, but HNT is still vulnerable.
Despite recovering around 20% from Saturday's low, Helium (HNT) has halved in the last month. As we suspected, the real damage came after the price broke down below $39.00. Undoubtedly, Bitcoin's collapse over the weekend played a part, but the writing was on the wall long before then. HNT'surge to an all-time high of $59.277 on November 11th had lifted the price far into overbought territory, increasing the odds of a severe downturn. Within a week, HNT gave back 30%, leading us to ask if another 30% drop was imminent. However, the 34% decline that came 24-hours after our report was released may have more room to run on the downside.
HNT Price Forecast
The daily chart shows the Helium price bounced from the support of the 100-DMA at $28.550. However, the rally lacked conviction and appears to be rolling over.
In my opinion, a close below the 100-DMA could trigger another landslide. In that event, HNT should extend towards the 200-DMA at $21.649, coincidentally around 30% below the current price.
For Helium to regain bullish momentum, the price needs to close above the October 28th (former all-time) high of $32.287. Therefore a close above that level invalidates the bearish view.
Helium Price Chart (Daily)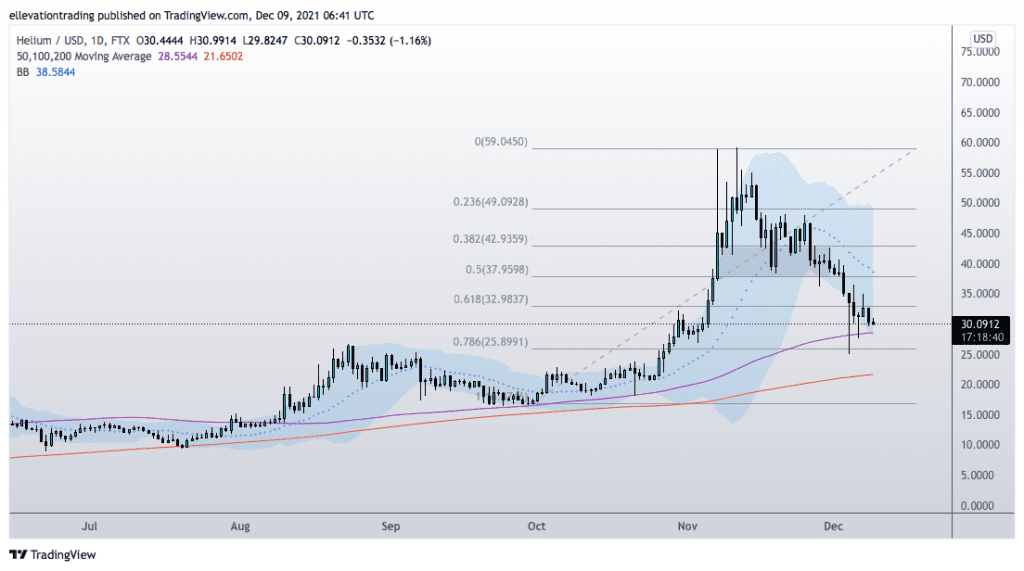 For more market insights, follow Elliott on Twitter.