HCMC stands for Healthier Choices Management Corporation. The company is a US-based producer of food products geared towards healthier nutrition.
The HCMC stock forecast for 2022 and 2025 is provided. What hope for a bullish outcome is there for holders of this stock?
With HCMC, it is all about health and wellness. Its product base spans organic foods, vitamins and supplements, and chef-prepared, ready-to-eat meals. The flagship Greenleaf Grill is available in its in-store restaurant. A full-service grocery store in Fort Myers, Florida, serves natural fruit juice.
The company operates several Paradise Health and Nutrition locations in Florida and holds various patents that it warehouses within its intellectual property subsidiary company.
HCMC Stock News
In December 2021, there was an HCMC stock news update regarding its court case with Philip Morris International over alleged patent infringements. The statement put out by the company typified the disappointment the situation has brought to investors and shareholders. The court denied HCMC's motion to amend its complaint and dismissed the case.
The latest HCMC stock news on the matter comes from a Tweet which indicates that the company has been given a 2-week extension to file the opening briefs on its appeal.
It is not all doom and gloom, though, as HCMC has inked a licensing agreement for a Healthy Choice Wellness Center, which will be sited in the Casbah Spa & Salon, Fort Lauderdale, Florida.
Will HCMC Stock Go Up?
One of the things going for those who want to invest in HCMC is that it is a stock that is already so down that users may probably not need to fear any fall. It is trading at rock bottom values and is the qualification of a true penny stock because it sells at 1/5000th of a dollar.
But therein also lies the risk. Such penny stocks listed in the Over-the-Counter market carry many downside risks. There is a lot of downside potential, and whenever there are upward moves, they hardly last. There is always the stock's chance to keep falling until it becomes worthless.
Is HCMC a good investment? It has the potential of being a good investment if you buy the stock, forget you even own it and leave it in the cooler for several years. It can sometimes take that long for a penny stock to jerk back to life.
HCMC stock forecast 2022
The HCMC stock forecast 2022 outlook is quite conservative and does not exceed the 0.001 price mark this year. Bullish momentum is lacking, and there is not much happening on the stock fundamentally speaking to grant it some uplift from the 0.0002 resistance.
The weekly chart, which shows the medium-term outlook for the stock, indicates that the 0.0002 support level remains under pressure, and there is a chance of a breakdown, which will send the stock below the 0.0001 price mark.
You may like SNDL Stock Prediction.
On the flip side, a remarkable bounce off the 0.0002 price support could target 0.0005 in the first instance (7 September – 1 November 2021 lows). Even without recovering 2021's highs, an upside move from the current level can deliver superb returns on the stock if the recovery is initiated. This in itself would represent a 150% bounce from current levels. Above this level, 0.007 and 0.001 could form additional targets to the north.
HCMC stock forecast 2025
The HCMC stock forecast for 2025 does not provide for much improvement from the current price. There are several pointers to this.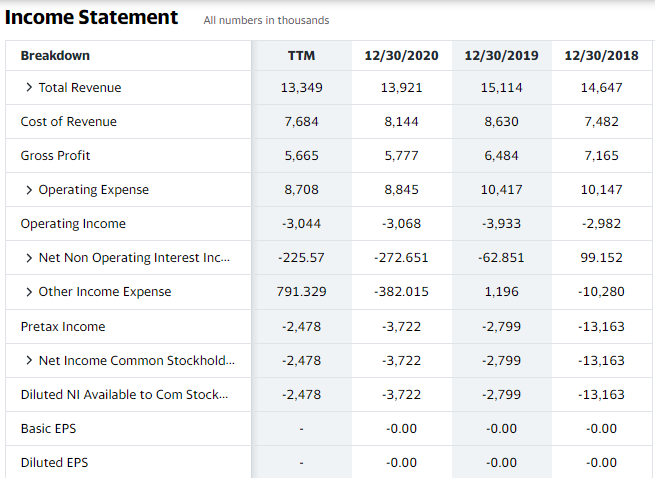 The company's total revenues have not shown much improvement. Apart from an increase seen in the 2019 full year, the numbers have gradually dwindled. In the FY2019, total revenue was $15,114,000 but this dropped in 2020 to $13,921,000. Trailing 12-months (TTM) data shows the total revenue at $13,349,000.
Gross profits and operating expenses have more or less stagnated.
Other indices on the income statement and balance sheet have not shown any dramatic improvement.
The FY2021 results need to show vast improvement in these indices for the HCMC stock forecast to turn bullish. Otherwise, it is hard to see where demand will come from to push the price off its current levels.
Is HCMC a Good Stock to Buy?
HCMC is considered a highly risky buy at the moment. Yes, the price may appear cheap, but this is a penny stock being sold on the OTC market, and there is always the likelihood of the price falling further. However, the price appears to have found a bottom at the $0.002 support, but this does not equate to a potential for immediate reversal as bullish momentum is currently absent. Any positions taken now will be purely speculative, hoping for a quick spike towards the nearest resistance level on a Healthier Choices stock forecast.
Summary
HCMC is listed on the OTC market, an illiquid market with lesser regulation than the mainstream US markets. After completing the double top pattern, the stock is presently trading at $0.002. HCMC benefitted from the meme stock mania of 2021. But with this craze effectively done and dusted, HCMC has to pull on more robust fundamentals to deliver on any bullish stock forecasts.
HCMC: Weekly Chart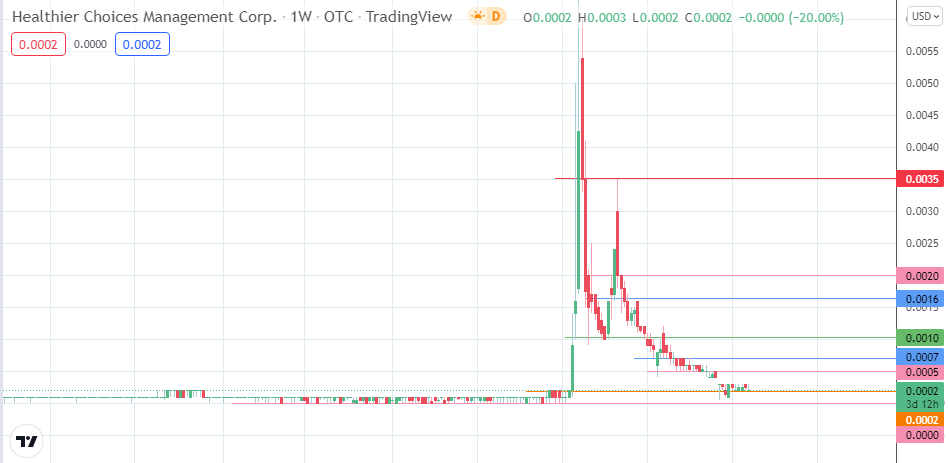 Follow Eno on Twitter.