The Gevo stock price has been in a strong bearish trend in the past few months. The stock is trading at $3.30, the lowest level since December 23rd, 2020. It has also crashed by almost 80% from its highest level in 2021, bringing its total market cap to about $652 million. Despite the sharp price drops the retail interest remains high in Gevo stock. But is there really any hope for investors? That is what we try to understand in our Gevo stock forecast.
What is Gevo Inc?
Climate change is considered one of the leading challenges facing the global economy. As a result, many companies are coming up with different solutions to reduce the number of greenhouse gases. For example, Plug Power is creating hydrogen solutions while electric vehicle firms like Tesla and Nio are solving the challenge from the motoring side.
Gevo, on the other hand, is an energy company that is developing renewable energy solutions like liquid transportation fuels like SAF. The company's technology achieves its goal by using photosynthetic energy, wind energy, and biogas into liquid hydrocarbons with a low greenhouse footprint. In addition, it uses non-food corn to manufacture its energy.
Gevo Inc has made some important supply and demand commitments in the past few years. For example, the company has agreements to supply its fuels to companies like Delta Air Lines, Air Total, HCS Group, and Scandinavian Airlines. These companies are all considering alternatives to jet fuel to save costs and reduce their greenhouse combustion.
Gevo is also involved in wind power and renewable energy projects, as you can see below.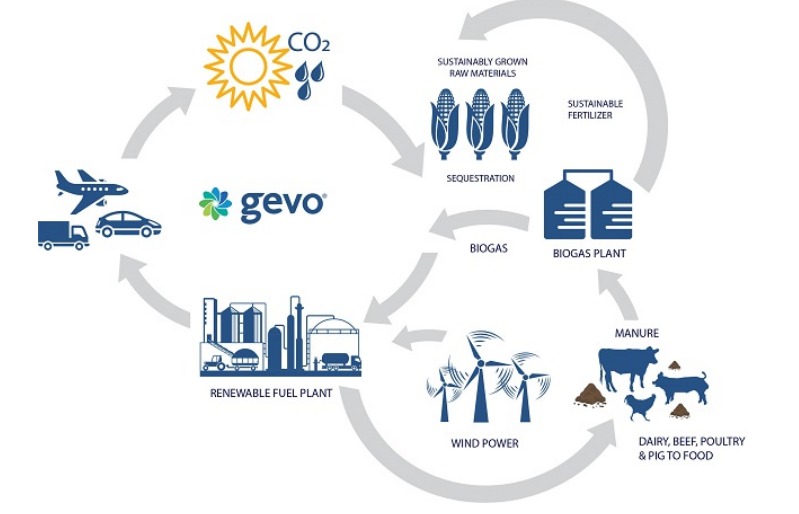 Why has the Gevo stock crashed?
There are several reasons why the GEVO stock price has crashed by about 80% from its all-time high. First, the decline is in line with the performance of most companies in the clean energy industry. A quick look at solar, wind, and hydrogen stocks shows that most of them have declined by more than 50% from their all-time highs.
As shown below, the iShares S&P Global Clean Energy Index fund (ICLN) has crashed by almost 50% from its all-time high. In addition, a look at many companies in the fund like Vestas, Orsted, and Plug Power shows that their stocks have declined sharply. Thus the general interest in this sector has big impact on the Gevo stock forecast.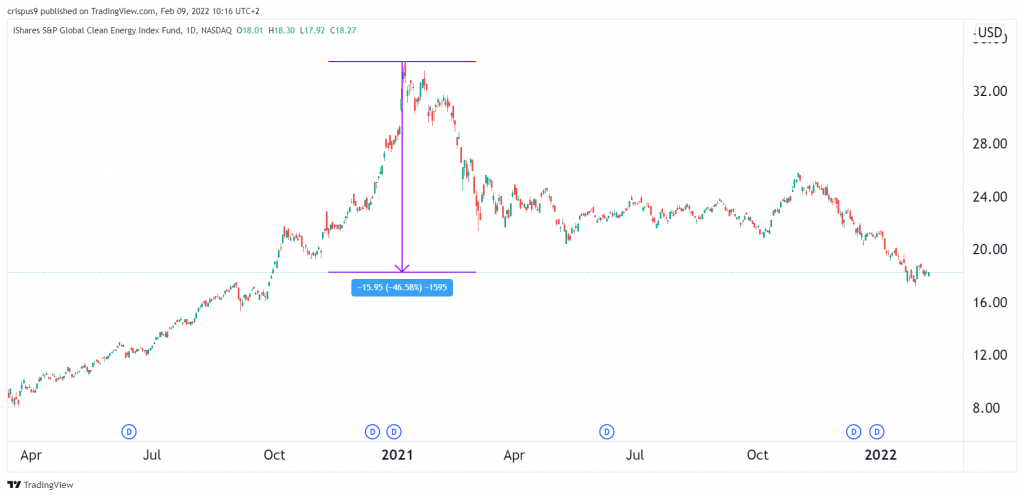 Second, the GEVO stock price has crashed because of its lack of profitability and the ongoing shift to value stocks amid a hawkish Fed. For one, the company has been increasing its losses per year. Its net loss has increased from about $24.6 million in 2020 to more than $60 million in the past 12 months.
Third, the company has seen margin compression as corn prices have increased. For example, the chart below shows that corn prices have doubled since 2020.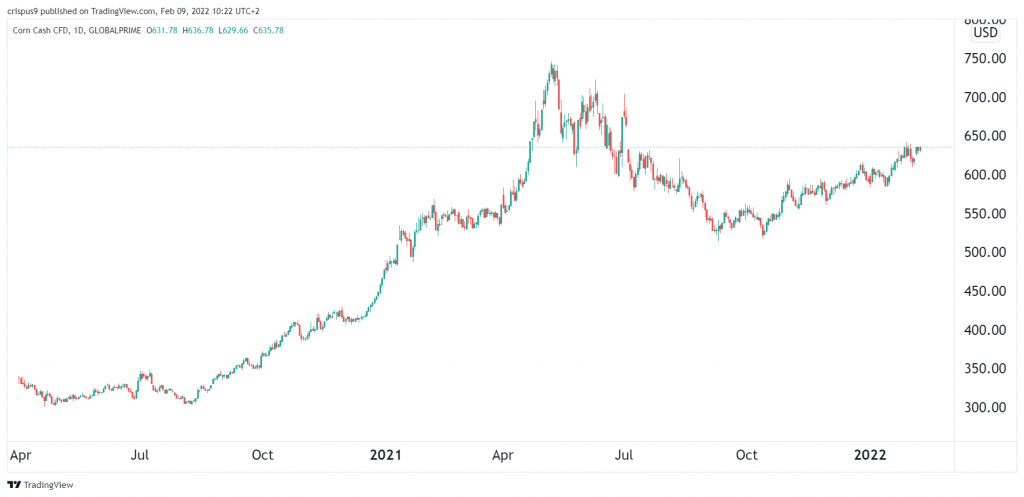 Gevo shares history
Gevo went public through an initial public offering (IPO) in 2016. At the time, the company raised $9.5 million after selling 21 million shares. After going public, the stock soared to an all-time high of $1450. Since then, however, the stock has collapsed by about 99% to just $3, making it a penny stock.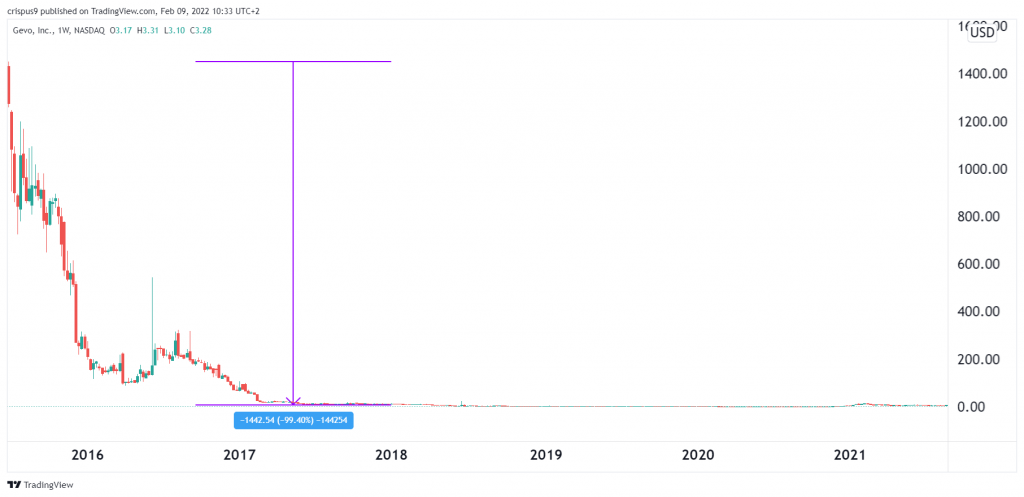 Gevo stock news
In the past few years, Gevo has made a number of deals with some key companies. For example, in December 2021, the company reached a deal with Kolmar Group. In that deal, the company will sell 45 million gallons of fuel to Kolma for the next eight years. The deal was valued at more than $2.4 billion.
In 2019, Gevo reached a deal with Delta Airlines for 10 million gallons of sustainable aviation fuel. It has also entered agreements with other companies, as mentioned above.
Meanwhile, the company inked a deal with Archer Daniels Midlands to see the two firms produce ethanol and isobutanol.
Another major Gevo news is that the company announced that it would launch its renewable gas energy project in Iowa in the coming months.
Is Gevo a good investment?
Historically, Gevo has been a bad investment considering that its stock has lost almost 100% of its value since going public. The company now has a market capitalization of about $662 million.
While Gevo's future is uncertain, the company has a good balance sheet and multiple long-term orders. Data compiled by Bloomberg shows that it has about $301 million in cash and short-term investments and about $66 million in total debt. This means that the company has net cash of about $234 million.
Considering that it has a market cap of $662 million, it has a cash to value ratio of about 2.8, which means that it is not overvalued, which boosts the Gevo stock forecast.
However, the challenge is that the company is losing millions of dollars per year. As such, the risk for investing in the stock is a bit higher.
Gevo stock forecast 2022
Since Gevo is a relatively small company, Wall Street analysts do not track it. As such, it is a bit difficult to find the most recent opinion about the company.
The daily chart shows that the GEVO share price has been in a strong bearish trend in the past few months. The stock crossed below the key support at $4.58, which was the lower side of the descending triangle pattern. It has also crashed below the 25-day and 50-day moving averages, while the Stochastic oscillator has moved slightly above the oversold level.
Therefore, while the bearish trend will likely continue in 2022, a comeback cannot be ruled later this year. The key support and resistance levels will be $2 and $6.37, respectively.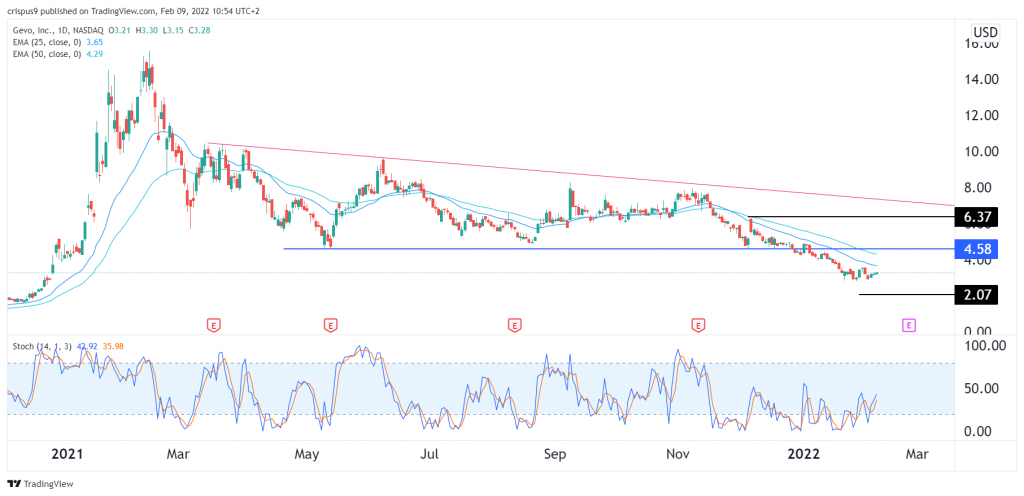 Is Gevo stock a good buy?
Gevo stock is a cheap one without a doubt. But at times, cheap stocks can be expensive since they are usually cheap for a reason. For long-term investors, Gevo can be a good investment because of its solid balance sheet since the stock is valued as one that is about to go bankrupt.