Gekko HQ coin price is generating exponential returns for its holders. It soared 468% last week as the memecoin traders flocked to load up their bags. The gecko-themed digital asset has outperformed most cryptocurrencies during this time and the holders are expecting even more returns.
After a phenomenal week Gekko coin price is having a breather. The price of the memecoin entered into a consolidation range on Monday which may prove to be bullish. While the early hodlers are taking profits, the dips are being bought by the new traders.
In one of the major developments in the memecoin space, Gekko crypto has been listed on the popular digital asset exchange Crypto.com. The bullish price action has pushed the market capitalization of the gecko-themed coin above $316 million. However, such a high market cap appears to be unsustainable for a memecoin.
Last week's surge pushed the Gekko price to a new all-time high if we ignore its debut day's wick. This shows a remarkable 1400% increase from its Uniswap listing price. A major reason behind the community interest in the project is that unlike most memecoins Gekko has ample liquidity on Uniswap DEX.
After a strong surge in trading volume during last week, the volume is constantly decreasing on the decentralized exchanges. As a result, only $79,000 worth of memecoin was traded on Uniswap V2 in the past 24 hours.
GEKKO HQ Coin Chart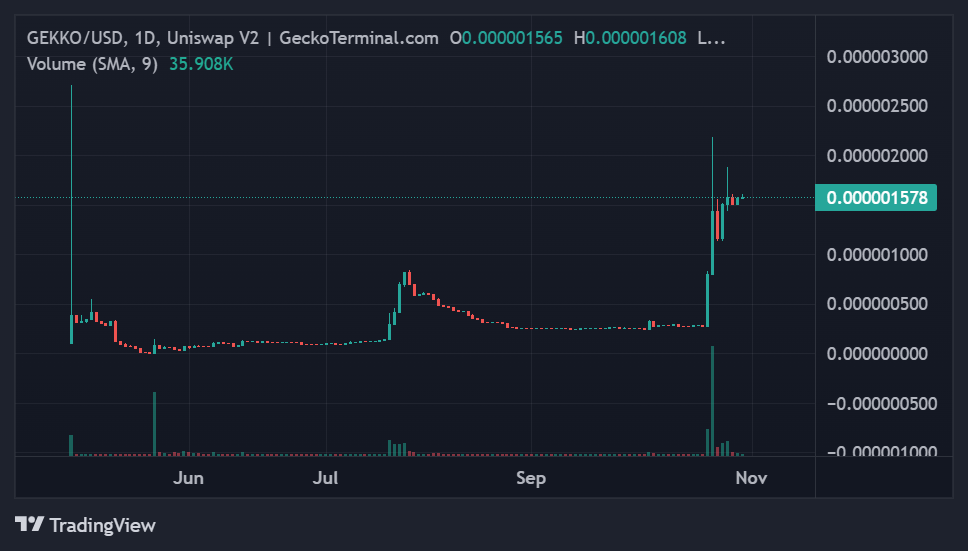 Gekko Price Prediction
It is very difficult to predict the price action of a volatile asset like a memecoin. Nevertheless, as long as the the price stays above $0.0000008401, Gekko price prediction will remain bullish. This doesn't mean to chase the ongoing price pump as the coin has surged almost 500% in the past few days.
If Bitcoin price breaks above $35,000, memecoins like Gekko HQ coin may catch some more bids. On the other hand, a sudden correction in the most valuable digital asset may result in a sharp correction in the memecoins.
I'll keep posting my updated analysis on Gekko on my Twitter, where you can follow me.