The GBP/USD price has risen for the past four straight days ahead of the upcoming UK inflation data. It rose to a high of 1.2045, which was the highest point since June 11th of this year. This month, the pair has risen by more than 2.25% from its lowest level.
US dollar index pulls back.
The main reason why the GBP/USD pair has rallied this week is because of the broader US dollar sell-off. The closely-watched US dollar index has pulled back from a multi-decade high of $109.30 to the current $106. This decline is mostly because of the ongoing profit-taking and the change of sentiment about the Federal Reserve. Analysts believe that the Fed will hike rates by 75 basis points later this month.
The upcoming UK consumer and producer inflation data will be the next key catalyst for the GBP to USD exchange rate. Analysts expect these numbers to show that the country's inflation continued rising in June as the cost of food and energy surged. Precisely, analysts expect that the UK inflation surged to 9.3% in June. That will be the biggest increase in more than four decades. 
The core consumer inflation that excludes the volatile food and energy prices is expected to have dropped from 5.9% to 5.8%. The figure is substantially higher than the median estimate of 2.0%. Further, the producer price index input and output figures are expected to rise by more than 16%. These numbers will come a day after the UK published strong jobs data.
Against this backdrop, the head of the Bank of England (BoE) warned that his committee will likely hike interest rates by 0.50% in August. This will be the biggest rate hike by the BoE this year.
GBP/USD forecast
The hourly chart shows that the GBP to USD pair continued rallying ahead of the upcoming UK inflation data. The pair has managed to move above the 25-day moving average, while the Relative Strength Index (RSI) has moved slightly below the overbought level. 
It also hit the important resistance at 1.2047, which was the highest point on June 8th. Therefore, the pair pound to USD pair will likely keep rising as bulls target the next key level at 1.2050. A drop below 1.200 will invalidate the bullish view.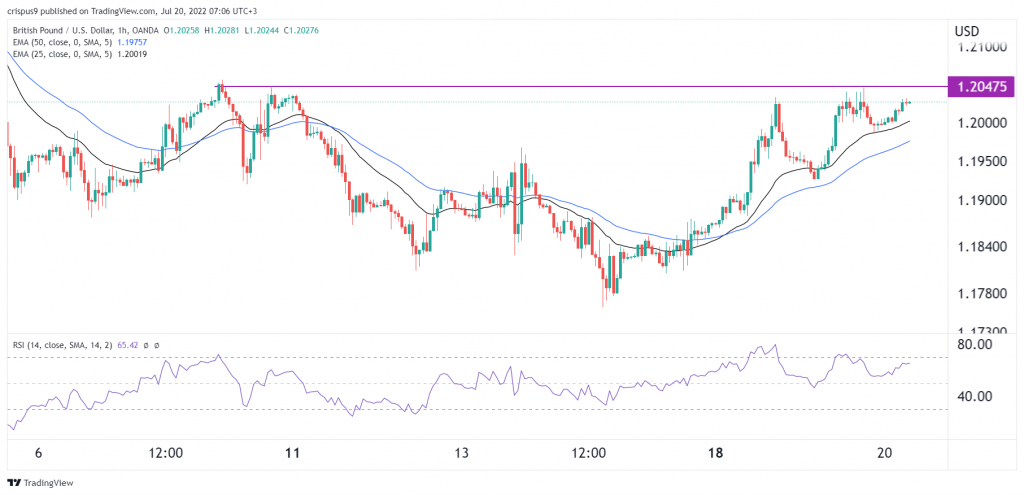 GBP to USD support and resistance
The bullish view is in line with InvestingCube's S&R indicator. The highly accurate indicator that has thousands of users, estimates that the pair will soon rise to 1.2050. The stop-loss for its view is at 1.1860. Subscribe to the indicator for many more signals.