The GameStop stock price is crawling back as investors attempt to buy the dips. GME shares are trading at $126, about 45% above the lowest level this year. The shares dropped by more than 73%, below the highest level in 2021. Its total market cap has declined to about $9.63 billion. At its peak, the form was valued at over $15 billion.
The rise and fall of GameStop
GameStop is an old-fashioned company that became incredibly popular in Q1 of 2021. The company was among the first ones that did well during the Wall Street Bets craze. Its stock was so popular that it jumped to an all-time high of $490.
The performance of GameStop inspired a movement of day traders who managed to battle some of the best-known titans on Wall Street, such as Melvin Capital. But unfortunately, the hedge fund lost billions of dollars at the height of the WSB craze.
However, in the past few months, the momentum has waned, and people who bought at the top have seen the value of their holdings. For example, a company that was once trading at $490 is now trading at $126.
This price action is mainly because the momentum of stocks that did well at the time has waned. For example, the Blackberry stock price has crashed by 44% in the past 12 months.
Similarly, the Clover Health stock price has fallen by 78%, while ContextLogic shares have fallen by 90%. As a result, the latter company is now valued at just $1.5 billion, significantly lower than its all-time high of almost $5 billion. In addition, as shown below, other meme stocks like Virgin Galactic, Bed Bath & Beyond, and Cassava Sciences have crashed.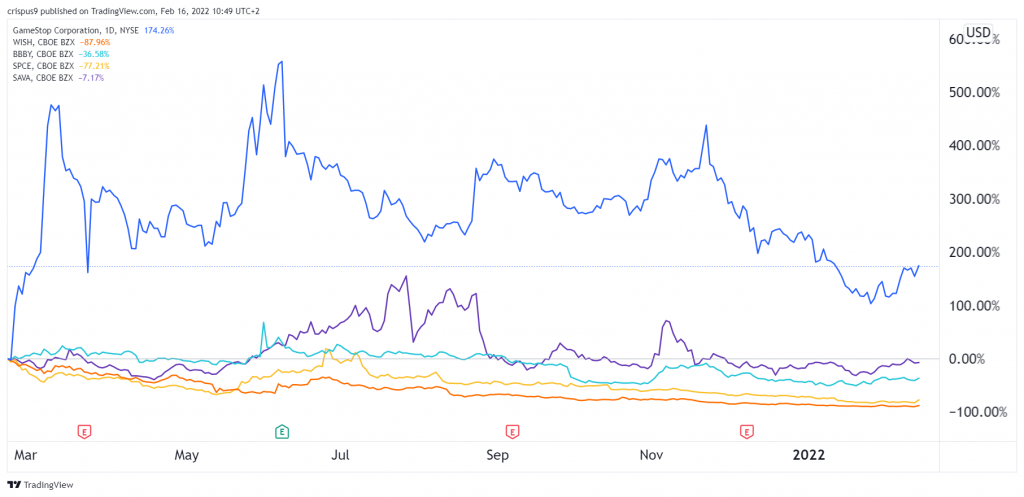 The decline of the GME stock price is mainly because the amount of interest by community members has declined in the past few months. The chart below shows that the number of Reddit, Wall Street Bets, and overall media mentions has been a strong downward trend.

Is GameStop a good investment?
Fundamentally, GameStop has been doing well in the past few months, partly because of its popularity from the WSB craze. For example, in the third quarter, the firm's revenue rose to more than $.30 billion, which was better than estimates by about $107 million.
The firm ended the quarter with about $1.4 billion. It increased its cash holdings after selling shares worth over $1 billion.
GameStop is also attempting to change its business model by incorporating blockchain technology. For example, it partnered with Immutable X, a layer-2 platform, to launch its NFT marketplace. Still, it is too early to determine whether the venture will be successful, considering many analysts believe that NFTs are a bubble.
With most video games going digital, GameStop has invested in a digital marketplace. Still, analysts believe that the company's video games business will continue struggling in the future. Besides, most gamers are now using online stores to buy games.
The GameStop stock price has fallen sharply because of the shortage of computer chips used to manufacture consoles like Xbox and PlayStation. It has become relatively difficult to find these consoles in the past few months as Microsoft and Sony struggle to find chips. As shown below, a product like PlayStation 5 is still not available.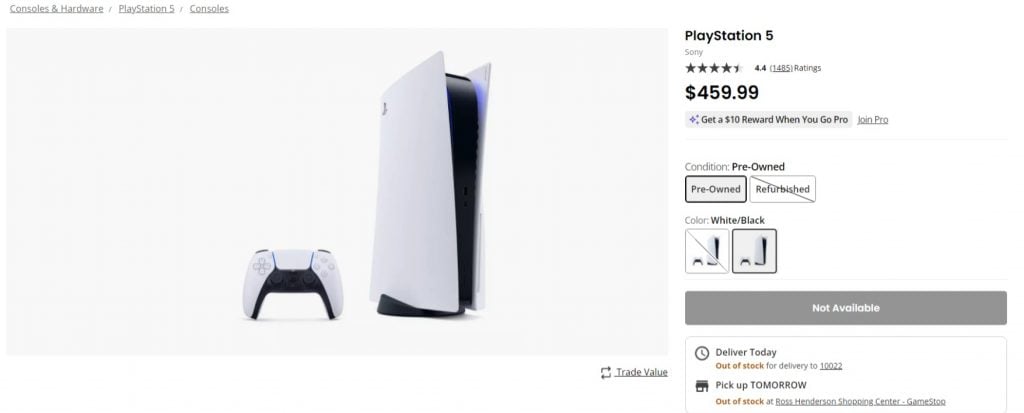 Therefore, GameStop is a relatively risky investment considering its core business is being disrupted. Also, its investments in NFT is a bit risky industry that is already competitive. Some of the biggest companies in the industry are OpenSea and Binance. Just recently, OpenSea was valued at more than $13 billion.
Is GameStop undervalued?
We need to look at its key financial metrics to determine whether the GameStop stock price is overvalued. But, first, we need to look at its financial performance in 2021, a year in which gaming companies did well.
Broadly, GameStop's revenue has been in a bearish trend. The company had annual revenue of $7.9 billion in 2016. It dropped to about $5.08 billion in 2020 amid the Covid pandemic.
In the past three quarters, the company's revenue was $3.7 billion, and analysts expect that its revenue for the fourth quarter was $2.2 billion. This means that its annual revenue will be $5.9 billion. GameStop has also been making losses, meaning that it does not have a price-to-earnings (PE) ratio.
Now, turning to its balance sheet, GME has over $1.5 billion in cash and about $665 million in debt. This means that it has net cash of about $835 million.
Therefore, at this point, because of its losses and the fact that it is not expected to be profitable for a while, GameStop is overvalued.
GME analyst forecasts
Analysts are generally pessimistic about the GameStop stock price. According to WeBull, analysts expect the shares to drop to about $56. Another compilation by MarketBeat shows that most analysts expect that the stock will retreat.
Their average estimate is that the stock price will fall to about $73. Some of those pessimistic about the stock is from Wedbush, Credit Suisse, Telsey Advisory, and Standpoint research. Still, analysts have not delivered their estimates in the past few months. As shown below, the four analysts following the stock are also bearish about the GME stock price.

GameStop stock price forecast 2022
The daily chart shows that the GameStop share price has been in a bearish trend in the past few months. Notably, the stock moved below the key support level at $142, which was the lowest level in May and August last year.
It also oscillates at the 25-day and 50-day volume-weighted moving averages (VWMA). It is also slightly above the 78.6% Fibonacci retracement level. Therefore, with the Fed expected to start hiking interest rates, there is a likelihood that the GameStop stock price will likely keep falling as bears target the next key support at about $50 in 2022. This view will be invalidated if the price moves above $175.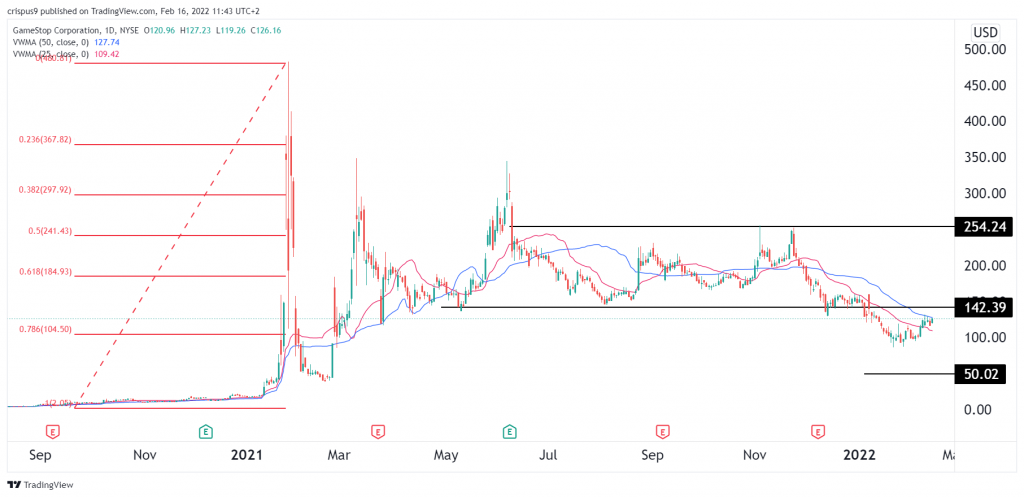 Summary
The GameStop stock price has lost momentum, and there are signs that the short interest is rising. 2022 will likely be a challenging year for the stock because momentum on Wall Street Bets stocks has declined sharply. Therefore, there is a likelihood that the shares will keep falling in 2022.