The Gamestop stock price is trading 4.75% lower in the first hour of trading in the New York session. The stock had lost 4.24% in Thursday's trading session, and it is now down more than 13% for the week. This puts the GameStop stock price firmly on course to end the week lower, as the stock aims to take out a key support level at 145.35.
The drop in the GameStop stock price follows the announcement of a stock split earlier in the week. The stock split will increase the number of outstanding shares from 300 million to 1 billion. The exact ratio of the stock split is unknown presently, as the company is still seeking the approval of regulators to make it happen.
Also souring the sentiment on the stock is the reported cancellation of pre-orders for Intellivision's Amico console at the latter's request. Several customers and Intellivision's Amico Club members say they have received emails to this effect.
GameStop is aiming to increase the company's valuation via a digital transformation. There are rumours that an NFT marketplace will be launched as part of this evolution. However, there has been no confirmation from the company on this development.
Gamestop Stock Price Forecast
A look at the daily chart shows that the current support level being tested at the moment marks the completion point for the double top found at the 187.90 resistance. If the 145.35 support gives way, the pathway towarfs 128.82 (14 December 2021 and 24 March 2022 lows) will be opened. Below this level, additional support comes in at 119.69 (10 January low) and 93.01, in that sequence.
On the flip side, a bounce on the 145.35 support allows for a price recovery towards 159.81 (30 December 2021 and 6 April 2022 highs). 170.14 and 187.90 are additional resistance barriers to the north and they become viable if the bulls take out the resistance at 159.81.
GameStop: Daily Chart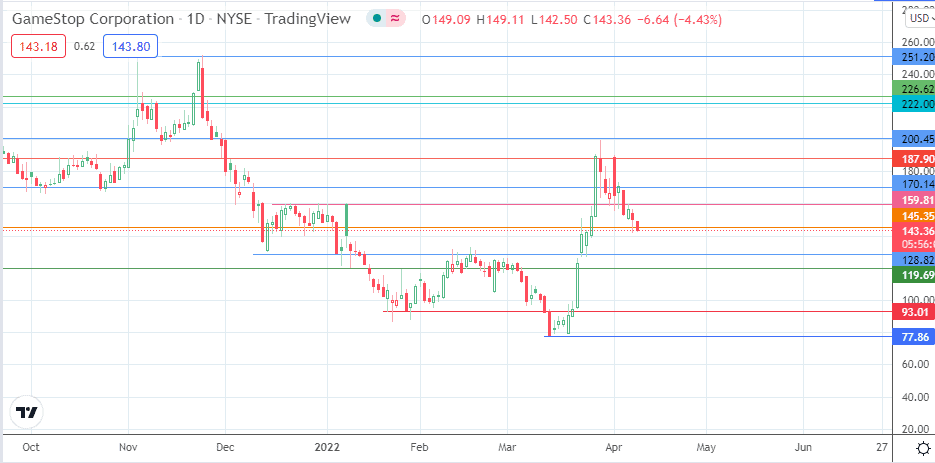 Follow Eno on Twitter.