The GameStop stock price is trading 6.62% lower in pre-market trading, pointing to a lower market open that could stem from profit-taking on the WallStreetBets meme stock.
GameStop had soared massively in Monday's trading session, capping several days of gains as both AMC Entertainment and GameStop attracted good demand. Part of the fundamental trigger for Monday's spike came from the company's CEO, Adam Aron. Reuters quoted Aron saying that the company was seeking more "transformational" deals to cement its meme stock status.
Also adding to the fundamental trigger for the heavy demand on GameStop's stock was the 23 March patent filing for several products. However, the trademark patent had some extras that caught the attention of NFT lovers. For example, the trademark has an expanded focus on digital identity security, security of cryptographically generated private keys, and downloadable computer software for implementing blockchain transactions.
GameStop has seen a recent buying frenzy on its stock. Monday's 24.77% surge closed out nine consecutive days of gains. However, the lower pre-market trading price indicates that some profit-taking could hit the stock soon. A Benzinga whale alert has indicated a massive bearish order on the options market for GameStop, which seems to lend credence to the profit-taking expectation.
GameStop Stock Price Forecast
If the bears successfully reject the advance at the 187.90 resistance (27 April, 22 July and 11 October 2021 highs), we could see a drop towards 170.14 (4/22 October 2021 lows). Below this level, additional support is seen at 160.47 and 159.81 (30 December 2021 and 10 January highs).
On the flip side, a break of the 187.90 resistance opens the door for the bulls to race towards the 200.45 psychological resistance (21 September/1 December 2021 highs). Additional barriers are seen at 226.62 and 251.20 (3/23 November 2021 double top). This former double top at 251.20 had 200.45 resistance as its neckline.
GameStop: Daily Chart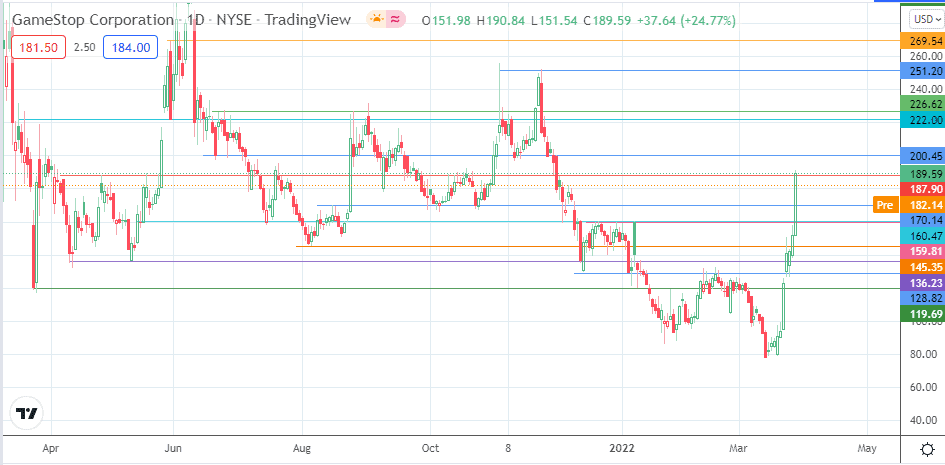 Follow Eno on Twitter.