FTX Exchange has emerged as one of the biggest giants of the crypto industry. The exchange owes much of its success to the insane growth in the global adoption of cryptocurrencies last year. To serve the massive influx of new users, many new exchanges initiated their services in 2021. However, the real winners have been the projects like FTX, which had been scaling themselves in the bear market.
Sam Bankman-Fried launched FTX in 2018. He is an MIT graduate who worked as an ETF trader for Jane Street Capital. SBF also made millions of dollars via arbitrage opportunities across Japanese and US exchanges. Unfortunately, as the markets crashed in 2018, it became very hard for most exchanges to make ends meet. However, FTX Exchange kept building new features and enhanced its throughput to support more users. You're at the right place; if you've heard about FTX but are looking for a review. This article will provide you with a detailed FTX exchange review 2022, which might help you decide.
Platform Overview
The UI/UX of FTX is built to serve both beginners and seasoned pros. FTX crypto Exchange app is available for both Android and iOS users and incorporates all the major features of the website. In addition, the platform makes buying and selling cryptocurrencies very convenient by quick bank deposits and withdrawals. This makes FTX crypto exchange review one of the most sought after platforms for fiat deposits in the whole industry.
After depositing funds, users can convert their fiat balances to any of the cryptocurrencies listed on FTX. In addition, the exchange has several fiat-based spot pairs which let users buy cryptocurrencies like BTC, Luna, USDT, FTT, etc. Currently, users can trade across 100 different spot markets on FTX. Users can also toggle among Futures, Spot, Prediction, and Fiat markets from the menu bar at the top.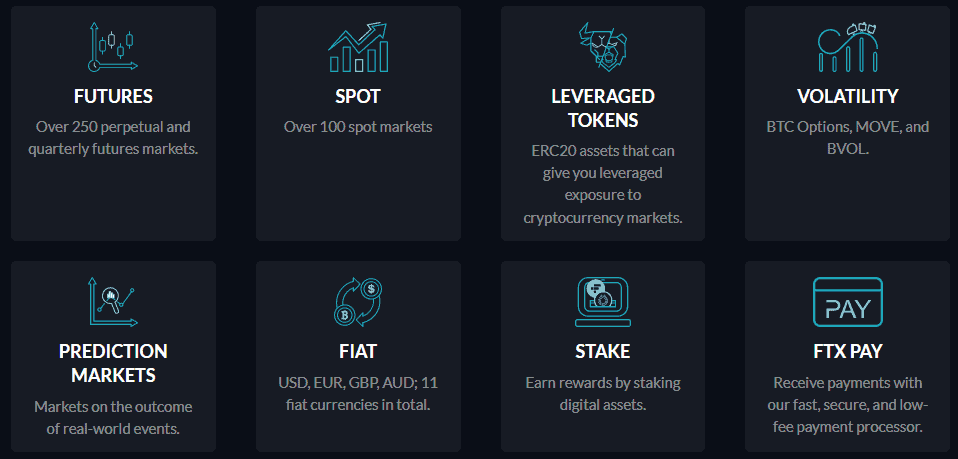 FTX lets users add their bank accounts for fiat withdrawals via wire transfer. Although FTX.com may not work for many US users, if that's the case for you, FTX US could still serve you. This is because strict Fintech regulations don't allow some platform features to function in the US.
Leverage Trading on FTX
FTX allows users to increase their market exposure with its leveraged products. Such products include Futures and Leveraged Tokens. FTX currently supports leverage of up to 20x, which was as high as 101x just a few months ago. However, leverage trading is very risky, and you should only dabble with it if you're an experienced trader.
Apart from trading futures, users can also create and trade leveraged tokens on FTX. These tokens increase the position size by up to 3 times without the risk of any liquidation. Users can access numerous leveraged tokens by clicking on the 'Leveraged Tokens' tab on the website. These tokens can be redeemed at the net asset value via the redeem feature on the exchange at any given time.
FTX Exchange Latest News & Stats
After an explosive 2021, Sam Bankman-Fried's FTX still doesn't seem to be slowing down. The top exchange started 2022 by raising $400 million in its series C funding at a valuation of $32 billion. In addition, as per SBF, FTX crypto has spent around $1 billion on key acquisitions so far. This justifies FTX's vision to become the top exchange and become the biggest ecosystem in crypto.
According to Coingecko, FTX is currently the second biggest derivatives exchange with a 24h trading volume of $5 billion. In addition, it boasts of a daily spot trading volume of $1.4 billion, making it one of the top 10 on that list.

Passive Income Opportunities on FTX
Although numerous DeFi platforms generate very high yields, many still don't consider them secure. FTX provides users with a range of lending and staking opportunities for passive income and rewards. Users can lend their cryptocurrencies like USDT, BTC, Eth, 1inch, etc., to gain up to 10% APY. This feature is ideal for beginners in crypto who're sceptical about staking on Dapps due to DeFi exploits.
FTX NFT Market
NFTs have become a buzzword due to their exponential adoption rate in the last 12 months. To make it easier for its users to play with NFTs, FTX has also launched an NFT marketplace. Users can deposit, sell, buy and mint different NFTs on the FTX NFT marketplace. Both Ethereum and Solana NFTs are supported in the marketplace.
To deposit Ethereum NFTs on the platform, users can use their Metamask wallets to transfer NFTs via Opensea. These NFTs can then be seamlessly traded on FTX. Similarly, Solana users can deposit their NFTs using a web 3.0 wallet like Phantom.
Fees & Rebates
FTX is known to have one of the lowest trading fees. These fees range from 0 to 0.07%, depending on the tiers. Moreover, the FTT token is the backbone of the FTX ecosystem, and its staking gives a fee rebate of up to 0.003%. This means that one could make money by negative fees on the platform, which is not too shabby.

When it comes to fiat withdrawals, few exchanges could compete with FTX. The exchange processes all withdrawals of above $5000 free of cost. It even allows its users a free withdrawal of below $5000 per week. Let's now summarise our above discussion into a list of pros and cons.
Pros
Fiat Deposits and Withdrawals
A wide range of trading pairs
Available on all PC and mobile platforms
Low fees
Cons
Some Features restricted in the United States
The availability of leveraged products could be risky for beginners.
Centralisation
Conclusion
FTX is expanding to serve the needs of both institutional and retail customers. Institutional users can also seek quotations for bulk buying or selling orders via FTX crypto OTC service. This Over the Counter feature provides institutional investors with preferential rates for large orders without additional fees.
FTX Pay allows merchants to receive payments in crypto or fiat from users. Merchants can then receive these payments into their FTX accounts or external wallets. In this way, FTX provides merchants with great flexibility while accepting crypto payments. Currently, FTX pay is not available on FTX US.
Keeping in view our discussion, we can say that FTX is on its way to becoming a leading platform in the world. In the coming years, it may have to face fierce competition from Binance and Coinbase for the top spot. However, if FTX exchange review continues to expand at the current rate, it could give these big names a run for their money.