The FTSE 100 index has joined other global indices like the Nasdaq 100, DAX, and Dow Jones in their recovery. The index is trading at £7,560, about 12% above the lowest level this year. This price is a few points below its year-to-date high of £7,698. The key themes among the FTSE constituents have been the rising energy prices and the hawkish central banks. Here are the best performers in Footsie.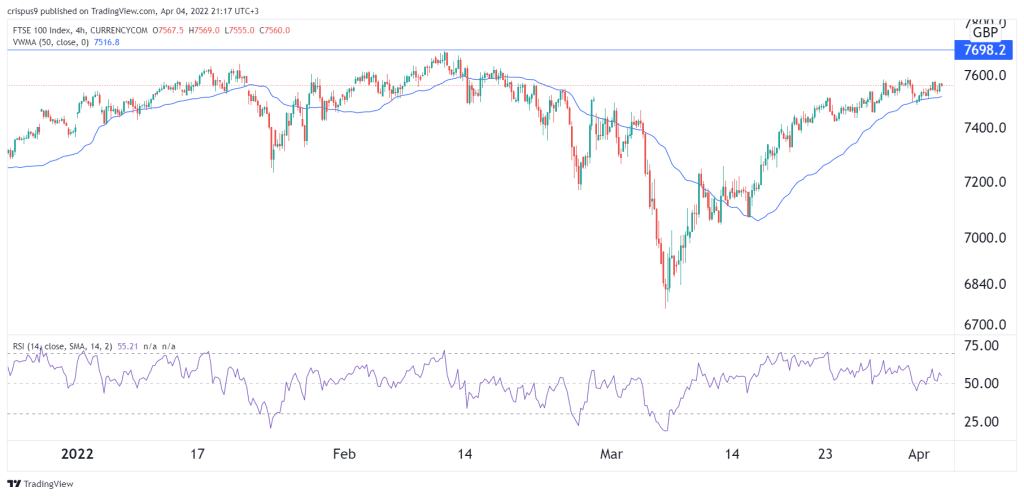 Commodity stocks jump
A quick at the best performers in the FTSE 100 index has been related to commodities. In Q1, most commodity prices jumped as the crisis in Ukraine continued. Indeed, the biggest challenge that the world is facing is that of more demand and low supplies of key commodities like natural gas, nickel, platinum, palladium, crude oil, coal, and copper, among others.
The Anglo American share price rose by 36% in the first quarter as the price of most of its commodities rose. The company also has limited exposure to Russia. On the other hand, Glencore share price rose by 34%, becoming the second-best performer in the FTSE 100 index. The firm has benefited mostly because of the rising coal prices.
Unlike other mining companies, it has rejected calls to diversify its coal business. The management believes that coal is an important resource that is currently hard to replace. The other FTSE 100 mining companies that did well in Q1 were Shell, Antofagasta, and Rio Tinto. Shell share price rose as investors cheered the new corporate identity and the rising oil and natural gas prices. It is one of the biggest oil traders in the world.
FTSE 100 banks rise
Banking stocks in the FTSE 100 were mixed in Q1 as the Bank of England delivered two rate hikes. Historically, banks tend to do well in a period of high rates because it increases their margins. They also rose because of the tightening Fed and the fact that data from the UK showed that the economy, especially the housing sector, was doing well.
HSBC share price rose by more than 17% in the first quarter as the bank took actions to rejuvenate its growth. It was followed by Standard Chartered as its international business did well. Still, the Natwest and Lloyds share prices disappointed in the quarter. In addition to commodities and banks, other top performers were companies like BAE Systems, Informa, and London Stock Exchange.