Bullish Ford stock price predictions are barely hanging on this Tuesday, despite a massive attempt to close the daily chart's bullish gap. The 0.16% upside in the Ford stock price continues to preserve hopes for a recovery, but the rejection at yesterday's high makes this an arduous task for the bulls.
Monday's 1.53% gain had added to Friday's marginal uptick after the company inked a deal to acquire Lithium from the Lake Resources' Kachi Project in Argentina.
The deal was a positive trigger as rising costs of industrial metals used in the automobile industry are pushing car companies to seek constant supplies of Lithium, cobalt, and nickel straight from the mines. This deal will see Ford getting Lithium sourced via direct extraction methods, which use less land resources than conventional mines. Ford seeks to buy 25,000 tons of white metal annually from Lake Kachi's production.
However, demand for these stocks dried up on Tuesday as the markets weighed the impact of rising headline consumer inflation, which experts worry could hurt demand for luxury goods such as cars. The Ford stock price forecast was severely hit last week by a downgrade by Barclays from overweight to equal weight, with a lowering of price targets from $23 to $17.
Ford Stock Price Forecast
The rejection at the 15.69 resistance sets up a potential slide to retest the 14.82 support (4 October high and 11 April low). A breakdown of this support level opens the pathway for the bears to target the 13.70 pivot (24 September 2021 low). Below this area, additional support levels are seen at 12.79 (21 September 2021 low) and the 19 May 2021 low at 12.01.
On the flip side, a break of the 15.69 resistance allows the 16.49 barrier to come into focus, being the previous lows of 29 October 2021 and 31 March 2022. Above this level, an advance targets the 25 February and 29 March 2022 highs at 17.82. 18.95 looks set to be a significant barrier to the north, being the support that held prices above this price mark between 8 November 2021 and 3 February 2022. 20.69 only becomes a viable target if the bulls uncap the 18.95 resistance.
Ford: Daily Chart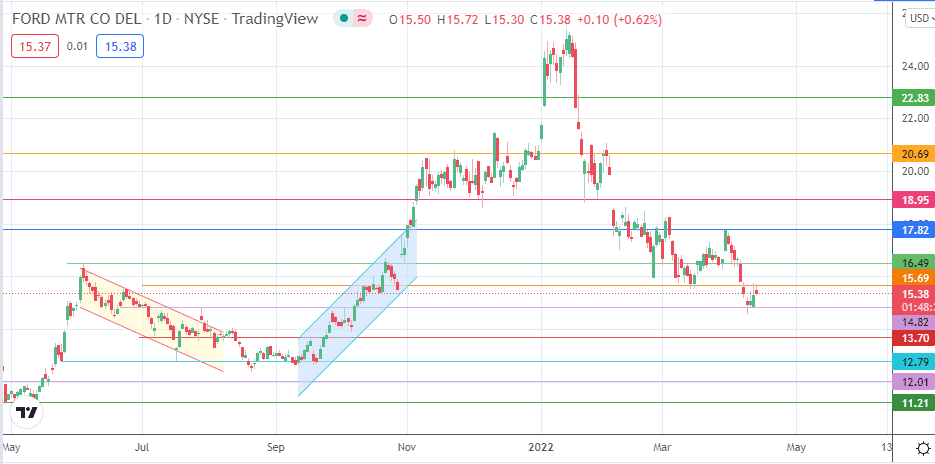 Follow Eno on Twitter.